Big Apple Brad: Why Richards' Signing on Broadway Will Be Worth Every Dime
August 10, 2011
In what has easily been the biggest splash this offseason, the New York Rangers made headlines last Saturday, signing the highly-coveted center Brad Richards. Richards, 31, is renowned for his  playmaking abilities, something that the Rangers desperately needed down the middle.
It's nothing personal against Marian Gaborik or past centermen, but let's face it: none of them have been nearly as dominant as Richards in the playmaking department. With that being said, Gaborik has still managed to tally 30 or more goals in six of his 10 seasons between Minnesota and New York. Now with Richards down the middle, we can expect to see Gaborik, 29, notch his first 50-goal season quite soon. These two will be a successful staple of the Rangers' first line for the next decade, provided they both stay healthy, which has been a bigger issue for Gaborik.
I just can't seem to wrap my head around all the critics who claim that the Rangers dramatically overpaid Richards. If you do the basic math, $60 million for nine years averages out to be a cap hit of $6.67 million/year over that span. Obviously, it's a front-loaded contract, but that makes no difference really in an argument that he's overpaid when you can average out the value like so—the cap hit is all that ultimately matters. What the team decides to give him as a signing bonus is negligible. His production over his entire career justifies such a deal anyway.
Over 772 career regular season games, Richards has tallied 716 points, a resounding 0.92 points-per-game average. Provided this solid production continues, he'll hit an astounding 1,000 points when he's 35, not even halfway through the contract. A consistent top-10 scorer, Richards will do just that, especially playing with such a natural gifted goal scorer like Gaborik. It's a win-win situation for both of them.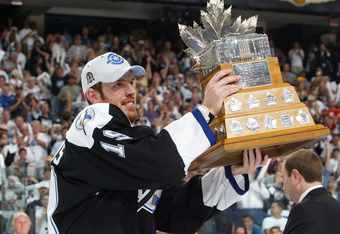 Dave Sandford/Getty Images
We all know that regular season success is only half the tale; Richards' real value lies in his playoff performances, and his deterministic intangibles. In 63 career playoff games, he's tallied 62 playoff points over five postseason runs with Tampa Bay and Dallas. If you want to talk about clutch, one-third of his playoff goals have been game winners, too. There's star players and then there's clutch star players. The former—such as a guy like Joe Thornton—dominate the regular season, perhaps even leading the league in points. But in the postseason, they disappear and can't play up to the pressure (save for this past year for Jumbo Joe). And when your best player isn't producing, it can make it very difficult to succeed. The latter have these intangibles to rise up and lead by example in pressured situations, as does Richards. 
The big draw-in for Richards was reuniting with his former coach from Tampa, John Tortorella. Under Tortorella, Richards played some of his best hockey, and continued on to win a Stanley Cup in 2004, the only Cup in both of their careers. With another former Bolt on the Rangers in Ruslan Fedotenko, whom Tortorella is very high on, along with a young core intact, many similarities can already be drawn to that '04 Lightning team.
The two can only hope that the glory days they experienced in Tampa are right around the corner on Broadway, and Richards is the man who will undoubtedly play the starring role in the show. Grab some popcorn and kick back, something tells me this one will win not only a Tony, but a Stanley Cup also.