5 Bold(ish) Predictions for the New Premiership Season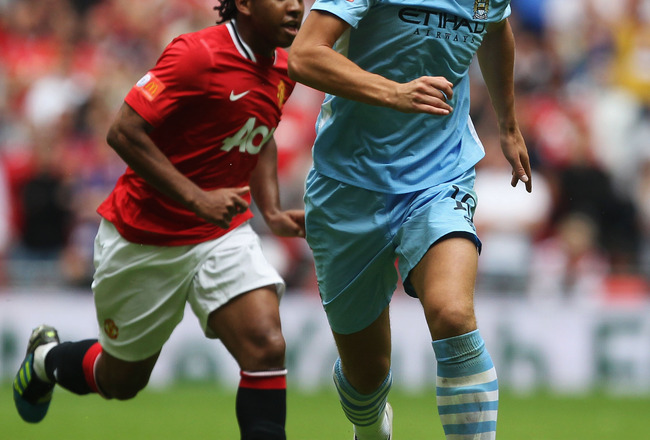 Clive Rose/Getty Images
The new Premiership season will hopefully begin on Saturday and after a summer of transfer speculation and intrigue, the excitement begins.
There are plenty of questions to be answered over the course of the next nine months. Will Liverpool continue to improve under Kenny Dalglish? Will Arsenal bounce back from a tumultuous summer? How will the promoted teams fare? Of course there is the big question, who will be holding the Premier League trophy next May?
In any case, here are five predictions for the new season.
1. Luka Modric Will Join Chelsea in January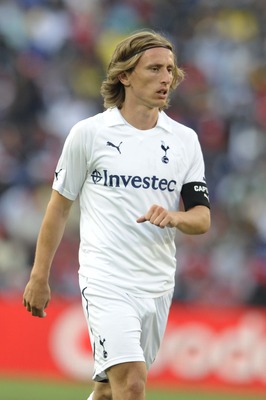 Gallo Images/Getty Images
Modric has been at the centre of a transfer wrangle between Tottenham and Chelsea. So far Chelsea's efforts to sign the Croatian midfielder have been rebuffed. Despite this, Modric has indicated that he would like to sign for the Blues.
While Tottenham may be able to hold out until the end of the current transfer window, there is a good chance that they will be out of the title race by January. This will give Chelsea another opportunity to get the playmaker they need and with Modric's likely discontent increasing, Harry Redknapp will have to relinquish and sell him.
2. Norwich City Will Not Be Relegated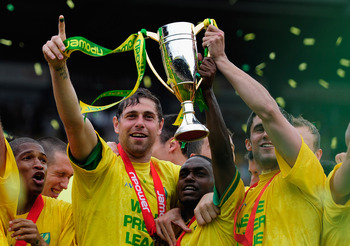 Jamie McDonald/Getty Images
It is incredible to think that almost exactly two years ago, Norwich City lost their first home game in League One 7-1 to Colchester United. Since then, the Canaries have secured back to back promotions and find themselves in the Premiership for the first time since the 2006/07 season.
While many experts have predicted an instant return to the Championship, I think that Norwich may well survive. While they may not have the strongest squad on paper, they have an excellent young manager in Paul Lambert and a side that has plenty of goal scorers in it.
Simeon Jackson, Steve Morison and top scorer Grant Holt may not be known outside of fans of lower league clubs but they have consistently scored goals over the last couple of years. The likes of Kevin Doyle and Charlie Adam have shown that prolific Championship players can step up a level, and there is no reason why these players can't either.
Norwich will be near the bottom but come May, they may just about survive.
3. Swansea City Will Beat a Top Premiership Side at the Liberty Stadium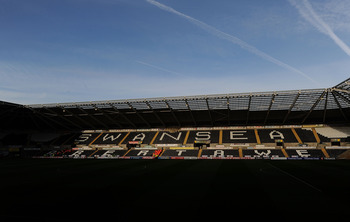 Stu Forster/Getty Images
Looking at Swansea's squad, I would expect them to go the same way as Blackpool and Burnley. Just like those two clubs though, the Swans will be very difficult to beat at their own ground especially when you consider that most teams will be travelling over three hours to get to South Wales.
Picture the scene, it's a Saturday evening in December. It's cold, wet and there are 20,000 Welshmen in the ground chanting, shouting and making it a hostile atmosphere for the away side. The away side has had a difficult European fixture in midweek and the journey to South Wales to face fired up players and locals will be incredibly difficult. This will only be increased by one of the Premier League big boys visiting.
Swansea will not be an easy away trip for any team this season. When any of the top sides visit, those games will have all the makings of an upset.
4. West Bromwich Albion to Finish in the Top Half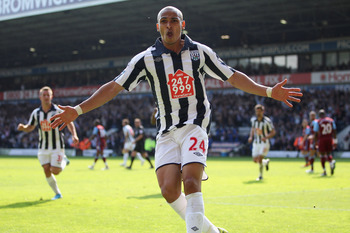 Michael Steele/Getty Images
Under Roberto Di Matteo, West Brom were looking like they would continue to yo-yo between the top two divisions but with the arrival of Roy Hodgson, the Baggies survived comfortably.
Hodgson has a reputation for taking unfashionable sides and getting the most out of them. He did incredibly well with Fulham by taking them into Europe and onto a UEFA cup final. While he may not achieve quite as much with West Brom, he has a good squad to work with.
West Brom have done some smart business over the summer. They have made a definite upgrade in goal by signing Ben Foster to replace the extremely unreliable Scott Carson. The recent signing of Shane Long from Reading, one of the Championship's best strikers last season, may turn out to be a very smart piece of business. Perhaps most importantly, they have managed to hold onto talented striker Peter Odemwingie.
West Brom will definitely be a team to watch this season.
5. Manchester City Will Win the Premiership Title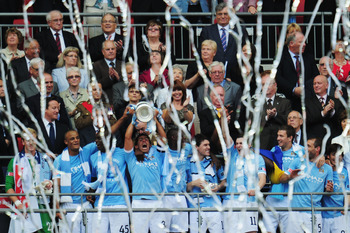 Shaun Botterill/Getty Images
Once again, Manchester City have spent big but what makes this different to last season when expectations were so high? Roberto Mancini has spent money once again bringing in Gael Clichy and the highly rated Sergio Aguero with Samir Nasri possibly to come. This complements a side containing players like Joe Hart, Vincent Kompany, David Silva and Carlos Tevez—should he stay on. I'd expect more of Edin Dzeko now that he has time to settle in, making City's striking options all the more formidable.
Mancini has now had a couple of years to develop his side and work out his best lineup. With the F.A. Cup victory last year, City are all the more dangerous this season.
This will be a very tight title race this year. Manchester United are rightfully the title favourites and Chelsea will be near the top again. Also expect challenges from Liverpool and do not write off Arsenal despite a summer of turmoil.
At the end of the year, I expect City to just sneak the title come May.
Keep Reading