Minnesota Vikings Release Unofficial 2011 Depth Chart: Share Your Analysis
August 10, 2011
Hannah Foslien/Getty Images
This Saturday the Minnesota Vikings play their first preseason game against the Tennessee Titans. 
Preseason games are the perfect opportunity for coaches and fans to evaluate the young talent on the roster.
On Tuesday the Vikings released the first unofficial depth chart for the 2011 season, so let's take a look and see how things are stacking up, so when Saturday rolls around, we will all be familiar with who's who on the Vikings' roster. 
Defense
LDE: Brian Robison (96), Adrian Awasom (67), D'Aundre Reed (91) 
NT: Remi Ayodele (92), Fred Evans (90), Tremaine Johnson (95), Colby Whitlock (66) 
DT:  Kevin Williams (93), Letroy Guion (98), Christian Ballard (99), Cedric McKinley (65)
RDE: Jared Allen (69), Everson Griffin (97), David Akinniyi (60)
SLB:  Chad Greenway (52), Heath Farwell (59), Kenny Onatolu (55), Larry Dean (51)
MLB: E.J. Henderson (56), Jasper Brinkley (54), Jonathan Gilmore (47)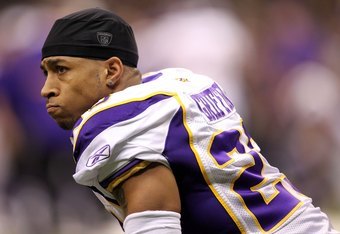 Ronald Martinez/Getty Images
WLB: Erin Henderson (50), Ross Homan (57), Mark Washington (58)
LCB:  Antoine Winfield (26), Chris Cook (31), Brandon Burton (36), Marcus Sherels (35)
RCB: Cedric Griffin (23), Asher Allen (21), Cord Parks (24), Devon Torrence (29)
SS:  Tyrell Johnson (25), Jamarca Sanford (33), Eric Frampton (37), Ryan Hill (43)
FS:  Husain Abdullah (39), Mistral Raymond (30), Simeon Castille (22), Chris Adingupu (41)
Thoughts: Nothing very unexpected here.
Remi Ayodele takes over for Pat Williams as the starting nose tackle. 
With Leber gone, Erin Henderson moves into the starting lineup alongside his brother, E.J.
Brian Robison is given a chance to earn the $14 million contract he signed in early March.
Cornerback Cedric Griffin, who has amazingly recovered from two ACL tears in the last 18 months, will be ready for the season opener.   
The starters are pretty much locked in with the exception of the strong safety position. Tyrell Johnson is listed first on the depth chart, but Jamarca Sanford has performed well at training camp. The battle between Johnson and Sanford will likely continue through most of the preseason.
Offense
WR: Bernard Berrian (87), Michael Jenkins (84), Jaymar Johnson (11), Emmanuel Arceneaux (16), Devin Aromashodu (19), Andre Holmes (15)
LT: Charlie Johnson (74), Pat Brown (79), DeMarcus Love (75)
LG: Steve Hutchinson (76), Seth Olsen (78), Byron Ison (73), Conan Amituanai (60)
RG: Chris DeGeare (72), Ryan Cook (62), Rodney Huntley (61)
RT: Phil Loadholt (71), Thomas Welch (66), Scott Kooistra (67)
TE: Visanthe Shiancoe (81), Jimmy Kleinsasser (40), Jeff Dugan (83), Kyle Rudolph (82), Allen Reisner (89)
WR: Percy Harvin (12), Greg Camarillo (85), Stephen Burton (86), Juaquin Iglesias (17), Dominique Johnson (18)
QB: Donovan McNabb (5), Joe Webb (14), Christian Ponder (7), Rhett Bomar (3)
FB: Ryan D'Imperio (44), Matt Asiata (48)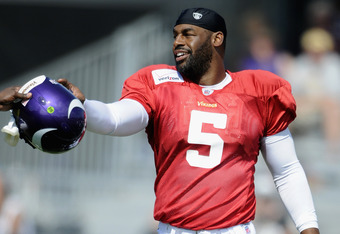 Hannah Foslien/Getty Images
HB: Adrian Peterson (28), Toby Gerhart (32), Lorenzo Booker (27), Alexander Robinson (34), Tristan Davis (20)
Thoughts: Again, everything is just about what you would expect. McNabb will lead the offense until the Vikings are out of playoff contention (or until he gets injured). 
Charlie Johnson will immediately step in as the starting left tackle (replacing McKinnie), and Chris DeGeare will start at left guard, at least until Anthony Herrera (PUP) is healthy.
Surprisingly, second-round pick Kyle Rudolph is listed as the fourth tight end, behind Shiancoe, Kleinsasser and even Jeff Dugan. 
Behind Percy Harvin, Bernard Berrian and Michael Jenkins, there will be two roster spots up for grabs. It will be a battle between Emmanuel Arceneaux, Jaymar Johnson, Greg Camarillo and Devin Aromashodu.
At fullback, there is still an ongoing competition between Ryan D'Imperio and Matt Asiata. D'Imperio is listed first on the depth chart, but Asiata has looked pretty darn good in camp.
Special Teams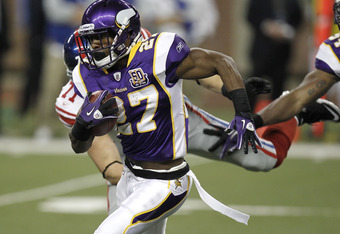 Gregory Shamus/Getty Images
Punter: Chris Kluwe (4)
Kicker: Ryan Longwell (8), Nate Whitaker (9)
Long Snap: Cullen Loeffler (46)
Holder: Chris Kluwe (4)
Punt Return: Greg Camarillo (85), Jaymar Johnson (11), Marcus Sherels (35)
Kickoff Return: Percy Harvin (12), Lorenzo Booker (27), Cord Parks (24)
Comments: Koenen is the punter and kickoff man, letting Barth concentrate on field goals. Return men same as last year. Question mark is long snapper. With Andrew Economos on the mend from an Achilles problem, will the team turn this important task over to an unproven rookie? Keep an eye on those long snaps in the preseason games.
There you have it folks. Take it, print it out and cross out the players as they're sent packing.