Oakland Athletics: Will Waiver Trades Open a Spot for Top Prospects?
August 10, 2011
Justin Sullivan/Getty Images
Heading into the July 31 trade deadline there was speculation that the A's would be sellers, opening several roster spots for their top prospects to be given an extended look and audition for Major League jobs in 2012.
However, the trade deadline came and went and only Brad Ziegler was traded for the acquisition of power hitting first baseman Brandon Allen.
Rumors for outfielders Josh Willingham, Coco Crisp, David DeJesus and Conor Jackson never materialized into discussions that were enticing enough for the A's to pull the trigger.
Oakland's general manager Billy Beane instead decided to keep the team intact and provide his interim manager Bob Melvin with a veteran group to try to contend the remainder of the season rather than overseeing a development experiment.
The decision not to wave the white flag, although admirable, blocked the promotions of Michael Taylor, Jai Miller and Chris Carter.
Miller and Carter have both made their Major League debuts, Miller with the Florida Marlins (one game) and the Kansas City Royals (20 games, 13 hits, one homer, .236 average) and Carter a handful of small stints with the A's over the past two seasons (34 total games, 17 hits, three homers, .170 average). Taylor, on the other hand, is still waiting for his Major League debut.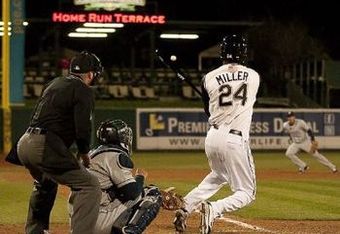 There is arguably no player more deserving of an extended look this season than Miller.
In 87 games so far this season Miller is batting .289 with 19 doubles, four triples, 27 homers and 70 RBIs. He also has stolen 14 bases and has not been caught stealing this season.
There is arguably no player the A's have more invested in than Taylor.
Heading down the progression line of how Taylor was acquired can be confusing, but essentially he was acquired for Carlos Gonzalez, Greg Smith and Huston Street (A's actually acquired Matt Holiday who they then dealt for Brett Wallace, who was then flipped for Michael Taylor).
Taylor had a disappointing first season in the A's organization in 2010, but has rebounded to have a solid season this year.
In 72 games this season, Taylor is batting .298 with 13 doubles and 13 homers. He has 48 RBI and has added 10 stolen bases—with just four caught stealing.
His power is still not quite at the level projected when the A's acquired him, but it is significantly improved from his six total homers in 127 games in 2010.
Meanwhile, Carter is still trying to find his place with the A's organization.
He still displays the power Oakland covets. He has 10 homers for the River Cats this season and another three for Stockton in a rehab assignment, but is batting just .240 against Pacific Coast League pitching.
The A's will need to determine whether or not he is capable of hitting Major League pitching, which will require giving him an extended look and consistent at-bats.
Not to mention the A's will likely want to get a look at their new acquisition, Allen, at some point before the conclusion of the season.
Which brings us back to creating a spot for them to get their auditions.
The resurgent offense in the second half has helped build cases for a few A's players to have increased value on the waiver market.
1. Josh Willingham
Willingham has been the A's biggest offensive threats this season, leading the team with 18 homers and 63 RBI.
His Achilles injury hurt his trade value in July and could be a factor that winds up keeping him in Oakland for the rest of the season if teams are concerned enough about the injury.
He is a dangerous bat though to have in a designated hitter role or even as a late inning pinch hitter for a contending team making a playoff push.
He has also shown in Oakland that he is still capable of playing in the outfield, just not on a nightly basis.
He's open to staying in Oakland on a long term deal, something the team should seriously consider with their power drought in recent seasons.
2. Coco Crisp
He is currently nursing an injury, but should return to the lineup within a few days. His value took a bit of a hit at the deadline as contending teams pushed for bigger names such as Carlos Beltran, Hunter Pence and Michael Bourn.
Crisp is a dynamic player who is having a breakout season on the base paths, currently leading the American League in stolen bases with 37—second in the Majors.
With Ryan Sweeney capable of playing center field and Jai Miller waiting in Sacramento, Crisp could be considered expendable if the A's decide he is not in their plans for 2012.
It wouldn't be completely surprising for the front office to decide to capitalize on another team's desperation for a speedy outfielder, but then again it wouldn't be surprising if they chose to hold onto him either.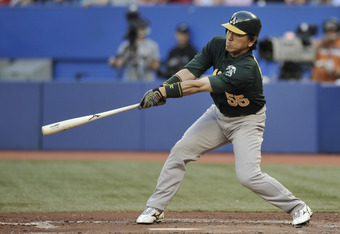 Brad White/Getty Images
3. David DeJesus
DeJesus is probably the most likely A's player to go in a waiver deal.
He has shown flashes of his former self with the A's, but not enough to shake the perception that he has been a bust in an Oakland uniform. Then again, Vin Mazzaro, who was traded to acquire DeJesus, has gone just 1-1 with a 9.25 ERA for the Royals this season.
David can't be happy with his performance in a contract year, batting just .234 with a .314 on-base percentage.
A team willing to take a chance that a change of scenery is all that is needed to jump start his season and revert him back to the player he was for Kansas City may be willing to place a claim on him in hopes of prying him loose from Oakland.
DeJesus is not the type of player to beg out of a bad situation and would likely welcome the move as producing for a contender down the stretch. This may be the only way to rebuild his value as he seeks a new contract this offseason.
4. Hideki Matsui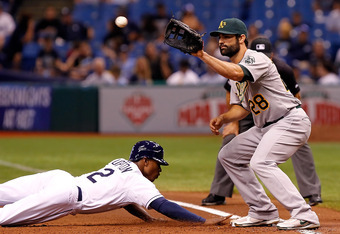 J. Meric/Getty Images
Matsui drew no interest prior to the trade deadline, but has been on fire since the All-Star break.
He has raised his average from .209 all the way up to .267 in just a little over a month, a pretty significant jump.
Over the last 28 days he is batting .451 and an even better .471 over just the past two weeks.
Five of his 11 homers have also occurred during the last month.
He has proven that he is still capable of playing a pretty good left field in split time with Josh Willingham over the past few weeks.
According to Susan Slusser of The San Francisco Chronicle, speculation is building amongst the Japanese media that Matsui could be becoming an attractive target for contending teams.
If the A's were to let him go through waivers by way of trade or a simply a waiver claim, his absence could open the designated hitter spot for Carter or allow Willingham to take over the DH role and free up an outfield position for Miller or Taylor.
5. Conor Jackson
Jackson is probably the least likely player to be moved in a waiver deal since he can play both first base and the outfield.
However, if he were to go in a deal, the A's could hand over first base to either Carter or Allen. It seems more likely, though, that they would retain Jackson and move him to an outfield spot so that they maintain the option of shifting him back to first base as a late inning defensive replacement.
Regardless of what happens before the August 31 waiver deadline, the A's will likely call up each of their top prospects waiting in Sacramento some time after rosters expand in September.
Since it already seems a foregone conclusion that Bob Melvin has proven he deserves the managerial job in 2012, there is little to lose by offering the prospects an extended audition the rest of the way.
The only question that remains is which, if any, of the impending free agent players blocking them will be moved to create an opening.
Brandon McClintock covers the Oakland Athletics and Major League Baseball for BleacherReport.com. You can follow me on Twitter:  @BMcClintock_BR.