Rory McIlroy, Tiger Woods, Phil Mickelson: Who's PGA Championship 2011 Favorite?
August 10, 2011
Andrew Redington/Getty Images
In a field of 156 of the best golfers in the world, there are literally 100 different players who have a legitimate shot of winning the 2011 PGA Championship on the Highlands Course at the Atlanta Athletic Club this week.
Off the top of my head, I'd say Jason Day, Adam Scott or Steve Stricker would all be high on my list. I'd also include Nick Watney, Rickie Fowler, K.J. Choi, Luke Donald and Dustin Johnson as favorites.
But let's look at three of the most popular players in golf today—reigning U.S. Open champion Rory McIlroy, 14-time major championship winner Tiger Woods and four-time major champ Phil Mickelson.
All three have as good a shot as any of walking away with the Wanamaker Trophy on Sunday. Or do they?
Of this esteemed trio, McIlroy has to be the favorite. After all, he's playing the best golf right now. Plus, he has been successful in his last three tournaments in the United States.
McIlroy finished fifth at the Memorial Tournament in May, he won the U.S. Open in June, and he was T6 at WGC-Bridgestone last week. Add up his scores during those events and he was a combined 37 under par. McIlroy is in a groove and I see no reason why he won't continue his trend of solid play this week.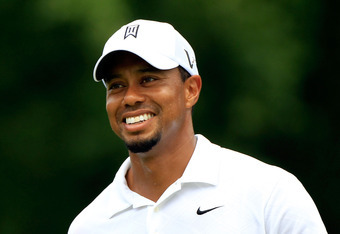 Sam Greenwood/Getty Images
Woods is only one week removed from a return to the PGA Tour after three months on the recovery shelf. He finished the WGC-Bridgestone with a one-over-par total of 281—not bad when you consider his circumstances. But this is Tiger Woods. He expects to win every tournament he enters.
I think Woods has an outside shot this week. You simply can't dismiss someone with his talent and competitiveness. But I would consider a top-10 finish pretty remarkable.
After an opening-round 67 at WGC-Bridgestone last week, Mickelson disappointed with rounds of 73-71-72 to finish T48. But if he finds his game and gets hot for more than nine holes like he did at the British Open, "Lefty" could be dangerous. Plus, with the slick, elevated greens at AAC, a high ball hitter like Mickelson might be more likely to enjoy success.
Yes, conditions on AAC's Highlands Course will be fast and furious. In fact, it could be a role reversal with what might have been expected at the U.S. Open this year—or any year, for that matter. It will be interesting to see how such an impressive field handles the difficult course—and the "Hotlanta" weather—and whether even par in a major championship will be considered a good score again.