What Jose Reyes' Hamstring Injuries Mean to the New York Mets
August 10, 2011
Paul Bereswill/Getty Images
This Monday, Mets shortstop Jose Reyes was placed on the disabled list for the second time this season.  Reyes suffered from a tight left hamstring while running to first base in the first inning of the Mets-Braves game.  Reyes was removed from the game and now finds himself on the disabled list once again.
As many of you know, Reyes will be a free agent this winter and he has been having a very successful contract year until recently.  There's no denying how great Reyes' stats are this season, but being sidelined twice by his hamstrings is making his free agency look bleak.
Injuries are as much a part of sports as anything else and Jose Reyes is justifying that this season.  Reyes' main goal this season was to stay healthy; not far behind that goal was putting up "Jose Reyes" numbers.  Reyes was doing both of those until the All-Star break.
The problem with Jose is that his hamstrings are just naturally wound tightly and that is not helping him out at all on the injury front.  Fans and writers have been debating their thoughts on the contract that Jose Reyes should get this offseason and this recent stretch of misfortune for Reyes has definitely heated up that argument.
The main debate is whether Reyes should get a CarlseverCrawford-type deal.  Crawford was a free agent last year and was signed by the Red Sox to a 7-year, $142 million deal.  It looked as if Reyes was on his way to getting a contract similar to that until his hamstrings started barking.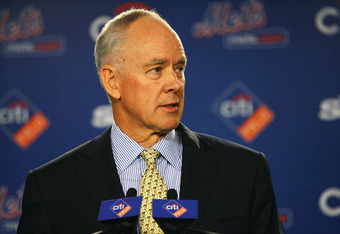 Andrew Burton/Getty Images
Even though it looks highly unlikely that Reyes gets a Crawford type deal, it is still a possibility.  All it takes is one team to be overly aggressive and put all their money into one player.  One of those teams that can possibly do that is the San Francisco Giants.
It's safe to say that Brian Sabean and the Giants are expecting to repeat as World Series Champions this season and if they don't, then Sabean will be very disappointed and might look at Reyes as that one missing piece of the puzzle.  That might then prompt him to blow Reyes away with an offer and bring him to San Francisco.
The second that a team gives Reyes an offer like Crawford's, the Mets can pretty much forget about retaining Reyes.  The Mets will have to be content with their two compensation picks that they will receive from Reyes signing with another team.  This is a possibility, but the chances of it happening are rapidly decreasing due to Reyes' injuries.
Some people believe that Reyes' recent injuries are actually a good thing for the Mets.  I believe in that to a certain extent.  I think that his hamstrings will most definitely lower his price and that will help the Mets efforts in bringing Reyes back to Queens.
So the injuries might help the Mets but I'm not jumping for joy that Reyes finds himself on the disabled list again.  I would much rather have a bidding war on a healthy Jose Reyes, but the truth is that if that was the case then the Mets might lose the bidding war.
So I guess it is safe to say that the Reyes injuries can possibly be a good thing for Sandy Alderson and the Mets, but only if these injuries don't get more severe down the line.  Whichever team signs Jose Reyes will have to admit the fact that Reyes' hamstrings will make him miss at least 10 games a season.  It's just part of the package that comes with signing him.
With that said, I don't see his recent injuries as a big problem and I'm hoping that the Mets look at it the same way.  Every player is going to have the risk of getting injured and that is just a part of the game, so why not take a risk and sign an immensely talented player like Jose Reyes, right?
Well, some general managers might look at these injuries the wrong way and pass up on Reyes.  That would be a bad move for them and their respective ball clubs, but it will be a great thing for the New York Mets.  The Mets have one of the smartest general managers in the game in Sandy Alderson, and don't forget about his assistants Paul DePodesta and J.P. Ricciardi.
These recent events in Jose Reyes' career have actually put the Mets front office in a position to use their smarts and out-think other teams' front offices.  It's also worth mentioning the "Carl Crawford effects" on Reyes again. 
It's almost inevitable for Crawford's name to come up when you are talking about Jose Reyes' free agency.  One thing that many people are overlooking is that Crawford has not been producing at a great rate this season.  Crawford's line this season is .257/.293./.396.  He has not been worth over $20 million this season and that may prevent teams from going overboard on paying Reyes.
Again, is that the right move? We won't find out until Reyes plays out his contract wherever he is, but as I said before Reyes situation is a very tricky one and I would have no one else trying to figure it out than Sandy Alderson and the rest of the Mets front office.
The Mets front office is getting paid the big bucks for situations like this and Mets fans can only hope that Sandy Alderson plays his cards right this offseason. 
My personal take on the Jose Reyes situation is that the Mets should start off by offering him a five-year $90 million contract and work from there.  The Mets should make the most of their exclusive negotiations with Reyes and I think that they will.
Reyes and his agent will probably eventually ask the Mets for a sixth year and that is where the Mets front office has to shine.  They might have to get creative and make an incentive-laden contract for Jose and hope that he takes it under the right circumstances.
Jose Reyes is one of the best players in all of baseball and he will help the Mets win a World Series in the future if they sign him this offseason.  Reyes is a once in a lifetime ballplayer and he should be the Mets' top priority this offseason; if a team decides to give Reyes a ridiculous amount of money then I think that the Mets might have to let him walk and take the compensation picks as a consolation prize.
It pains me to say that because I am one of Jose's biggest fans but the MLB is a business and hard decisions must be made.  I'm hoping that the Mets and Jose Reyes finish the 2011 season successfully and then work something out this offseason.  Jose Reyes will be one of the biggest topics of the offseason and it will be fun to see how things work out for the Mets and Reyes.