2011 Fantasy Football: 5 Reasons To Think Twice Before Drafting Peyton Manning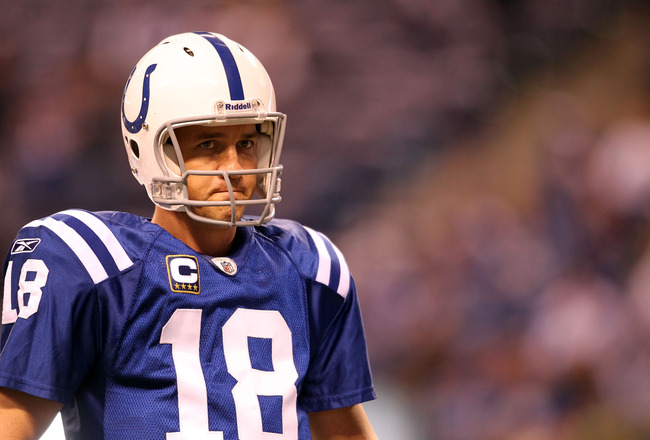 Andy Lyons/Getty Images
Peyton Manning is undeniably among the most elite quarterbacks to ever play the position and before his career is over, could conceivably be the greatest quarterback of all time. His monster 300-yard passing games and three-plus touchdown performances are something we all expect week in, week out.
However, with the Colts facing a variety of issues last season and this offseason, it might be wise to think twice before drafting Peyton Manning as your fantasy quarterback this year.
Here are five questions to ask yourself before drafting Peyton Manning in your fantasy leagues.
You can follow me on Twitter @mcfarlands412 or E-mail me at stmcfarland5@gmail.com
5) Has Manning's Neck Recovered from Surgery?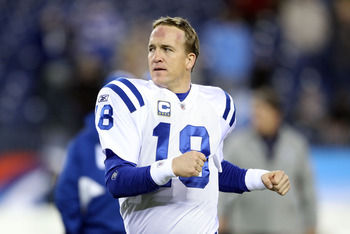 Andy Lyons/Getty Images
After the second neck surgery of his career in the offseason, Peyton Manning faces questions to his health, a once nonexistent issue.
Let's face it, Manning is getting older and has more wear and tear on his body. His offensive line, now aging and slowly eroding away, has left Manning victim to the heavy pass rushes of the AFC South. The Colts made it a point to address the issue via the NFL Draft, taking two offensive tackles with their first two picks. (This will be addressed farther on down the line; no pun intended)
Manning bounced back post-neck surgery in 2008 after a shaky 3-4 start, leading the Colts to nine consecutive wins to finish the season. He's as constant and consistent of an athlete as there is in sports, but can he be expected to bounce back just as well the second time?
Because of an extended NFL lockout, Manning was unable to communicate with team doctors about his recovery, and was unable to participate with the team when the Colts went to camp.
How long is it before we're going to see Manning take competitive snaps? The last preseason game? The third? Or will it be the first game of the season? Mind you, this is a quarterback who has never missed a game in his career.
With an injury like this one, I hope Manning gets enough snaps in the preseason to make certain his injury is recouped 100 percent.
4) What Is the Status of the Colts' Receiving Corps?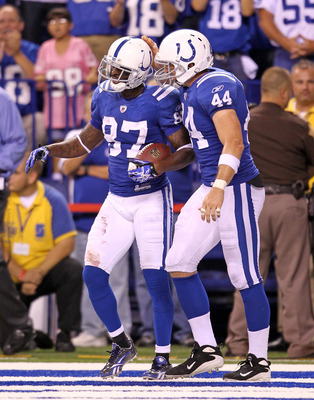 Andy Lyons/Getty Images
Didn't it seem like every other week last season the Colts were bringing someone off of their practice squad to suit up at receiver?
All-Pro Reggie Wayne showed up for another outstanding season in 2010, catching a career-high 111 passes, but beyond that, Manning had few other options he could consistently count on.
Austin Collie, who broke into the Indy lineup as the slot receiver in 2010 showed impressive abilities, snagging 45 balls before suffering a broken thumb in Week 6. That healed relatively quick, but Collie also sustained a series of concussions later in the season, first in Week 11's matchup with Philadelphia and then in Week 15's game with Jacksonville. Fragile to say the least.
Favored target tight end Dallas Clark also missed a significant amount of time in '10 due to wrist surgery that ended his season abruptly at Week 6. Though backup tight end Jacob Tamme was productive, Clark is among the most elite tight ends in the game today. His ability to stretch the field vertically as a tight end and flexibility to be put into the formation as a receiver makes him a huge mismatch for defenders. Only the quarterback-tight end tandem of Drew Bledsoe and Ben Coates have more touchdown connections in the history of football than these two. Manning needs Clark back.
I'm definitely going to be paying attention to the durability and overall health of the Colts' receiving corps this preseason to see how they have bounced back from last year. Manning is going to need as many quality pass-catchers as he can get.
3) Will the Colts' Run Game Improve?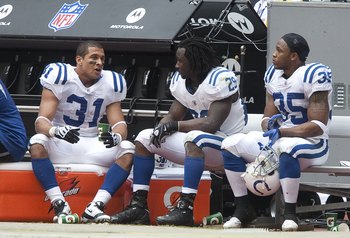 Bob Levey/Getty Images
For fantasy purposes, I like the Colts' running backs for the simple fact that Peyton will check the ball down to them a couple times a game. In 2010, Manning hit his running backs coming out of the backfield 55 times. Not a huge amount, but not insignificant either.
I'm not so much worried about how Indy's backs' will catch the ball, but much more importantly, how they're going to run it! Without a sufficient run game in Indy, what is going to stop defenses from bringing extra defenders down into the box, daring Manning to throw it. He'll do it, oh there's no question about that, but with a more productive run game, Manning could be primed for an even more spectacular statistical season.
I'm not sold on that happening though. At least not yet.

Indianapolis' run game has been sufficient enough for teams to now only stack eight in the box as opposed to nine. They're that bad. The last five seasons, they have averaged a finish of 25.6 in the NFL in rushing YPG, and have finished only as high as 18th (twice; 2006-2007).
Joseph Addai, though he'll only be turning 28, has beat up his body considerably through five years in the league. His between-the-tackle, physical running style finally caught up with him in 2010 when he missed eight games during the thick of the season with a shoulder injury (Much to the dismay of this fantasy owner).
The other running backs on the depth chart are adequate at best.
2009 first-round draft pick Donald Brown hasn't panned out yet. His 3.8 YPC doesn't warrant much attention, although his ability to catch the ball out of the backfield might keep him on the field on third downs if he can be trusted to pick up blitzers.
Michigan product Mike Hart has not been impressive either. Oh, and Javarris James who received so many of those Colt goal line touches last season, (five of his six touchdowns came inside the three-yard line, and the other was only six yards out?) He got picked up on a marijuana possession charge.
What you have is a handful of guys who have the talent, but not the necessary support in front of them to thrive.
You can't put blame on the running backs without putting it on the offensive-line unit. That is where the bigger problem lay for the Colts, the problem I feel could impact Manning's fantasy production the most.
2) Can the Offensive Line Control the Line of Scrimmage?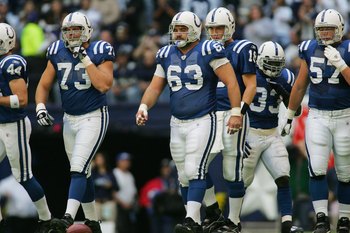 Ronald Martinez/Getty Images
I don't doubt Peyton Manning's ability to get the ball out on time. The internal clock in his head has to be one of his most valuable characteristics. But wouldn't it be nice if Manning could, hypothetically have all the time in the world to pick defenses apart?
Colts' ownership was thinking the same thing when they drafted two offensive tackles in the first two rounds of this year's NFL Draft. By selecting Anthony Castonzo 22nd overall in the first round and Benjamin Ijalana in the second round, 49th overall, the Colts have shown their dedication to not only protecting Manning in the pocket, but that they need to be able to run the ball better than they have in years past (3.7 YPC as a team since 2006).
Just because of their shear size, these rookies may be able to play well, but they will inevitably have their lapses in assignment. I'm going to keep an eye on how they're working together and talking to the rest of the line and how responsive they are towards one another in the preseason. With Manning presumably missing preseason action, it will be an opportunity to get a lot of runs in, to see how this group works together.
Controlling the line of scrimmage is not something that will come overnight for this Colts' offensive line, but it's something that they can improve upon week-to-week, hopefully peaking at the right time of the season. The young offensive lineman will get their fare share of opportunities to attack the line of scrimmage and defend it; they're projected to both start for the team.
Winning a Super Bowl without a great running game can be done. The Colts showed that in 2006. That season they only averaged 4.0 YPC, but after several years of ineffectiveness running the ball, it will be up to veterans like center Jeff Saturday and tackle Ryan Diem to get the rookies up to speed with the offense and working together as a unit.
1) Is It Just THAT Time in Manning's Career?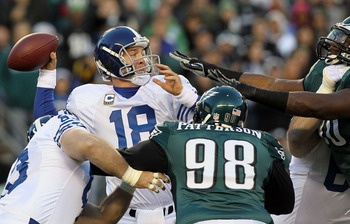 Jim McIsaac/Getty Images
Has the time come yet where we can officially call Peyton Manning old? Probably not. He's not your typical 30-something in the NFL. Manning is coming off of five consecutive 4,000-yard passing seasons.
That's rare air, my friends.
Manning will be 36-years old in March and has undergone two neck surgeries and a knee surgery to clean up an infected bursa sack in his left knee, all since 2008. In football terms, that's probably relatively minimal for a players' career, but at a position like quarterback, those are not injuries conducive to success.
Not that he can't be an improved Peyton Manning after his second neck surgery, but age catches up with everyone. Physically you cannot do at 35 what you did at 25. If you can, you're probably in Barry Bonds territory.
Traditionally, with several outstanding exceptions, Kurt Warner comes to mind, the age and time in a quarterback's career when their production starts to taper off is where Manning finds himself now.
Obviously, Warner can't be put into the same class of quarterback that Manning is in. Few can, actually. There's also no indication that Manning is about become a bench warmer, but this season, don't be surprised if Manning begins to show signs of his age whether it be in the form of a dip in completion percentage or an increase in the amount of rest he receives during the week leading up to a game.
So how can I be saying this about a guy who just threw for a career-high 4,700 yards in 2010? A player who is one touchdown pass short of 400.
I know Manning will get his, statistically that is, but with a young offensive line protecting his blindside and the absence of a formidable running game to keep defenses from hounding the line of scrimmage, I expect the Colts to go through some growing pains this year in a division that remains competitive every season.
Manning will have a down year in 2011, failing to reach his sixth straight 4,000-yard passing season.
Keep Reading

Indianapolis Colts: Like this team?