In a Loaded Boston Red Sox Line-Up, Carl Crawford Is Still Waiting to Breakout
August 10, 2011
Elsa/Getty Images
No matter how bad it has been for Carl Crawford this season, and it has been atrocious at times, Carl Crawford has stayed positive. Sure, the Boston Red Sox have been winning, so it could be much worse, but there has still been $142 million worth of pressure on the speedy left fielder.
"I can't give up," Crawford said. "I've always got to have positive thoughts about making the season better for me as best I can. I definitely have that in my mind."
There is still plenty of time for Crawford to improve his play before the playoffs begin, but regardless of how well he plays, this season will likely be sub-par for the career .294 hitter. This season that .294 represents his on-base percentage rather than batting average.
In the past seven years with the Tampa Bay Rays, Crawford had never hit lower than third in the batting order. This season with Boston has turned that trend on its head, with Crawford hitting between the sixth and eighth spots in the order in 70 of 83 games.
On June 17 Crawford pulled his hamstring and was placed on the DL. No injury can come at a good time but for Carl Crawford it was the worst time possible as he was just beginning to turn his season around. The injury ended a 23-game stretch for Crawford of hitting .314 with five home runs and 18 RBI. The Red Sox had a 17-6 record over that span.
Even with the struggles of Carl Crawford this season, the Red Sox are still leading the league in runs scored, hits, batting average, on-base percentage and slugging. The New York Yankees are the only team with more stolen bases. All of that could improve with Crawford playing up to the standards he is capable of.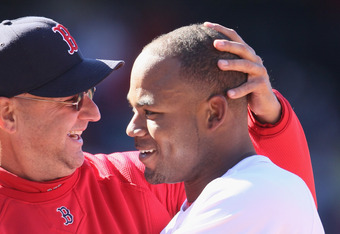 Elsa/Getty Images
The Red Sox manager, Terry Francona said in The New York Times recently, "The first part of the season was really tough and he's going to pay for that statistically when you look up at the end of the year."
"If he's the Crawford that we have come to know, even if his batting average is a little bit lower at the end of the year than it's supposed to be, that doesn't mean he can't be the player that we are looking for," said Francona.
Carl Crawford will not hit over .300 this season as he usually does. He will not steal 50 bases, he only has 12 so far. He is known for working hard and staying focused though, and it appears that he could be headed for better days. In last weekend's series against the rival Yankees, Crawford raised his average from .242 to .260 by going 9-for-12.
If Crawford's bat does heat up, it is a weapon that could make Boston deadly in a playoff series. The combination of speed and power through all nine spots is overwhelming, especially in a seven-game series.
One of the issues Crawford has had with his hitting recently has been seeing the slider from a left-handed pitcher, which he has been working hard on in the batting cages. That work helped him go 4-for-4 against C.C. Sabathia with an RBI and three runs scored.
Will Carl Crawford ever play the way he did in Tampa Bay? The years when he was not only hitting but incredibly fast and aggressive on the bases. During the Monday broadcast of the Red Sox vs. Twins game on ESPN, Bobby Valentine mentioned that Carl Crawford is the third player to achieve 400 stolen bases with over 100 triples.
It is inevitable that age will slow players down, but Crawford still has the speed, he just has to be a more aggressive baserunner. With a few more solid years and maybe a World Series ring, there could be a spot waiting in Cooperstown for Carl Crawford.