Memo to WWE Creative, Vince McMahon and Triple H: Do a Better Job
August 9, 2011
Ethan Miller/Getty Images
Memo to the WWE creative team, Stephanie McMahon, Vince McMahon and Triple H: Only having four matches scheduled just five days away from one of your biggest pay-per-views is pathetic, unprofessional, mind boggling and it shows that you truly don't care about the midcard, which in turn means the WWE Universe will never care about it either.  Simply put, do a better job.
There are four announced matches on the card so far.  Let that sink in a little bit.  Has it hit you yet?  Got it?  What an absolute travesty, and what an absolutely terrible job done by the WWE creative team.  Isn't this supposed to be the third biggest pay-per-view of the year? Apparently not, and it's just another dumb pay-per-view that has no purpose other than to make money.
Maybe that's my problem in all of this, for years the WWE marketed SummerSlam as a huge event.  For years it was one of the "Big Four."  Now it seems as though it's one of the "uneventful 11," and the only two pay-per-views that matter anymore are the Royal Rumble and WrestleMania.  No wonder why the buyrates are so low.  Why should we buy pay-per-views at an outrageous price if they don't matter?
Look, I am excited for CM Punk vs. John Cena II.  I like the idea of title vs. title, and I like the idea of Triple H being the special guest referee.  Triple H being involved adds an interesting twist. However, look at the rest of the card.  Are you pumped for Sheamus vs. Mark Henry?  If you are, you're a mark.  That match will get six to eight minutes at most, and it won't be pretty.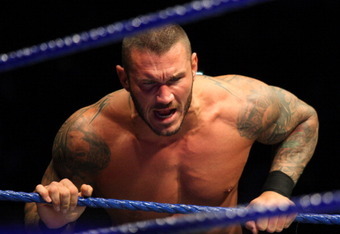 Gallo Images/Getty Images
What about Beth Phoenix vs. Kelly Kelly for the WWE Diva's Championship?  As Tony Schiavone famously once said, "Ha!  That'll put butts in the seat!"  
And that brings me to Christian vs. Randy Orton for the World Heavyweight Championship.  Have these two put on a great series of bouts?  Yes.  But is this new?  Is this fresh?  Not at all.  In fact, I believe this will be the fourth straight pay-per-view these two men have wrestled.  So, does that get me excited?  Not at all.
There you have it.  Those are the four, I repeat, FOUR matches on what is normally the third biggest pay-per-view of the year.  I have no doubt that more matches will be added in the coming days.  But will anybody really give a crap about them?  Isn't it just a little obvious that the WWE midcard is almost completely non-existant?  
I've been happy that the creative content on WWE has been much better recently.  The WWE creative team has been on a roll since June, but this is proof that there is still room for improvement.  This is also proof that if you spend too much time on one storyline that it puts you into a hole.  I was beginning to gain faith in the creative team, and I never thought that they would only have four matches scheduled for such a huge event that is only days away.
What about John Morrison vs. R-Truth?  What about Alex Riley vs. Dolph Ziggler?  How about putting those matches on the card instead of wasting them on RAW in matches that lasted a combined five minutes.  If these matches still end up being on the card I'm going to laugh hysterically, and then probably vomit.
By the way, I like to debate and I like to listen to people with differing opinions, but if anybody disagrees with me on this they need to get their head checked.  The last point I'll make to back up my argument is this: The Miz was in the main event at WrestleMania 27, and he's currently not scheduled for a match at SummerSlam 2011.  That is not awesome, that is...AWFUL!