An Interview with the Creator of "the 7 Line" Company, Darren Meenan
August 13, 2011
"DON'T TRADE REYES!" clap, clap, clap clap clap.
A campaign that started out with some t-shirts, signs, and a few hundred people gained national publicity early in June. Now that the trade deadline has passed and Mets' shortstop Jose Reyes is still with the team, the "Don't Trade Reyes" signs have changed to "Please Stay Jose" signs.
At the center of this is movement is the creator of The 7 Line clothing company, Darren Meenan from Queens, N.Y.
With the motto "For the fans, by the fans," Meenan has been able to produce a variety of original shirts and other clothing apparel to appeal to the die-hard Mets fans—man, woman or child.
Through his website the7line.com, along with his Facebook, Twitter, and surprise cameos on TV, the brand has grown larger than he could have ever anticipated.
I caught up with Darren to talk about The 7 Line as well as the orange and blue. 
[Erick Fernandez]: How long have you been a Mets fan?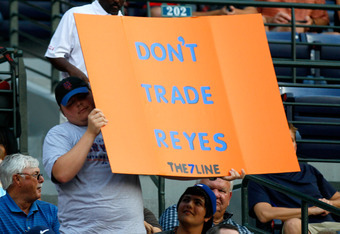 Kevin C. Cox/Getty Images
[Darren Mennan]: Since my first breath; I had no choice. I was born into a family of fanatics. John Trypuc and Bill Meenan are to blame.
My mother's father, John Trypuc, worked on the phones at Shea Stadium and ran all the lines when the place was being built. He did checkups every once in a while to make sure everything was in working order from the dugout to the bullpen.
He became a die-hard Met fan in 1962 since the Dodgers and Giants left town. That was the perfect job for him. He brought balls to every game and the players would sign them for him. I have one signed by almost the whole 1969 team that has since, been passed down to me.
My father's father, Bill Meenan, got a job at Shea after retiring for his other full-time job in the city. He ran the press gate from 1973 to 1995. Starting at 65 and finishing at 87. He never took a sick day! I would show up to the Press Gate before any game with my mom and we would hang out in his office until he was done with his pre-game duties. After that was all set, we walked up the ramp right outside his office to behind home plate. He would signal to one of the ushers and we would sit right behind home plate. That was amazing.
I have memories of ice cream, RC Cola and that lady named Bo who sat in the very first seat behind the plate. She was always real nice to me. I grew up hitting as many games as my Mom would take me to and I absolutely loved it.
[EF] How and when did the idea for "The 7 Line" originate?
[DM]: I've been printing T-shirts since 1998. I learned the ropes during my senior year of high school at St. Mary's in Manhasset and started a brand called Manmade. At the time I was heavily into the BMX scene and the line was geared towards that crowd.
It took off pretty fast and I was sponsoring riders from all over the Tri-State area and as far as Florida, Cali and Texas. The shirts were distributed in Japan, Germany, France and the UK. That started to die out around 2005.
I decided to start printing for other companies as that was a quicker sale. Pizza joints, bars, schools, family reunions, that sort of stuff. Since I own all my equipment, and the majority of my days were spent at the ballpark anyway, I decided to make a funny shirt at the end of 2009.
It said "I Survived" and listed the shortcomings over the last few years and finished it with LETS GO METS 2010. I wore it to the stadium and people were loving it. I set up a website during the off season and launched the Twitter and Facebook pages in April 2010.
[EF]: Where do you produce all of your t-shirts and other apparel?
[DM]: I design at my apartment mostly using Photoshop. I released a few designs lately that were submitted by a some other fans. A guy named "Monkey" whipped up the Bobby V shirt and people are really stoked on that one.
I don't like to take credit for other people's ideas. I just bring them to life since I have the experience and following. My printing equipment is in our Jamaica, N.Y., print shop. I rent space in a huge warehouse and that's where everything is printed, stocked and shipped from.
I have one part time employee who helps get the orders out when things get crazy. Whenever a new media story drops, orders come flying in and it's hard to keep up on when you're working solo.
[EF]: When did you realize your brand was starting to blow up?
[DM]: When MLB called in June 2010. At that point I had only been pushing the brand for two months so I was pretty shocked to hear they were on to me that quick. At the time I was using the word METS on some of the shirts and that's a no-no.
I wasn't aware of that until the phone call. I've been printing for over 12 years and never ran into any issues like that. I wasn't using their script logo or NY. Just the word METS in any old font. The way it was explained to me is that METS has a word mark. Meaning you can't write it on anything, in any font.
From then on I just stuck with orange and blue colorwise to make sure things are kosher. They said that they let other brands slide that don't seem to be actually selling any shirts. I assume the Mets saw shirts floating around Citi Field and made the call.
[EF]: What influenced you to initiate the "Don't Trade Reyes" and now the "Please Stay Jose" rallies at Shea?
[DM]: It was apparent after the whole Madoff [expletive], that the Mets have no money. The team is broke and it's a shame that after telling us for years that Reyes is a face of this franchise, they can't afford to pay the man.
I understand you can't spend money you don't have, but when statistically the best player in baseball (at the time) is wearing your uniform you do whatever it takes to keep him. I felt that with the voice I have over Facebook and Twitter it would be pretty easy for me to reach out to the fans who feel the same as I do.
I released the 'Don't Trade Reyes' t-shirt before the rally was even a thought. Sales were coming in slowly and I would wear the shirt when I hit up Citi Field.
I have to give credit to Donna Bauer and her friends who organized that first rally. They made a Facebook event and sent out invites all over the place. They called it 'Don't Trade Reyes day' and hundreds of people showed up on Citi Field's "Shea Bridge."
We all brought signs, wore the T-shirts and made a ton of noise. Reyes himself stopped while playing the field and threw waves out our way. It was pretty awesome. Fans all around the stadium were taking photos of us and SNY even mentioned the rally on the air.
The next day, photos surfaced all over the Internet and in some newspapers. A couple days later, the ESPN Sunday night game against the Braves, I brought my sign back to Citi Field and eventually got tossed out for handing out business cards. They initially didn't like that my sign said my website address on it so I decided to pack up shop and walk around. On my way up the steps fans around me asked how to contact me so I handed out a few business cards. That got me kicked out for soliciting. I sent Tweets out to different media outlets since I felt like getting kicked out was uncalled for. The next day the story was everywhere and t-shirt sales went through the roof.
People were making their own Don't Trade Reyes signs to bring to away games in Florida, Detroit, Atlanta, Pittsburgh, Texas and California. It was never my intention to get kicked out but it gave the story some wheels and the message went national.
Now that the trade deadline passed the "Don't Trade Reyes" movement is over. The "Please Stay Jose" rally is to show support for Reyes hoping that he might take a deal from the Mets even if the cash doesn't stack as high as another teams offer.
I know he's on the DL but the message will be heard regardless. It might actually make more of an impact that all these fans are out there to support him and he isn't even in the lineup. Come on down to Citi Field Friday night the 19th to join in on the fun. We are meeting up in McFadden's beforehand. Make a sign, rest your voice for some loud cheering and bring a fun attitude. We have a great time at the ballgames. 
[EF]: Do you think these televised and publicized rallies have put a lot of pressure on the front office to adhere to the wants of the fans?
[DM]: I do, but I don't want to come off sounding like I saved Reyes from the trade deadline. People have been tending to twist my words lately over the social media. There's almost no way to portray a full thought over Twitter's 140 characters limit.
Once the trade deadline was over, it almost felt like a victory for the fans. I haven't heard of a fan base rallying around a player and getting their message shown in countless different outlets like this one has. It's not about t-shirt sales. I have a full line of other shirts that people love wearing. The Reyes story was a hot topic and I had the shirts in the rotation before any of this happened.
The media really pushed this along and there's no doubt in my mind the front office at least weighed the fan support into their decision. There are a ton of very passionate Met fans out there that would straight up stop going to the ballpark if Reyes was gone. At least now the team will have a chance to make him an offer that he will hopefully take.
I feel like my brand is more of a community of like-minded fans that kind of band together. When you see someone else at the ballpark wearing a shirt from The 7 Line you automatically have something in common. If I was out for a quick buck, I'd be making Yankees t-shirts, not living and dying with every Met win and loss.
[EF]: What has been your favorite/most significant mention of you and/or your brand from the sports media outlets? [ESPN, SNY, WFAN, Yahoo, etc]
[DM]: I'd first like to give a huge thanks to Mark Morales at the Daily News. He was the first guy to hit me up about writing a story about the brand. That was back on May 12—it was a full page and also ran online.
I couldn't sleep the night before and waited at my local deli before the sun came up to grab the first 10 copies for my family and friends. The morning after that I got a call at 6 a.m. from John Montone at 1010 wins radio. He too wanted to do a story and I couldn't freaking believe it. John has been in the game forever and he was standing in my apartment doing a radio interview. After that was Roger Clark and NY1. They came to the shop to film a live TV segment and I was nervous as all hell but made it through it.
That was all before the 'Don't Trade Reyes' campaign. Since then stories have ran all over the place but I don't really have a favorite. I'd say I enjoy seeing all the people at the stadiums wearing my shirts much more than I do being in front of a camera. This brand is for the fans.
The Mets might not like my shirt designs very much but my brand is bringing fans together,which in turn brings more people to the ballpark. So regardless of what they think about my ideas, it's still putting some more butts in the seats when a rally brings hundreds of extra people to the ballpark.
[EF]: Where do you see the Mets finishing at the end of the season?
[DM]: Hopefully above the .500 mark. It's been two steps forward and two steps back all season. I'll still be there supporting the team win or lose like I have all my life. 
As you can tell, Darren Meenan is and always has been passionate about the team. Although he has enjoyed success with The 7 Line, it is evident that he will always remain loyal to his beloved Mets. No matter where his business takes him, you should expect to see him and his patented shirts at Citi Field for years to come.
Erick Fernandez is the creator of I Want to Thank my Hood & My Psychiatrist