10 Reasons the New York Jets Will Not Make the Playoffs in 2011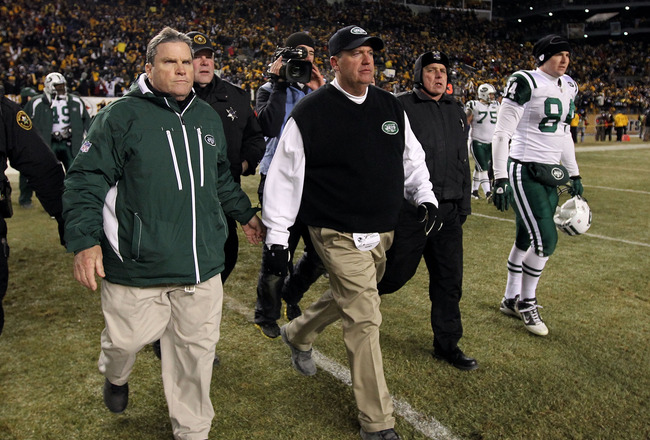 Will Rex Ryan succeed in leading the jets back to the postseason for the third staright year?
Al Bello/Getty Images
Rex Ryan is trying to accomplish something that would be unprecedented in the star-crossed history of the New York Jets: lead them back to the playoffs for the third consecutive season.
Sure getting to a third AFC Title game and first Super Bowl appearance in 43 years is Ryan's ultimate goal. He strongly believes that he has the best roster of talent in his, now, three years as the HC of the NYJ, and even proclaimed that the Jets would win it all after their 24-19 dress down against the Steelers last January.
Still just getting this team back to the postseason for a third consecutive year would be a feat that no other coach to don the green has ever accomplished. Bill Parcells didn't do it, Herman Edwards couldn't do it, Weeb Ewbank only took the Jets to two straight playoff appearances; even the infamous Walt Michaels couldn't get Gang Green to serious January football for three straight seasons.
Yes, Rex Ryan has accomplished a lot with this team. He has already won more playoff games (four) than any coach in Jets history, and has found a way to do this with a quarterback with only two years experience, an above average running game,and a defense that didn't have a dominant pass rusher.
This is not to take away anything from the Jets.
They have one of the most talented secondaries in football with Darrell Revis, Antonio Cromartie and Jim Leonhard. They were ranked one of the game's toughest defenses the past two seasons, and their passing offense became dynamic last season with the addition of the incomparable Santonio Holmes. Their running game will only get better with increased improvement from Shaun Greene, who I expect to have a big season.
There is potential here for the Jets to do great things in 2011, yet, as we all tend to learn in the NFL, teams have a propensity to take a step back after a year or two of consistent success. Call it bad timing, or the law of averages, or the simple fact that the difference between 10-6 and 4-12 in the NFL is just a couple of plays. It's the nature of the sport, and the reason why we watch every Sunday.
So here are the reasons why the Jets will miss out on the postseason party this year.
Brian Schottenhiemer Goes Back to Conservative Play Calling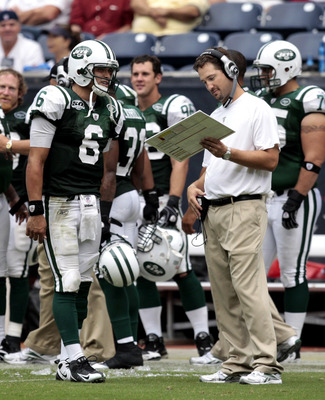 Bob Levey/Getty Images
Brian Schottenheimer has taken a lot of heat over the years as a conservative play caller.
Jets fans have grown furious at times with the lack of aggressive play calls that tend to come from their offensive coordinator. The key for Schotty is to find a way to utilize the likes of Plaxico Burress and Derek Mason into this offense. With veteran players of such talent, Schottenheimer will make people angry if he reverts to his old ways of running the football and asking Sanchez to check down.
Burress will be huge for the Jets inside the 20s and in goal line formations, while Mason will be huge on slants and third down. The strategy should be simple: let the play-makers make plays.
With Sanchez in his third year, it is imperative for Schottenheimer and Rex Ryan to give the kid the keys to the car. This is his big year to step up and show that he is ready to mature as a NFL quarterback and leader.
The Jets were 22nd in passing offense last year, and improvement in this area is key for Schottenheimer to focus on.
Derek Mason and LaDainian Tomlinson Show Their Age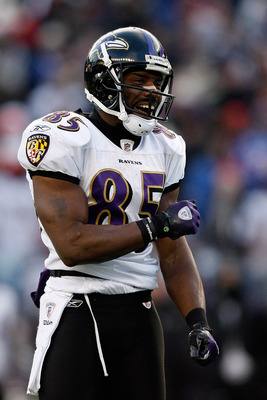 Elsa/Getty Images
Derek Mason and LaDainian Tomlinson were once two of the NFL's best offensive weapons.
Tomlinson got of to a great start with the Jets last year but slowed down at the end of the season. He still led the team with 904 yards rushing, but there is concern that Tomlinson's best days are indeed behind him.
Tomlinson will not have the load of the offense on his shoulders this year, that is if Shonn Greene steps up this season. Tomlinson will be a third-down back, but if he appears shot, using him on third down could become a waste of time really fast.
Tomlinson is a great player, but the Jets will have to look at Joe McKnight at some point this year as a second feature back behind Greene. McKnight is younger, and impressed at the end of the regular season.
As for Mason, I find his acquisition a bit strange. The Jets let go of a dependable receiver in Jerricho Cotchery, who is eight years younger than Mason. While Cotchery doesn't have the statistics that Mason has, he was a good safety net for Mark Sanchez over the past two seasons.
As for Mason, the Ravens have been trying to get rid of him for two years now. They replaced him as the No. 1 receiver with Anquan Boldin last year, and this year outright released him.
At 37, you have to wonder if the Ravens know something that the Jets don't. Mason will be asked to be the slot receiver in the Jets' offense, and he could be a solid pickup when it's all said and done, but at some point father time will catch up with Mason.
Over the long term the Jets were better off keeping Cotchery.
Shonn Greene Doesn't Take the Opportunity to Shine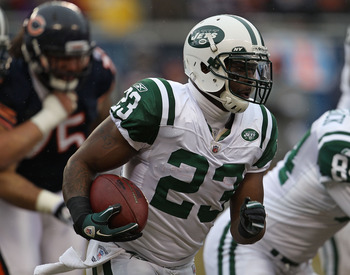 Shonn Greene needs to step up this year.
Jonathan Daniel/Getty Images
Shonn Greene, this is now your chance to show Jets Nation what you can do.
The third-year running back has tantalized Jets fans with the potential to do great things. He had a big postseason in 2009, tearing it up against the Bengals and Chargers in respective weeks. After the '09 season it was assumed that Greene would be the No. 1 back in 2010.
However, Greene didn't really step up and was outplayed by LaDainian Tomlinson during the preseason. Tomlinson became the Jets No. 1 back and led the team with 904 yards rushing.
This is not a knock on Greene. He did rush for 766 yards of his own, most of which came at the end of the year, but this time around the Jets need Greene to step up to the plate and crack a grand slam homer.
Greene has a nice combination of speed and power, and it is time for the Jets coaching staff to let the kid ride.
If Greene answers the challenge, he will have a 1,200 yard season easy, especially behind a solid offensive line like the Jets.
This is Greene's year; if he stays healthy, watch out, but success is up to him. He has to prove that he can take the punishment and hold onto the football.
Nick Folk Does What Nick Folk Does Killing Any Hopes of Victory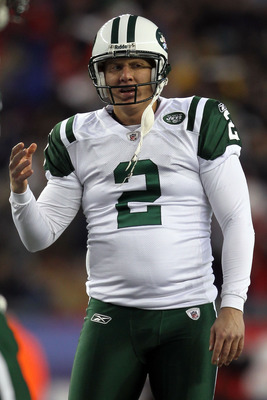 Jim Rogash/Getty Images
I know what some of you readers might be thinking: why pick on the kicker?
Nick Folk is a disaster.
Outside of his stunning game-winning field goal against the Colts in the playoffs, this guy gave Jets fans agita every time he stepped onto the field.
He missed huge field goals in games throughout the regular season, including missing two kicks that would have beaten the Cleveland Browns in the middle of the year, as well as missing a key field goal against Detroit that would have kept the Jets in front for good.
Then in the playoff game against the Patriots, after an interception by David Harris, Folk proceeded to miss a field goal that would have given Gang Green first blood.
Granted the Jets won games in spite of the kicker, but I clearly do not understand why they brought this clown back. He missed nine field goals last year, including two cheap shots from less than 25 yards out!!
Folk has a career 78 percent accuracy rate in kicking field goals, and in 2009 had a career worst 64 percent accuracy rate in kicking field goals for the Cowboys.
There are other kickers out there. If Folk returns to his knuckle headed ways this season, it will cost the Jets a football game this time around. And if he does, they have to get rid of him!
Muhammad Wilkerson and Kendrick Ellis Take Longer To Acclimate to NFL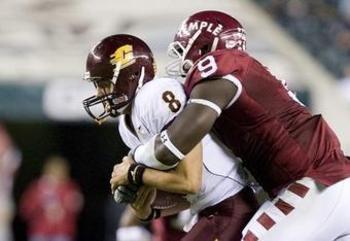 The Jets are banking that rookies Muhammad Wilkerson and Kendrick Ellis develop their depleted pass rush into something fearsome this year.
Wilkerson, a New Jersey native, was a big star at Temple University with a team-leading 9.5 sacks last season. He is listed as a defensive tackle but is athletic enough to also line up on the outside.
Ellis is a guy who is in some legal trouble. As a citizen of Jamaica, Ellis could be deported if convicted of malicious wounding after breaking a man's jaw in April 2010 at Hampton University.
Ellis is a 346 lb defensive tackle, who had 15 tackles for lost yards and two sacks last year at Hampton. If it works out, he would replace retired Kris Jenkins in the lineup.
Still there are concerns for both of these young men. They came into camp without access to the Jets facility and never really had a chance to practice and learn from their coaches during the offseason because of the lockout.
It's not their fault; it's a problem that will affect all rookie athletes this season in the NFL.
That means they have to adapt to the game real fast. It would be a pleasant surprise if either or both players have a major impact this season.
Fans should not be too fast to label these guys as busts, a la Vernon Gholston and Dewayne Robertson, but considering the Jets don't have a lot going for them on the edge, the pressure is on to learn really fast.
Lack of a Top Pass Rusher Shows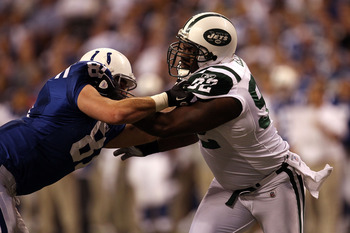 Jonathan Daniel/Getty Images
For some reason under Rex Ryan the Jets have yet to address this important position, pass rusher.
For a defense dictated on pressuring the quarterback, the Jets defense has struggled getting to the quarterback the last two seasons under Ryan. The Jets had 32 sacks as team in 2009, and only 40 sacks last season. A slight improvement but nothing to go mad about.
The Jets said adios to Shaun Ellis, a decent defensive end during his decade long stay in New York, but he only had 4.5 sacks last year and, at age 34, the Jets felt it wasn't worth keeping him. Unfortunately he ended up in New England, where he could wreak havoc on the Jets this season.
Outside of Ellis, the Jets don't have much of an answer at pass rusher. Calvin Pace who signed a six-year deal in 2008, has underwhelmed. He had only six last year, with 35 sacks in his career and hasn't remained healthy enough to live up to his contract.
Bryan Thomas has been a bitter disappointment since he was drafted in 2001. He had only six sacks last year, and in his best year in 2006, Thomas recorded only 8.5 sacks. This is not a great player, and I am stunned that Thomas is still a Jet to this day.
The Jets hope they can get enough pressure up front from their rookie draft class, but without a full offseason program, asking the kids to step up is asking a lot. Watch for the pass rush to be a huge issue all season.
The Schedule Is Tougher Than You Think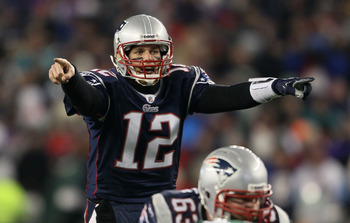 Elsa/Getty Images
Okay, before all you Rex Ryans out there start boasting, "Hey we beat the Patriots in the playoffs; we'll beat them again and again and again.
"Tom Brady is a crybaby." Blah, Blah, Blah.
The Jets schedule will not be a cakewalk by any means. Beginning with the hated Patriots, New England will be out for revenge this season in light of that playoff game. New England's big moves this offseason acquiring Chad Ochocinco Johnson, Albert Haynesworth and ex-Jet Shaun Ellis are all gambles, but knowing how Bill Belichick gets the most out of "risky" players, don't be surprised to see these guys kick it into an extra gear.
New England will be extra motivated to beat the Jets this season, and the last thing anyone wants to see is Tom Brady and Belichick with extra motivation.
The Jets also have to play the entire NFC East. They open the year at home against a Dallas Cowboys team that will be healthy, and under steadier leadership in Jason Garrett and Rob Ryan. The Cowboys game will not be easy by any means.
The Giants and Eagles will provide a tough test for Gang Green at the end of the season. The Giants hate the Jets with a passion after Rex Ryan's boastful proclamations that New York is now a Jets town. Eli Manning, Justin Tuck and Co. would love to shut Rex up for good.
The Eagles look like a monster football team on paper. If they live up to their billing, the Jets will have a hard time in the City of Brotherly Love.
Then of course, there are games against the Ravens, Chargers and a trip to Denver on a Thursday night, four days after the Jets play the Patriots on a Sunday night.
Lots of possible pitfalls, but that's what makes the season so much fun!
The Jets Never Replace Brad Smith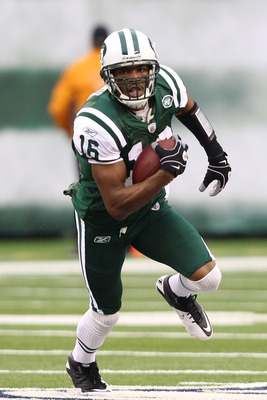 Michael Heiman/Getty Images
Last year when the Jets lost running back/ return specialist Leon Washington via free agency to the Seattle Seahawks, they had another capable weapon to rely on, Brad Smith.
Smith, who was smothered on the bench during the Eric Mangini years, broke out under Ryan as the Jets special team ace, as well as a slash player on offense who could play running back, wide receiver and quarterback.
His kick return for a touchdown against Indianapolis in 2009 set the momentum for the Jets playoff run, and his touchdown returns against the Bengals and Steelers last season were huge keys to those games.
In short, Smith is a game changer.
The Jets lost Smith to the rival Buffalo Bills after wasting way too much time courting Nnamdi Asomugha, whom they couldn't afford to begin with.
Do the Jets have a replacement? Not really, at least not that we know of anyway. The Jets are going to have a long and hard time trying to find a replacement for Smith. Look for Antonio Cromartie to get a majority of the kick and punt return duties.
This is a loss that will kill the Jets this season.
Plaxico Burress Has Injury-Riddled Year, and Doesn't Deliver the Goods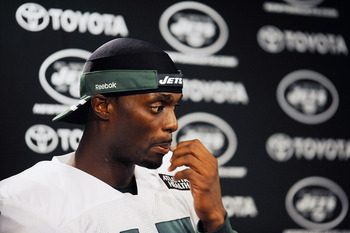 Patrick McDermott/Getty Images
Should Jet fans be excited or worried to have Plaxico Burress on this football team?
Answer: Yes to both.
Jets fans have every reason to be excited to have this guy on the football team. Here is a 6'5" wideout, the tallest wide receiver the Jets have had since Keyshawn Johnson, with a resume for making big catches inside the red zone. Just google Plaxico Burress and Super Bowl XLII.
Burress was a gifted athlete during his time, a guy who had incredible speed for a man of his stature, yet Burress is coming off two straight years behind bars for his gun incident in a New York night club, and the Jets have no idea how effective Burress will be.
He's 34 years old, and a lot of fans are banking that Burress will have the Michael Vick effect, and reclaim his old form.
Keep in mind though that Vick was a lot younger and mostly a bench player his first year out of jail. He had to work really hard during the 2009-2010 off-season to get his legs completely back to full strength, and even then, he wasn't guaranteed to start for the Eagles when 2010 season started. It didn't just happen.
Yes, I understand that he could work out in prison, but there is a big difference between working out in a gym and working out at a NFL facility. Burress got out of jail in June and has had only a few weeks to think about football again.
Burress already is limping around the Jets practice facility with a bum ankle. Example of what life is like back in the NFL after two years? Perhaps.
The Jets have to be worried. They let a younger and comparable wideout in Braylon Edwards walk to guarantee $3 million to this aging star. The Jets better hit a home run here, or they're in trouble.
What Happens If Mark Sanchez Gets Injured?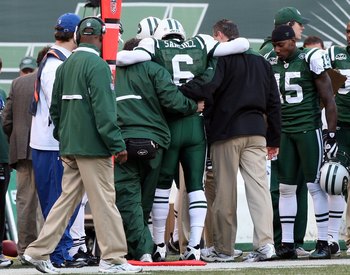 Jim McIsaac/Getty Images
Is it just me, or does it seem that whenever the Jets are on the precipice of doing something really great the injury bug raises its ugly head and begins to pick off Jet players one by one.
For those who are die-hard Jets fans, you might remember 1999. That was supposed to be the year for the New York Jets as they were coming off an impressive 12-4 season in 1998 that took them to the AFC title game.
With John Elway retired, and the Denver Broncos mini-dynasty kaput, many, including yours truly, thought the Jets were destined to win the Super Bowl the following season.
Those dreams died almost immediately when Vinny Testaverde fell to the Meadowland astro-turf floor, writhing in pain, clutching his lower right leg. Testaverde, the team MVP in 1998, was lost for the year with a torn Achilles tendon.
In came NFL flop Rick Mirer and a destitute season soon followed.
The pattern seemed to repeat itself now and again with Chad Pennington's various arm injuries that derailed his career and the Jets playoff chances over his eight plus years with the team.
Now back to this version of the Jets. Mark Sanchez has to have a big season if this team is to go anywhere near the playoffs again this year. He has all of the tools around him from three Pro-Bowl wide receivers, and two solid running backs behind him to take this team to the next level. As a third year quarterback, he is expected to have a big season. Anything less is not acceptable.
I don't think Sanchez will have a bad year. He has taken the bull by the horns, and stepped up as a leader of this team during the lockout, holding practices in New Jersey and California.
The question that the Jets have not addressed is the back-up quarterback. If Sanchez goes down, who is going to replace him? Mark Brunell is 40 years old and is no longer the guy who was a Pro Bowl quarterback in Jacksonville. His arm and legs are not what they used to be.
Marc Bulger and Billy Volek, two capable veterans were available, but the Jets didn't even bother bringing one of them in. This could be a huge problem if Sanchez goes down. Keeping Sanchez healthy is the key to the Jets' season. If he plays and plays well, the Jets playoff chances will only improve.
Yes, in year three, the Jets playoff hopes now rest in the hands of the quarterback.
Keep Reading

New York Jets: Like this team?