Everton Transfer Rumors: Five Players Who Could Leave the Toffees This Summer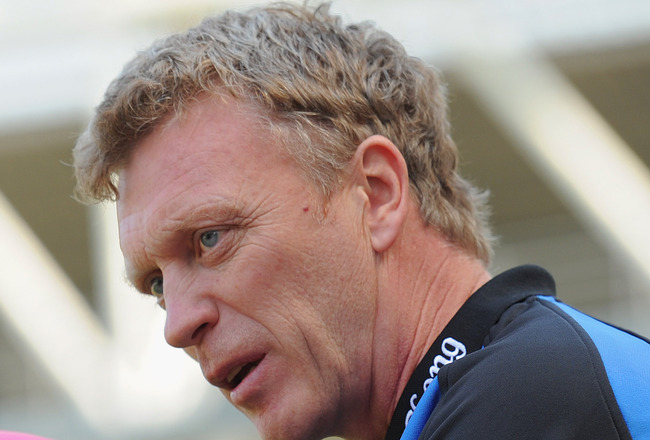 Michael Regan/Getty Images
Everton finished last year in 7th place, missing a spot for the Europa league by eight points. Tim Cahill and Jermaine Beckford led their scoring last year, scoring nine and eight goals, respectively.
Though they were tenth in the league in goals scored—with 51—it was their defense that held strong, as they conceded only 45 goals, which was the seventh best in the EPL. The back four was led by Leighton Baines, Sylvain Distin, and Phil Jagielka, whose strong play made them a great defense.
This transfer window, there are a lot of names flying around when it comes to transfers, and many players are being linked to other clubs.
Here are five of Everton's players who might leave.
Diniyar Bilyaletdinov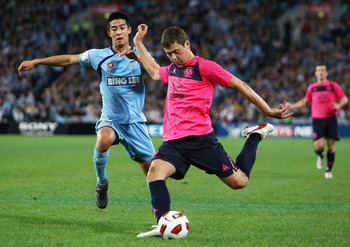 Mark Nolan/Getty Images
Diniyar Bilyaletdinov arrived at Everton in 2009, after having played for five years at Lokomotiv Moscow. At his former Russian club, he was praised as a talented player, and was linked with multiple clubs. At Lokomotiv, he scored 31 goals in 150 appearances and put in a number of impressive performances.
Despite that, he hasn't gotten too much playing time at Everton, appearing only 49 times out of a possible 76. Not only that, but in those 49 appearances, he's only scored eight times. His record with the Russian national team hasn't been too great either.
The Russian must be pretty frustrated, as he is already 26 years of age, and his career hasn't really been as good as it was supposed to be.
In April, Bilyaletdinov was linked with a move to FK Rubin Kazan, one of the best clubs in Russia. Though Bilyaletdinov denied all possibilites of that move happening, you never know what is happening privately.
Though he probably won't leave, you shouldn't rule out the small chance of a late transfer.
Jack Rodwell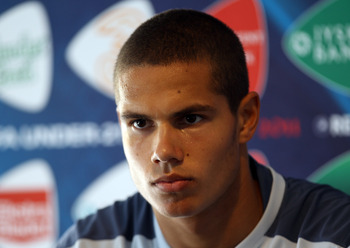 Ian Walton/Getty Images
Jack Rodwell is considered one of the most promising prospects in English football. He has been at Everton since 1998 (he joined when he was eight), and has impressed scouts, managers, and fans, as he has made a big name for himself.
Rodwell, a holding midfielder, stands tall at 6'2", and is very strong. He is good at muscling people off the ball, and isn't the kind of player who gets pushed around too often. Nonetheless, he can still be an attacking midfielder, as he doesn't lack quickness, and has a very good right foot. He is considered an attacker by many, though he isn't a consistent goal-scorer.
In international terms, Rodwell hasn't started playing for the English senior team yet. The only appearances in which he was representing his country were when he played for the U-16, U-17, U-19, and U-21 English squads.
As a talented 20-year-old, it is not uncommon to be linked to several major clubs at once. Jack has been linked to Manchester City, Real Madrid, Tottenham, and extremely heavily to Manchester United.
If Everton lose young Rodwell, their future might not look as bright as it would with him.
Leighton Baines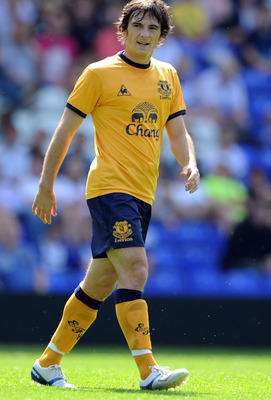 Chris Brunskill/Getty Images
Leighton Baines is definitely one of the top 10 left backs in the world, and maybe even higher. He has what many people call "the whole package."
Not only does he have the ability to defend and make tackles, Baines is very fast, a great crosser, and he has a shot that not many left backs do. He is very good down the left flank, and his side of the defense is the stronger one.
Baines may not score a lot of goals, but some of the ones that he can score are real beauties. For example, he scored a couple of cracking free kicks; one against Tottenham and one against Chelsea in the 119' minute of an FA Cup match.
He hasn't been very active on the English senior national team, as he made his first appearance last year, and did not go to the 2010 World Cup in South Africa.
Baines has been linked with Arsenal, Liverpool, and Manchester City, but a move to the Eastlands is not going to happen, as they just purchased left-back Gael Clichy. However, both Arsenal and Liverpool are in need of a left back, so they might snatch the Englishman.
If Baines leaves, there will definitely be a gaping hole on the left side for the Toffees.
Mikel Arteta
Richard Heathcote/Getty Images
Mikel Arteta is often compared to compatriots Cesc Fabregas, Xavi Hernandez, and Andres Iniesta, though when these comparisons are made, it is often stated that Arteta isn't as good as the others. Even so, when he is fit, he is among the top midfielders in the EPL.
The Spaniard started his career at Barcelona, from where he was loaned to PSG. Then, he continued to Rangers and Real Sociedad, before proceeding to Everton in 2005. Arteta has put up good numbers at Goodison Park, as he has scored 38 goals in 140 appearances for the Toffees.
Wearing the No. 10 shirt for Everton, he has helped Everton to a lot of victories, and undoubtedly played a part in their high finishes. Despite this, Arteta is very injury-prone, and he probably would have had a much better career if not for lack of fitness.
Though Mikel Arteta has never made an appearance for the Spanish senior squad, he is a target for many teams. The team most likely to sign him is Valencia, who lack people in the attack, as David Silva and David Villa left, and they might lose winger Juan Mata.
Arteta is a great passer, and makes Everton tick, but will he end up leaving?
Phil Jagielka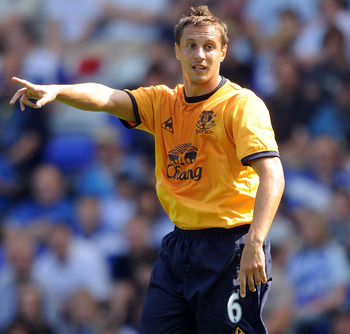 Chris Brunskill/Getty Images
Phil Jagielka is without a doubt one of the best center backs in the Premier League. He is tall at 6'0", and very strong, which makes him an intimidating presence for forwards.
Jagielka started his senior career at Sheffield United in 1999, where he played for eight years, and scored eighteen goals. In 2007, Everton bought the Englishman for £4 million, peanuts compared to what his price tag would read today.
Jagielka only broke through into the senior English squad in 2008, and he has only appeared eight times since then for his country. He did not fly with Fabio Capello and others to South Africa last summer, as England was not at all short of center backs.
Last summer, Arsene Wenger made a £12 million bid for Jagielka, and it was declined. This summer, Wenger made an astonishingly low bid of £10 million, which surprised everyone because it had lowered from last summer's bid.
Nonetheless, Jagielka might be Arsenal-bound, as Wenger seems to be lining up a larger bid for the center back.
Even if "Jags" does leave Goodison Park, it won't be a crisis, since Everton already have center backs Johnny Heitinga and Sylvain Distin for backup. It won't, however, be a gain!
Keep Reading

Everton: Like this team?