WWE SummerSlam 2011: Why Triple H Will Turn Heel in the Main Event
August 9, 2011
On last night's RAW, Triple H announced he will be the referee the highly anticipated second match between CM Punk and John Cena.
Since then, many have speculated over his role in the main event, with many pointing to a screwjob against CM Punk.
It's quite the opposite. In the main event on SummerSlam, Triple H will turn heel by helping CM Punk win. 
However it's hard to determine faces and heels when it comes to this feud. CM Punk is portrayed as a heel in kayfabe, but this feud is too far away from the kayfabe. Both Punk and Cena are faces to the demographic they each appeal to. 
Hence the question is, if Triple H turns heel at SummerSlam, is it a heel turn? Yes, if handled properly. A screwing of John Cena is something that would garner heat regardless, so that's easy. It's the follow-through that counts. While CM Punk doesn't necessarily have to act like a huge heel in his current role, Triple H would have to.
To successfully turn heel, Triple H would have to show the stereotypical heel actions of a boss, characterized by Vince McMahon. I believe Triple H can achieve this—his greatest success came as a heel.
More importantly than the execution of the heel turn, Triple H needs to turn heel. As a face COO, there is only so much entertaining material for Triple H. While I have found him funny over the last few weeks, Triple H needs to move away from his wrestling character and step into a COO character.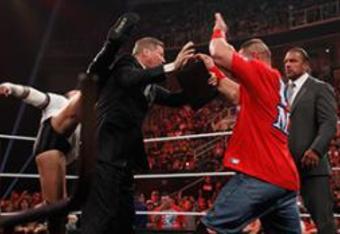 While Triple H as a face appears to be working, it's only as a part of the major storyline between Punk and Cena, where his character doesn't outshine the rest. Once this feud is over and Triple H has to become a visible character in multiple story lines, I believe he will become stale. It's very hard to make a face authority figure successful.
History dictates that heel general managers are overwhelmingly successful, due in most part to the ease of writing for a heel and the numerous heel acts they can perform.
Put simply, it's far more entertaining to see a heel general manager (e.g. Eric Bischoff) than a face general manager (e.g. Teddy Long). 
Triple H needs to turn heel to preserve the longevity of the COO character. There's no chance in hell that the Mr. McMahon character would have been successful as a face. That's why Vince is seldom seen portraying a face.
In simple booking, turning him heel is also a logical move. It's the second match between Punk and Cena, the first being won by Punk. The general assumption is that Cena will be victorious at SummerSlam and be redeemed. 
With Triple H in the mix, a clean ending is unlikely. Triple H siding with Cena would be a mistake as, firstly, it goes against Cena's character. He clearly showed at Money in the Bank that he won't be involved in a screwjob.
This is the best storyline wrestling has seen for years, and I dare say it won't end with the typical Cena rising above all stuff we have come to hate. CM Punk, the hottest property in wrestling today can't be buried, he's just too popular.
He's bringing more fans to RAW, and more importantly starting a resurgence, of sorts, in the WWE. From a booking perspective, having Triple H side with CM Punk, while portraying Triple H as a heel, can't greatly hurt Punk's credibility as a face with IWC and adult demographic.
Finally, the speculated CM Punk vs Triple H match at WrestleMania next year. Should Triple H turn heel, it will create the perfect, and yet unusual, match-up of two superstars who are faces within their demographics but portrayed differently in kayfabe.
Triple H, may very well be the heel, but the casual viewer will cheer him to defeat CM Punk—the man who caused so much harm to their golden boy John Cena. CM Punk, the tweener, will never be booed by his legion of fans amongst mature wrestling fans, or those pleading for change.
In kayfabe however, Triple H could be the heel COO that CM Punk wants to rid the WWE of. If that was hard to follow let me summarize: Triple H turning heel potentially makes his speculated match against CM Punk at WrestleMania more interesting.
This fantastic storyline has been progressing over the last two months, and it only seems logical at this point to turn Triple H heel. It creates many advantages in the short term, the Punk/Cena storyline, and also helps Triple H in the long run as the COO.
In the main event of SummerSlam this Sunday, look for Triple H to turn on Cena, aligning himself with Punk, for now...