College Football Preseason Rankings 2011: Bowl Predictions for the Top 25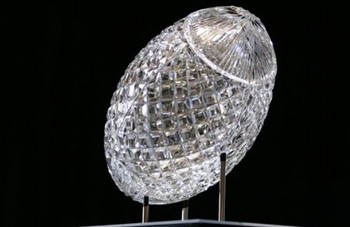 Predicting bowl destinations for college football teams is kind of like predicting which Nicolas Cage movie will actually be good—you just never know.
However, I'm willing to take a shot at it.
Who knows, I could have a Leaving Las Vegas on my hands...either that or Ghost Rider.
Reader, you have been warned.
1. Oklahoma: BCS Championship Game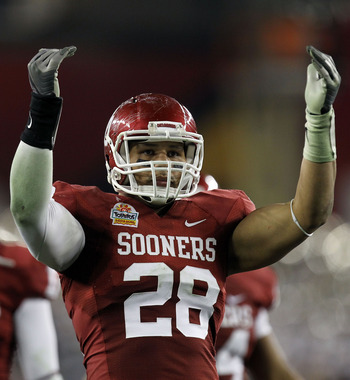 Ronald Martinez/Getty Images
A team with no apparent weaknesses, the Sooners should crush their competition.
2. Alabama: BCS Championship Game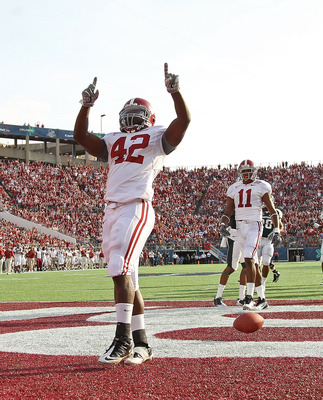 Mike Ehrmann/Getty Images
A dominating defense plus a very manageable SEC schedule equals Championship game.
3. Oregon: Rose Bowl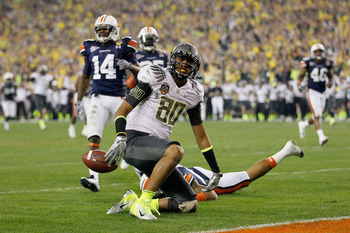 Kevin C. Cox/Getty Images
Winners of the new Pac-12 will be booking a trip to Pasadena this January.
4. LSU: Sugar Bowl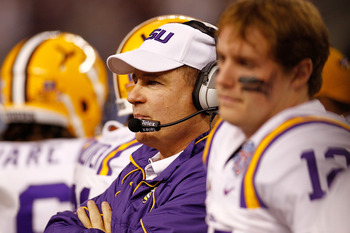 Chris Graythen/Getty Images
A tough road schedule leads to the Tigers' satisfying their sweet tooth in the Sugar Bowl.
5. Florida State: Chick-Fil-a Bowl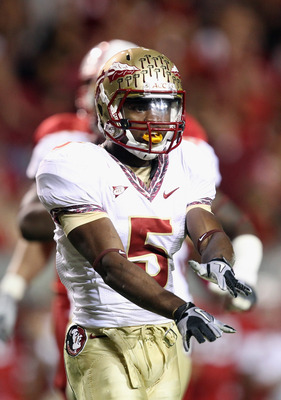 Streeter Lecka/Getty Images
An improving Seminole squad will be looking to reclaim its powerhouse status.
They will make their reservations at the Chick-Fil-A Bowl.
6. Stanford: Alamo Bowl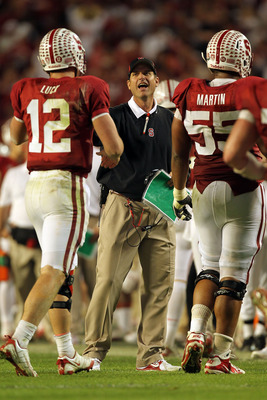 Mike Ehrmann/Getty Images
The Cardinals will be battling Oregon for the Pac-12 title—they will always remember their trip to the Alamo Bowl
7. Boise State: Fiesta Bowl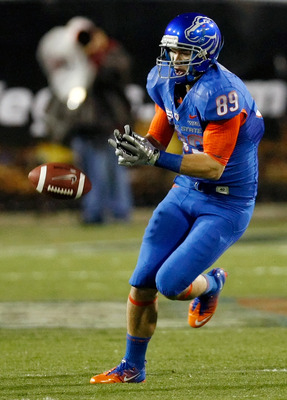 Ethan Miller/Getty Images
Yet another chance to be a national player for the Broncos, they will be hoping for a good party at the Fiesta Bowl.
8. Oklahoma State: Alamo Bowl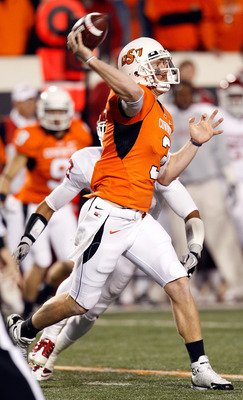 Tom Pennington/Getty Images
A killer schedule will keep the Cowboys from contending for the Big-12 title, leading to a trip to San Antonio.
9. Texas A&M: Sugar Bowl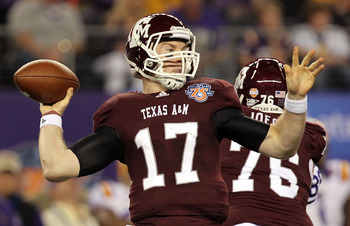 Ronald Martinez/Getty Images
The experienced Aggies are a dangerous bunch.
New Orleans will offer up its southern hospitality in January.
10. Wisconsin: Outback Bowl
AP Photo/Morry Gash
The perfect bowl for the massive Badger team—steak with all the fixins'.
11. Nebraska: Rose Bowl
Tom Pennington/Getty Images
A trip west will warm the hearts and bodies of Husker fans come January.
12. South Carolina: Outback Bowl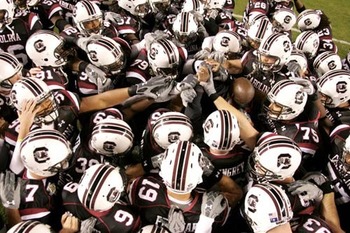 Coach Steve Spurrier has the Gamecocks poised for another strong year.
Their explosive offense will lead them to the Outback.
13. Virginia Tech: Orange Bowl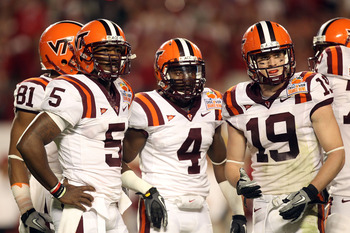 Streeter Lecka/Getty Images
A very favorable schedule coupled with a very talented team should lead the Hokies to the Sunshine state for the Orange bowl.
14. Arkansas: Cotton Bowl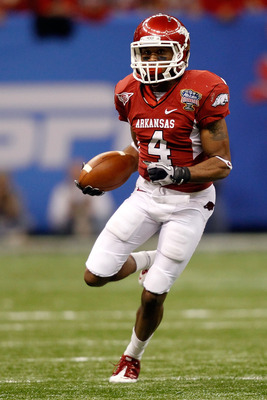 Matthew Stockman/Getty Images
The pass-happy Hog offense will propel Arkansas to a trip to Dallas.
15. TCU: Fiesta Bowl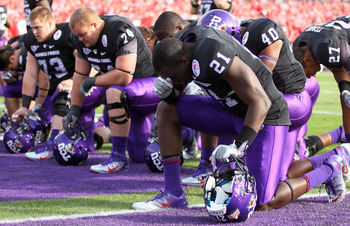 Jeff Gross/Getty Images
There won't be the expected drop-off for the Horned Frogs this year—expect them to be back in this BCS bowl.
16. Ohio State: Capital One Bowl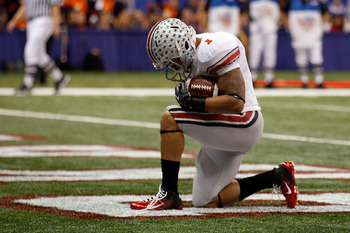 Chris Graythen/Getty Images
The beleaguered Buckeyes still have a fine team.
They can charge their bowl trip to a Capital One card.
17. Michigan State: Gator Bowl
A brutal road schedule will come back to bite them, leading them to the Gator bowl.
18. Notre Dame: Cotton Bowl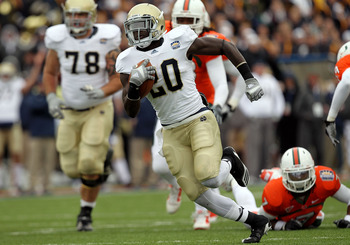 Ronald Martinez/Getty Images
A cream puff schedule coupled with an improving team will reacquaint the Fighting Irish with the Cotton bowl.
19. Auburn: Chick-Fil-a Bowl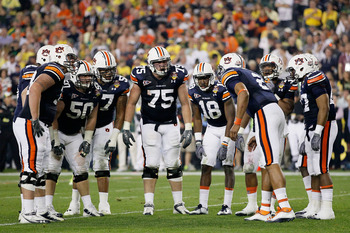 Kevin C. Cox/Getty Images
Where do you go after losing Cam Newton?
Well, for the Tigers, they end up in Atlanta on New Year's Eve.
20. Mississippi State: Liberty Bowl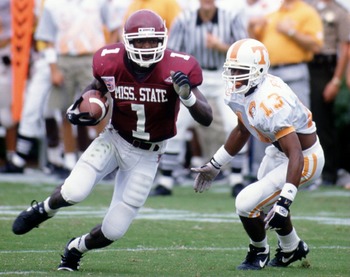 Jonathan Daniel/Getty Images
Coach Mullen has resurrected the Bulldog program.
The Liberty bowl will be their reward this season.
21. Missouri: Insight Bowl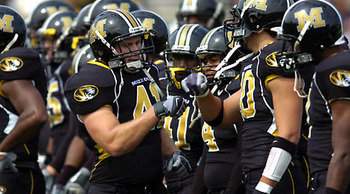 The Tigers face five bowl teams on the road. If they can get through that, a warm desert welcome awaits.
22. Georgia: Capital One Bowl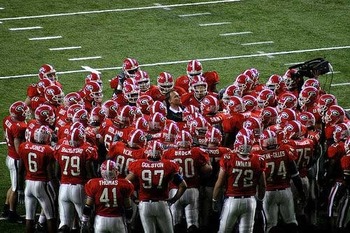 A good schedule plus a talented, underrated team lands the Bulldogs in the former Citrus bowl.
23. Florida: Gator Bowl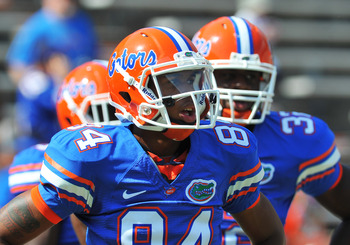 Al Messerschmidt/Getty Images
A new head coach realistically will have the Gators playing in this aptly-named bowl.
24. Texas: Holiday Bowl
Eric Francis/Getty Images
Coach Mack Brown was disappointed in last year's squad. Look for the Longhorns to bounce back with a vengeance.
25. Penn State: Insight Bowl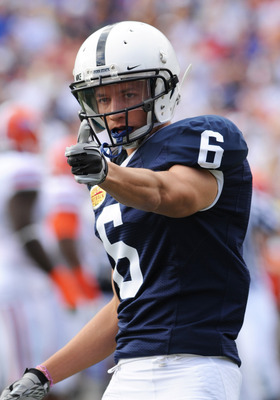 Al Messerschmidt/Getty Images
A veteran Nittany Lion team (which Joe Pa will appreciate), should have enough to make it all the way to Arizona.
Conclusion
So there you have it.
Was this a Kick-ass list or did I roll Snake Eyes?
If you have an issue with any of these I'd be more than happy to have a Face Off with you in the comment section.
Keep Reading