Hanley Ramirez: Is Marlins Shortstop the Most Overrated Player in Baseball?
August 9, 2011
Mike Ehrmann/Getty Images
Hanley Ramirez will one day be a Hall of Famer. The only question is, will he go into the Hall of Fame as a Florida Marlin or has he worn out his welcome in Miami.
Well, actually, that isn't really the only question. For example, here's another question:
Hanley Ramirez a Hall of Famer? Are you kidding me?
How has it come to this?
By now, the baseball world is alive with talk of the brewing feud between the Florida Marlins shortstop and former Marlin and current Marlins assistant Jeff Conine. According to Matthew Pouliot of NBC Sports, Conine was on a radio program in Miami recently and said that Ramirez frustrates him nightly and that he'd probably trade the shortstop if it were up to him.
These comments have caused quite a furor in Miami, where a debate has broken out about whether the Marlins should suck it up and endure Ramirez's bad behavior because he is such an exceptional player, or whether the Marlins should rid themselves of this clubhouse cancer for the sake of the team.
Issues surrounding the debate include Ramirez's role as the leader of a young and exciting team and Ramirez's role as the face of the franchise as the Marlins open their new stadium in 2012.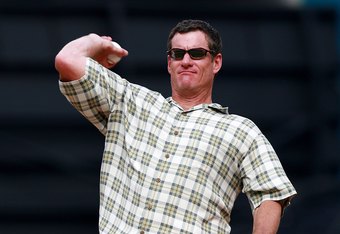 Doug Benc/Getty Images
Here's another issue that does not seem to be being bandied about quite so much:
Has anyone noticed that Hanley Ramirez has declined significantly over the last couple of seasons, and even at his peak was an overrated player?
That Ramirez has declined over the last couple of seasons cannot be denied.
It is difficult to determine which season, of 2007 through 2009, was Ramirez's best. In 2007, at the age of 23, Ramirez hit .332 with a .948 OPS, collecting 212 hits, 48 doubles, 29 home runs and 51 stolen bases.
In 2008, his average dropped to .301, but his on-base percentage jumped up to .400 from .386 the year before and he went 30/30 for the first time. He also led the NL in runs scored with 125.
Then, in 2009, he won the batting title with a .342 average, and scored 24 fewer runs (101) but eclipsed 100 RBI for the first time and had an OPS of .954.
But since then, Ramirez has not been the same player. In 2010, Ramirez missed 20 games and hit "only" .300 with 21 home runs and 32 stolen bases, but his OPS dropped to .853 and he hit into a career high 14 double plays.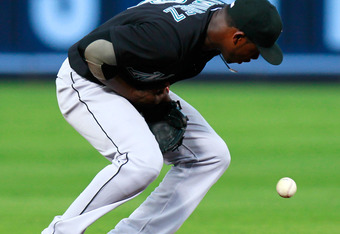 Kevin C. Cox/Getty Images
And now, in 2011, the final unravelling: .243 average, .712 OPS, 10 home runs and 20 stolen bases (with a league-leading 10 failed steal attempts) in 92 games.
It is, to be sure, a two year decline from his batting title season in 2009, and sometimes these things happen. At the age of 27, there is no reason to think Ramirez cannot rebound.
Nevertheless, it says something about this guy that at the age when most players are entering their primes, Ramirez seems to be exiting his.
(Much hay has been made of the fact that Ramirez hit .293/.391/.505 in 27 games in July. Okay. Even those numbers, which are astounding compared to his numbers from the rest of the year, represent a decline from each of the last three years.)
Meanwhile, there are certain truths that we have casually ignored about Ramirez over the years that also inform this conversation.
For example, the fact that he is a bad defensive shortstop. Always has been, in fact.
You do not need a subscription to ESPN.com Insider to know this, either. Just about every defensive statistic maintained by BaseballReference.com and Fangraphs.com shows Hanley to be at or near the bottom of the National League year in and year out in various defensive metrics.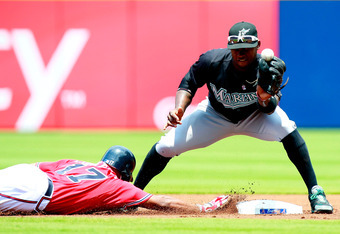 Kevin C. Cox/Getty Images
The saving grace with Ramirez, of course, has always been that the offense that he provides far outweighs the defense that he does not. Now, Ramirez is hitting like a slick-fielding shortstop, and the Marlins cannot afford to be employing a sieve in the field if he is also going to be a sieve at the plate.
And as for his offensive numbers, Ramirez has spent his career hitting in a hitter-friendly ballpark, and it has impacted him well.
So, at the end of the day, the Marlins have a poor-fielding shortstop with historically overstated offensive value who has stopped producing at the plate and continued to fail to produce in the field.
It would seem that one would have to agree with Jeff Conine that the Marlins should, at the very least, consider trading Hanley Ramirez, and not even really because of his attitude problems or off-the-field issues.
Based purely on where Ramirez has been, where Ramirez is and where he is going, the Marlins would be better off trading him now while he still has value on the open market.
At this point, if people still believe that Ramirez is a superstar at the shortstop position, then he is possibly the most overrated player in baseball.
And the Marlins should capitalize on that while they still can.
And worry not, Florida fans: there is no future bust in Cooperstown to complicate the issue.
If Hanley Ramirez wants to go into the Hall of Fame, he can buy a ticket like the rest of us.