WWE Raw August 8, 2011: HHH Announces Referee, John Cena Defeats Jack Swagger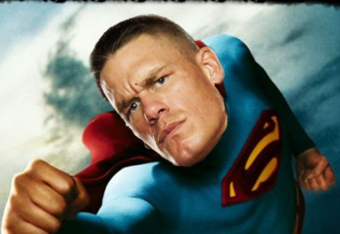 -So the aforementioned Triple H kicks us off and promises a night that will change wrestling forever this Sunday. I think that makes like five of those nights in the last six months or so. Some guy in the crowd holds up a "Champion vs. Champion" sign for the REALLY stupid people in audience. I still don't get how CM Punk could beat Cena for the title and then Cena beats Rey Mysterio and suddenly he's world champion again and we're just supposed to accept that without question...really stupid.
Anyways, HHH announces he is going to be the special guest referee for the Punk-Cena match, ensuring that there is no way in hell we're getting a clean finish on Sunday. Both guys have matches tonight before their scheduled brawl...I mean, contract signing, so let's get to it.
John Cena vs. Jack Swagger
Swagger showboats and gets floored, taking a suplex for two. Hey, remember when being a former world champion actually meant something? Now they call Swagger and guys like Dolph Ziggler "former world champions" and it just makes the title sound like something they found in a Cracker Jack box.
Cena gets a splash in the corner and gets a dropkick for two while the announcers discuss the ego vs. ego verbal match between HHH and Cena before the match. Swagger comes back with a belly to belly for two and a weak corner bump sets up a running pump splash for two. Swagger fights out of a resthold but misses a blind charge and Swagger hits a shoulder block for two.
Jack goes low to try and set up the ankle lock but Cena counters and launches into the SOS (Same Old ****) comeback. Attitude Adjustment (complete with posing during the setup) hits and that's all she wrote.
Winner: John Cena
-This was basically an extended squash with Swagger's offense consisting of kicking and restholds. Basically, the crowd was sitting on their hands the whole match because everyone knew Swagger had no chance **.

Most recent updates:
This article is
What is the duplicate article?
Why is this article offensive?
Where is this article plagiarized from?
Why is this article poorly edited?