Curtis Granderson and Jorge Posada have 69 reasons to high five each other at this point in the season.
Elsa/Getty Images
August 8, 2011
For the second week in a row, the top four remains the Yankees, Red Sox, Phillies, and Rangers. The Braves and Cardinals switch positions while the seven and eight spots remain the same. The Milwaukee Brewers re-enter the top 10 after falling a few spots short last week. Here's how I see this week's MLB teams, from best to worst.
1. New York Yankees (69-44) Last Week: No. 1
Despite the loss last night to the Red Sox, the Yankees are still the hottest AL team. No other AL team has currently won at least eight of their last 10 games. The Yankees are still the only team to be in the top seven in "runs scored" and the "fewest runs scored against" categories.
2. Boston Red Sox (70-43) Last Week: No. 2
The Red Sox remain in first place in the AL East after last night's exciting win. The Red Sox own the league's best road record (33-21).
3. Philadelphia Phillies (74-40) Last Week: No. 3
The Phillies continue to get it done with their pitching (league-best 3.26 ERA).
4. Texas Rangers (64-51) Last Week: No. 4
Not sure if the Rangers are capable of defeating the Yankees or the Red Sox this year in the playoffs (if they even get there). They are only 2-7 against the Yankees this year and are undefeated against the Red Sox but their only series happened in April (Red Sox are a league-best 70-40 since playing the Rangers). The upcoming series against the Sox should be an interesting one.
5. St. Louis Cardinals (62-53) Last Week: No. 6
The Cardinals continue to have the best offensive lineup in the National League (4.80 runs per game).
6. Atlanta Braves (66-49) Last Week: No. 5
The Braves' offense (4.06 runs per game) needs to step it up a bit if they want to win the NL East this year.
7. Cincinnati Reds (55-59) Last Week: No. 7
The Reds still have a small chance of making things interesting in the NL Central race. If they want to do this, they have to get more out of their pitching. They give up an average of 4.38 runs per game.
8. Tampa Bay Rays (59-54) Last Week: No. 8
With the Yankees and Red Sox continuing to play great baseball, the Rays' chances of getting to the playoffs are getting smaller by the day. Not sure if a team that's under .500 at home and 10 games behind the second-place Yankees at this point looks too promising.
9. Milwaukee Brewers (65-50) Last Week: No. 13
The Brewers are one of only two teams in the majors that have won nine of at least 10 games. They also continue to play great baseball at home (41-15 home record).
10. Los Angeles Angels (63-52) Last Week: No. 10
If the Angels turn it around offensively, they can take the AL West and kick the Rangers out of the playoffs completely since the team that finishes in second in the AL East will most likely win the Wild Card spot.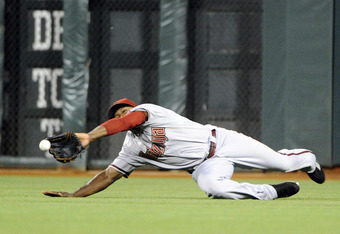 Justin Upton (.295 average, 22 homers, 68 RBIs) is a huge reason why the Diamondbacks are having a successful 2011 season.
Thearon W. Henderson/Getty Images
11. Arizona Diamondbacks (62-52) Last Week: No. 9
With the Giants' offense continues to struggle, this is the part of the season where the Diamondbacks really need to buckle down and start taking care of business.
12. Toronto Blue Jays (58-56) Last Week: No. 11
The Jays are 12.5 games back in the AL East and have one of the worst pitching staffs in the majors, it is safe to say the Blue Jays will once again miss the playoffs.
13. New York Mets (56-57) Last Week: No. 12
Being 17.5 games back in the East division, many would assume that Mets are out of the race. But their chances of winning the Wild Card still remain a little more realistic.
14. Detroit Tigers (61-53) Last Week: No. 16
The Tigers are only four games ahead of the Indians in the worst division in the majors. Like I said about the Tigers last week, even if they win the Central division, I still don't see them winning the World Series.
15. San Diego Padres (51-64) Last Week: No. 22
Count out the Padres' chances of making the playoffs. They are 12 games back in the West and are only 23-36 at home.
16. San Francisco Giants (63-52) Last Week: No. 14
Many are starting to question the Giants' chances to win the NL West. They have only won four of their last 13 games, they are only a half-game ahead of the Diamondbacks in the division, and they have the worst offensive lineup in the NL (3.46 runs per game).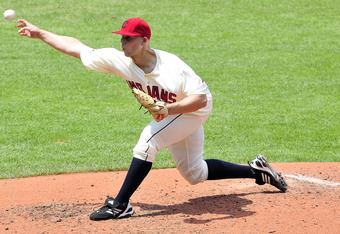 Indians pitcher Justin Masterson (9-7, 2.63 ERA, 121 strikeouts) is one of many pitchers in the running for the AL Cy Young Award.
Jason Miller/Getty Images
17. Cleveland Indians (56-56) Last Week: No. 20
With the Tigers' pitching not being so great, the Indians need to start playing better baseball if they want to take control of the Central division.
18. Colorado Rockies (53-62) Last Week: No. 19
The Rockies need to start pitching better if they want to be in the NL West Championship race in September. They give up 4.60 runs per game.
19. Oakland Athletics (51-63) Last Week: No. 18
Another team to count out their chances of getting to the playoffs. They are 12.5 games back in the AL West, they only score an average of 3.87 runs per game and only have 20-39 at home.
20. Chicago White Sox (55-58) Last Week: No. 17
The White Sox are lucky to be only 5.5 games back in the AL Central. They only average 3.94 runs per game and are only 24-32 at home.
21. Washington Nationals (55-59) Last Week: No. 21
It's time for the Nationals to start concentrating on the 2012 season. They are 10.5 games behind in the Wild Card race and they are only 23-36 on the road.
22. Los Angeles Dodgers (52-61) Last Week: No. 24
Another team to count out: the Dodgers. The Giants are the only team in the NL that has scored fewer runs than the Dodgers.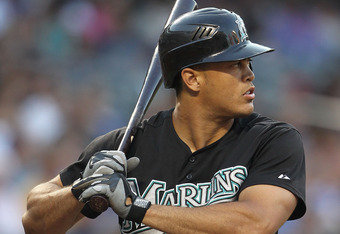 Marlins' Mike Stanton (.260 average, 25 homers, 68 RBIs) is having an excellent season. if his success continues, he could win the NL Most Valuable Player Award.
Nick Laham/Getty Images
23. Florida Marlins (55-59) Last Week: No. 23
Not sure if I want to think a team with a 23-34 home record is good enough to come back and make the playoffs.
24. Pittsburgh Pirates (54-59) Last Week: No. 15
For a while, many baseball fans were looking out the corner of their eyes and seeing that the Pirates were actually making some noise with their pitching and making the NL Central race interesting. These fans can now focus on the true contenders, which is what the Pirates are not. They have lost 10 straight and 15 of their last 18 games.
25. Kansas City Royals (49-65) Last Week: No. 25
Only four other teams in the majors have been scored on more than Royals. The Royals are also a lowly 18-33 on the road.
26. Seattle Mariners (49-64) Last Week: No. 26
The Mariners have the absolute worst offensive lineup in the majors and are only 20-35 on the road.
27. Chicago Cubs (49-66) Last Week: No. 28
Only two other teams have given up more runs than the Cubs this year. The Cubs are also have a 22-34 road record.
28. Minnesota Twins (51-63) Last Week: No. 27
Minnesota has lost four straight, eight out of 10, and are 18.5 games out of the Wild Card.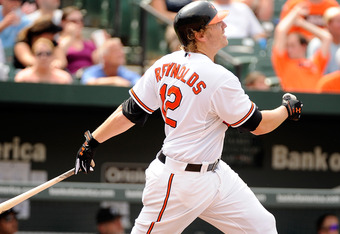 Despite the Orioles' struggles, Mark Reynolds continues to have a successful season (26 homers, 62 RBIs).
Greg Fiume/Getty Images
29. Baltimore Orioles (44-67) Last Week: No. 29
One of the many reasons for the Orioles' failures this season is their poor play on the road (league-worst 17-37 road record).
30. Houston Astros (37-77) Last Week: No. 30
The Astros continue to own the league's worst home record (19-40).
Carter's AL Most Valuable Player Race:
1. Jose Bautista (TOR): .315 avg., 33 HRS, 76 RBIS
2. Paul Konerko (CHW): .306 avg., 26 HRS, 79 RBIS
3. Curtis Granderson (NYY): .273 avg., 28 HRS, 86 RBIS
4. Mark Teixeira (NYY): .251 avg., 32 HRS, 86 RBIS
5. Miguel Cabrera (DET): .318 avg., 22 HRS, 71 RBIS
6. Carlos Quentin (CHW): .261 avg., 23 HRS, 70 RBIS
7. Mark Reynolds (BAL): .222 avg., 26 HRS, 62 RBIS
8. Nelson Cruz (TEX): .260 avg., 24 HRS, 72 RBIS
9. David Ortiz (BOS): .288 avg., 21 HRS, 71 RBIS
10. Mark Trumbo (LAA): .261 avg., 22 HRS, 63 RBIS
Carter's NL Most Valuable Player Race:
1. Matt Kemp (LAD): .316 avg., 26 HRS, 84 RBIS
2. Albert Pujols (STL): .283 avg., 27 HRS, 69 RBIS
3. Prince Fielder (MIL): .304 avg., 26 HRS, 85 RBIS
4. Lance Berkman (STL): .292 avg., 28 HRS, 75 RBIS
5. Justin Upton (ARZ): .295 avg., 22 HRS, 68 RBIS
6. Troy Tulowitzki (COL): .299 avg., 21 HRS, 78 RBIS
7. Mike Stanton (FLA): .260 avg., 25 HRS, 68 RBIS
8. Ryan Howard (PHI): .250 avg., 24 HRS, 87 RBIS
9. Ryan Braun (MIL): .326 avg., 21 HRS, 74 RBIS
10. Dan Uggla (ATL): .220 avg., 24 HRS, 55 RBIS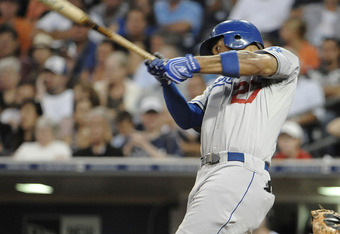 With a .316 batting average, 26 homers, and 84 RBIs to this point, it would be hard to argue that Matt Kemp is the frontrunner to win the NV MVP award.
Denis Poroy/Getty Images
Carter's AL Cy Young Award:
1. Justin Verlander (DET): 16-5, 2.30 ERA, 186 strikeouts
2. Jered Weaver (LAA): 14-5, 1.78 ERA, 150 strikeouts
3. C.C. Sabathia (NYY): 16-6, 2.81 ERA, 168 strikeouts
4. Josh Beckett (BOS): 9-4, 2.17 ERA, 127 strikeouts
5. Justin Masterson (CLE): 9-7, 2.63 ERA, 121 strikeouts
6. Dan Haren (LAA): 12-6, 2.81 ERA, 137 strikeouts
7. James Shields (TB): 10-9, 2.95 ERA, 159 strikeouts
8. Ricky Romero (TOR): 10-9, 2.94 ERA, 138 strikeouts
9. Alexi Ogando (TEX): 11-5, 2.88 ERA, 100 strikeouts
10. Scott Baker (MIN): 8-6, 3.01 ERA, 115 strikeouts
Carter's NL Cy Young Award:
1. Cole Hamels (PHI): 13-6, 2.53 ERA, 150 strikeouts
2. Roy Halladay (PHI): 14-4, 2.55 ERA, 159 strikeouts
3. Tim Lincecum (SF): 10-9, 2.69 ERA, 165 strikeouts
4. Clayton Kershaw (LAD): 13-5, 2.79 ERA, 184 strikeouts
5. Ryan Vogelsong (SF): 9-1, 2.19 ERA, 86 strikeouts
6. Cliff Lee (PHI): 11-7, 2.96 ERA, 167 strikeouts
7. Jair Jurrjens (ATL): 12-4, 2.63 ERA, 85 strikeouts
8. Hiroki Kuroda (LAD): 7-13, 2.96 ERA, 111 strikeouts
9. Tim Stauffer (SD): 7-8, 2.96 ERA, 104 strikeouts
10. Matt Cain (SF): 9-8, 3.00 ERA, 130 strikeouts
Like the new article format? Send us feedback!