UFC 133 Results: Will Rashad Evans Regain His UFC Light Heavyweight Title?
August 9, 2011
"Suga" Rashad Evans dominated "The Huntington Beach Bad Boy" Tito Ortiz from the initial bell. Executing tremendous movement in his stand-up striking, Evans delivered pinpoint strikes with fluidity and ease against Ortiz.
Delivering a sternum-crushing knee strike to the solar plexus of "The Huntington Beach Bad Boy," Evans seized his opportunity to finish the fight at 4:48 of Round 1 capturing Fight of the Night honors and the No. 1 contender ranking for the UFC light heavyweight championship.
After a 14 month layoff to recover from injuries, "Suga" exhibited zero ring-rust and was sure to announce during his post-fight interview with Joe Rogan that he was healthy and eager to battle the victor of Jon Jones/Quinton Jackson at UFC 135 for the title.
Assuming that Jon "Bones" Jones will secure his belt against Jackson, Evans will be granted his wish as he once again challenges to reclaim his coveted title.
After Jones annihilated Mauricio "Shogun" Rua in March of 2011 to claim the throne within the division, well-deserved discussion by experts have awarded Jones the status as a mixed martial arts superhero.
"Bones" has obliterated every level of competition en route to his championship dreams. Destroying top-tier talent including the aforementioned Rua, in addition to Ryan Bader, Vladimir Matyushenko and Brandon Vera, Jones has been on a warpath since stepping foot inside the famed Octagon back in 2008.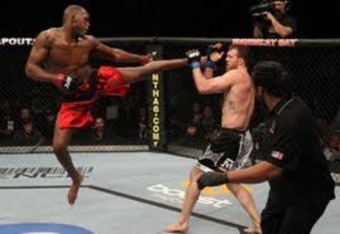 This colossal matchup of two former teammates is one step away from reality. Assuming this reality is realized, can Rashad Evans defeat the immortal Jon Jones and once again wear championship gold?
Further analysis of the two fighters skill-sets is necessary to dissect this question.
With respect to Jones, he is a genetic freak. Athletically gifted beyond any level within the UFC, outside of possibly Jose Aldo, "Bones" possesses strength, power, quickness, explosiveness and an unparalleled level of athleticism.
Couple this athletic blessing with his height, reach and ever-evolving skill-set as a mixed martial artist, and the result is a seemingly indestructible light heavyweight champion with little to no weaknesses.
Similarly, Rashad Evans is also tremendously athletic. Moving with the fluidity of a lightweight during his striking exchanges, "Suga" is always light on his feet and possesses dynamite in his strikes and the ability to execute damage while minimizing damage in return.
Not to be outdone by Jones in the strength and power department, Evans is equally strong and just as powerful as witnessed by his thunderous take-downs and seven knockout victories.
Without the height and reach of "Bones," Evans supplements this deficiency with excellent striking mechanics and a tremendous defense awarding "Suga" with one knockout defeat in his career.
Providing the slight advantage to Jones in the athletic arena, the remaining facets of each fighter's skill-set is virtually the same, outside of creativity.
Jon Jones's unorthodox approach inside the Octagon enhances his level of danger for the opposition. Creating striking attacks and various angles on the fly, "Bones" has delivered debilitating spinning back fists, elbows and kicks as well as launching himself through the air with jaw-rattling knee strikes.
More of a traditional boxer as compared to Jones, Evans is a gifted counter-striker and utilizes his excellent foot movement to open up striking avenues and creates damaging angles on the opposition.
Considering that Evans' movement has the potential to keep him out of harm's way from the unorthodox striking attack of Jones, a matchup between these two light heavyweights may result in a tactical battle of precise striking as well as a ground-and-pound affair.
Without the ominous advantage with respect to either consideration, a fight in which Jones's level of creativity is diminished provides Evans an opportunity for a victory.
In short, if "Suga" can maintain his high-level of movement and deliver his strikes with the fluidity and grace that has been so successful for the former Michigan State University wrestling star over his years of competition, there is a chance of Evans defeating Jon Jones and once again claiming championship gold.
That is a big "if," and a reality that is not endeared by many fight experts. However, "Suga" has been counted out on numerous occasions by the experts and has proven them wrong.
This writer would not be surprised if Evans once again quiets the pundits and is the king of the UFC light heavyweight division.
I welcome your comments.