UFC 133 Results: Is Chad Mendes Really Urijah Faber 2.0?
August 8, 2011
Chad "Money" Mendes continued his undefeated streak elevating his overall MMA record to 11-0 with a unanimous decision victory over the Brazilian jiu-jitsu black belt Rani Yahya at UFC 133.
Placing his No. 1 status on the line within the UFC featherweight division, Mendes executed a brilliant stand-up game to off-set Yahya's dominance in the submission grappling department.
An outstanding wrestler, "Money" executed brutal take-downs during his UFC 133 matchup, remaining in Yahya's guard only long enough to score significant points in the judges' eyes.
Balancing his stand-up offense with the necessary wrestling dominance, Mendes controlled his duel with Yahya and avoided all submission attempts by the jiu-jitsu wizard.
Establishing his No. 1 ranking, next in line to compete for the UFC featherweight championship, comparisons are being made between Mendes and fellow Team Alpha Male king, "The California Kid" Urijah Faber.
Faber dominated the WEC featherweight division for over two years, essentially placing the 145-pound weight division on the mixed martial arts map.
A truly gifted fighter with the ability to finish fights standing or on the ground, Faber's experience and intelligence inside the Octagon has been passed down to his teammates including Mendes.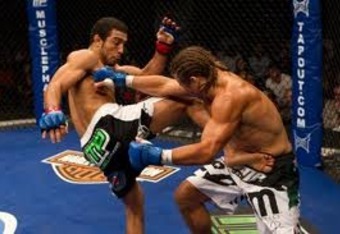 Like Faber, Mendes was an excellent amateur wrestler. And like Faber, Mendes has developed a slick submission game as well as a high level of submission defense needed to excel in the ground attack.
Both members of Team Alpha Male are highly conditioned and both members possess the capability to adapt their fighting styles for each matchup.
The more unpredictable of the two, Faber's stand-up striking is less conventional than that of Mendes's. "Money" brings more of an orthodox boxing style to the Octagon whereas Faber was known for his aggressive, extremely creative kick-boxing abilities during his fights.
Both Mendes and Faber, however, are excellent stand-up strikers as well as tremendously gifted wrestlers and ever-developing jiu-jitsu practitioners.
So is Chad Mendes the evolution of Urijah Faber?
Whether or not Mendes is Faber 2.0 will be determined in his bout for the UFC featherweight championship.
Faber essentially created the 145 pound weight class. Without "The California Kid's" success as a featherweight, this division would not have produced such elite level fighters and the buzz surrounding the 145-pound weight class would be a whisper at best.
Assuming that current champion Jose Aldo defeats Kenny Florian at UFC 136, Aldo's victory will award Mendes a title shot at the No. 3 ranked pound-for-pound fighter on the planet.
With one victory over Faber within the WEC, Aldo has proven that he can dominate "The California Kid."
Developing a game-plan from the two defeats of Faber, Mendes will need to avoid the devastating leg strikes of Aldo and be successful in trading with the Brazilian in the center of the Octagon.
To be the best, Mendes needs to beat the best. And the best within the UFC featherweight division is Jose Aldo.
If and only if Mendes defeats Aldo and becomes the new UFC featherweight champion, then he can be considered Faber 2.0.
Otherwise, if Mendes's fate equals that of Faber's when challenging Aldo, "Money" will remain a notch below that of Faber on the mixed martial arts evolutionary tree.
I welcome your comments.
You can "Like" Todd Seyler on Facebook and/or Follow me on Twitter