New York Yankees
New York Yankees vs. Boston Red Sox: Why Has New York Struggled in Rivalry?
CC Sabathia's struggles against Boston have been one of the Yankees' biggest issues in 2011
Elsa/Getty Images
August 8, 2011
2-10.
That was the Detroit Lions' record through 12 games last season. It was the record of 12 college football teams during the 2010-11 season.
It is not supposed to be the New York Yankees' record against the Boston Red Sox. Ever.
This season, the Sox own the Yanks in head-to-head matchups. While I could throw out any of the jaw-dropping statistics, this is the most revealing: In their 12 meetings, Boston has outscored New York 75 to 46.
Boston has absolutely owned the Yankees this season, from slowing down their offense to abusing CC Sabathia.
Why? Why has this meteoric shift in AL East supremacy suddenly happened? How come the Yankees are no longer any of the Red Sox pitchers' "daddies"?
The answer is a very painful one for all New York fans.
For the first time in a long time, the Yankees know that Boston can beat them. The scary thing is that Boston knows the Yankees know that, and have capitalized.
Josh Beckett has turned into Sandy Koufax against New York, Boston is 4-0 in his starts and in Beckett's 27 innings pitched, he has allowed three runs, 16 hits, and fanned 30 Yankees.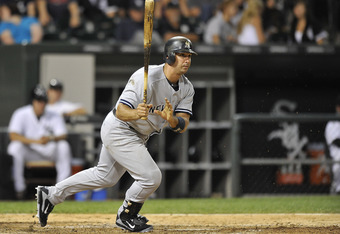 Jorge Posada's time as a Yankee may be running out
Brian Kersey/Getty Images
Meanwhile, Sabathia's ERA is a robust 7.20 over four starts against the Red Sox.
If there is one bright spot for the Yankees, it's that outside of their games against Boston, New York has been the better team. Removing those 12 games from the equation, the Yankees are 67-34 and the Red Sox are 60-41.
New York already has a higher run differential and has allowed fewer runs. If we take away the games against Boston, the Yankees would have scored 15 more runs this season than the Sox.
However, those 12 games have cost the Yankees the chance to be first in the division, and maybe have the best record in baseball.
Looking at the rest of the season, neither team exactly has a favorable schedule. Both teams have 49 games remaining. Against teams .500 or better, Boston plays 29 games and New York plays 24.
Another six games against each other are looming, with the final three being played at Yankee Stadium.
Not all is lost for the Yankees. Their best player all season has been Alex Rodriguez, and he missed this entire series due to injury. Upon his return, he is a major upgrade over Eduardo Nunez.
Also, Joe Girardi is now realizing that a dead guy would be a better DH than Jorge Posada, and it is becoming more and more likely that Eric Chavez and super prospect Jesus Montero will be getting cuts at the position.
Still, barring a shocking upset in the ALDS, all roads in the playoffs go through Boston. And if the Yankees face them in a seven-game series in October, there's a good chance that winter will start early in the Bronx.
Like the new article format? Send us feedback!