Cleveland Browns 2011 Predictions: Latest Analysis on Browns Preseason Schedule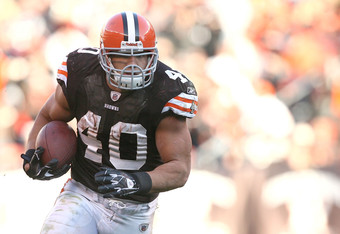 Matt Sullivan/Getty Images
With RB Peyton Hillis on the cover of Madden 12, QB Colt McCoy with a year under his belt, and Joe Haden and Phil Taylor on defense, Cleveland has been building in the right direction.
However, the NFL Lockout didn't help this young team with new coordinators in all three phases of the game, because they don't have the luxury of previously working together.
Well, we can learn a lot about the Browns this preseason, and some new faces will need to step up in order for Cleveland fans to have something worth cheering for.
Justin K. Aller/Getty Images
Preseason Game 4: Cleveland Browns at Chicago Bears
We see the final preseason game against the defending NFC North champion Chicago Bears.
It's definitely reasonable to say that the Browns have arguably had the most difficult preseason schedule, so it's not too far-fetched to think that it prepares them well for the regular season.
Also, when this game kicks off, most fans across the country will already have had their fantasy drafts, so the expectations will be set.
In addition, the regular season starts shortly thereafter, and you can't anticipate the starters playing more than one quarter (at most) in this game.
Therefore, here's where we have the rare opportunity to see some surprise players emerge.
A lot of the guys who play on the "grim, no glory, duty of special teams" get some action at their respective positions, which can ultimately lead to a spot on the final roster.
And when you think about it, how important are special teams?
Well, just ask the San Diego Chargers as they finished with a top five offense and defense, but only managed to finish 9-7 due to poor special teams play.
There's going to be a lot of unknown players doing work in this area, and if Cleveland can use the third phase of football to their advantage (especially with kicker Phil Dawson, and return specialist Josh Cribbs), keep the Browns on your radar.
This article is
What is the duplicate article?
Why is this article offensive?
Where is this article plagiarized from?
Why is this article poorly edited?
Jim McIsaac/Getty Images
Preseason Game 3: Cleveland Browns at Philadelphia Eagles
By this point in the preseason, players, for the most part, should know their role within the team.
However, with all the off-season acquisition made by the Philadelphia Eagles, they're arguably the unanimous Super Bowl favorite for 2011.
So, it's very important for Cleveland to be playing very sound football as the preseason nears it's close.
For one, their first three games are against potential NFC playoff contenders, two of which are NFC Super Bowl contenders.
If the Browns can hold their own at all levels (first, second, and third string) verse these teams, Cleveland could very well be rolling into the regular season with a lot of confidence.
However, an article by Bill Livingston of Cleveland.com shows that the Brownies better learn quick:
"The long lockout hurts the Browns most because new head coach Pat Shurmur hasn't even met his players yet and because everything is new in Berea. The offensive scheme is new, with the possession-passing West Coast offense instead of hey, diddle, diddle, Peyton Hillis up the middle. The defensive scheme is new with a 4-3, which is supposed to be more effective against the run than the old 3-4."

"The Browns have been hit hard by injuries at key positions in recent years, or else fans would never have had to watch Ken Dorsey play quarterback."
So, a big question remains:
Is there enough time for the Browns to learn a new offensive and defensive system before the real games begin?
Well, after their first two preseason games we'll know a lot, but after playing Philly on the road, we'll learn even more.
This article is
What is the duplicate article?
Why is this article offensive?
Where is this article plagiarized from?
Why is this article poorly edited?
Leon Halip/Getty Images
Preseason Game 2: Cleveland Browns vs Detroit Lions
For this preseason game, it will arguably be the toughest test for the Browns offensive line.
As we know, the Lions have both Ndamukong Suh and Nick Fairley at defensive tackle.
Well, centers Alex Mack and back-up Steve Vallos, guards Eric Steinbach and Shawn Lauvao, along with John Greco have their hands full.
This could be a prequel to how effectively Cleveland manages to run the ball with Peyton Hillis and Brandon Jackson.
Not to mention there's fullback Owen Marecic, and TE Evan Moore as additional run blockers.
In an article by Nate Ulrich of the Akron Beacon Journal, Marecic has been completely focus:
"So far, Marecic's "day-by-day, play-by-play" mantra has served him well. He has been playing fullback with the first-team offense since the Browns opened camp."
Even head coach Pat Shurmur is impressed:
"He has done a very good job," Browns coach Pat Shurmur said. "It's hard to find him making a mental mistake. … He has caught the ball well. When you watch the special teams drills, he does exactly what he is supposed to do. He is kind of one of those steady guys. I think that is an important attribute for a guy that's a fullback."
So, expect Marecic to be the opening day starter at FB, leading the way for Peyton Hillis.
In turn, this makes Hillis a very appealing fantasy football RB, as he awed the NFL with his unorthodox style of running.
Also, if Marecic and the o-line can buy Colt McCoy time in the pocket during this game, just think of how much Colt can grow during his sophomore campaign against teams without such a dominating d-line.
This article is
What is the duplicate article?
Why is this article offensive?
Where is this article plagiarized from?
Why is this article poorly edited?
Tom Dahlin/Getty Images
Preseason Game 1: Cleveland Browns vs Green Bay Packers
Here is a big test to open up the season; The 2010 Super Bowl champion Green Bay Packers.
Yes, it's the most difficult test one team can undertake heading into the preseason, but here, the Browns can really get a true assessment of their starters in addition to the back-ups.
For one, former Packers RB Brandon Jackson will be a solid complement to Peyton Hillis, and it will be great to see these two compete through the preseason.
In a blog post on waitingfornextyear.com, the writer Rick, talks about how Brandon Jackson can contribute to the Browns in 2011:
"What Jackson does best, is often seen on third downs. He is a good pass protection blocker and has good hands coming out of the backfield. That was his specialty role for the Packers until injuries forced him to the spotlight last year."

"Last year the Browns relied on Peyton Hillis too much. He was injured a few times and had to push through those in order to stay on the field. Had the Browns been able to spell Hillis effectively, it could have saved some wear and tear on his body and made him more effective when on the field."
Also, Colt McCoy has the potential to be a legitimate fantasy football QB, as his receiving core has only improved.
Look for rookie Greg Little to earn a starting role, while the No. 2 spot goes to Massaquoi. Then you can count on Josh Cribbs in the slot (on occasion), while Benjamim Watson remains as the starting TE.
This game however, will really show the football world how the NFL lockout has affect the Cleveland Browns.
With a new offensive, defensive, and special teams coordinator, coaching their first real game against the Super Bowl champs together (along with young players) will give a good snapshot look at how much work needs to be done.
This article is
What is the duplicate article?
Why is this article offensive?
Where is this article plagiarized from?
Why is this article poorly edited?

Cleveland Browns: Like this team?