New York Mets: Are They Having a Successful Season?
August 8, 2011
Jim McIsaac/Getty Images
The New York Mets entered this season without expectations.
The fans were just hoping for the best and praying that the worst would not happen.
My dad has said since spring training that as long as the Mets are around .500, he will be happy.
My grandfather, a very pessimistic Mets fan, has said 72-90 is where they will finish.
Evan Roberts, a WFAN personality, has consistently said 83 wins.
All of these projections include David Wright and Ike Davis at the corner positions, while both have missed a nice portion of games (especially Davis).
Jose Reyes had been carrying the Mets offense in the first half of the season until he was injured before the All-Star break. He has slowed down in the second half before getting hurt yesterday.
Daniel Murphy had found a position to play for the Mets so they could use his bat in the lineup. Murphy is now out for the season.
Jason Bay has definitely had an interesting season.
He has struggled at the plate and can't seem to get out of his slump. While he has been struggling in the batters box, give him credit for playing above average in left field.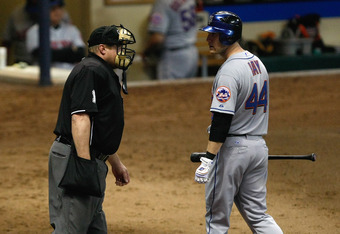 Scott Boehm/Getty Images
Justin Turner has played well at second base and has hit more than he was expected to.
He has exceeded expectations, despite his errant throw on Wednesday to give the Marlins a lead they would not relinquish.
The Mets rotation has pitched surprisingly well without Johan Santana.
Mike Pelfrey has not been good this season, taking a step back from his great first half of 2010.
Jon Niese and Dillon Gee have both exceeded expectations and have established themselves as bona fide major league pitchers for the future.
R.A. Dickey has not had the same luck he had last season in terms of getting wins, but he has not been bad for the Mets.
Chris Capuano has been a nice pickup for the Mets as a No. 5 starter.
He has eaten up innings (although only five or six at a time) and has pitched effectively for the Mets.
The Mets successfully dumped K-Rod and his contract before the trade deadline, freeing up money for next season. They also traded Carlos Beltran for a potential ace of the future in Zach Wheeler.
The Mets are 56-57 as of this moment and nine games behind in the Wild Card race.
They sit just 1.5 games out of the cellar of the difficult NL East. It seems that the Metropolitans will be playing meaningless September games this season, aside from playing spoiler to other teams.
When the Mets were a couple of games above .500 and within six games of the Wild Card lead, I think fans suddenly raised their expectations for the team to compete for a playoff spot.
The Mets simply aren't a playoff team yet, and those expectations were premature.
While the Mets' hard-working group is fun to watch, they can also cause headaches. Three plays this week come to mind immediately.
The first play was on Monday against the Marlins, when Angel Pagan tried to stretch a single to a double in the ninth inning with two outs.
Pagan slid in safely, but it was a bonehead play to take an unnecessary base down by two runs. Lucas Duda hit a home run to tie it as the next batter.
The second play was in the tenth inning of the same game, when Daniel Murphy failed to catch Dewayne Wise in a rundown with the bases loaded.
This would have put runners at second and third with two outs, rather than bases loaded and one out—quite a difference. Mike Stanton hit a grand slam as the next batter..
The final play was Justin Turner's throwing error in the ninth inning of Wednesday's game against the Marlins.
Turner's error allowed the Marlins to take the lead and hold on to the win. These plays make the Mets hard to watch at some points and remind fans of the progress that needs to be made for the Mets to become true contenders.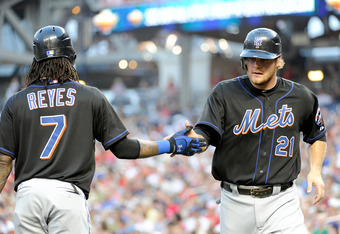 Greg Fiume/Getty Images
The Mets' inconsistent play at home is also a cause of concern.
A good team cannot be seven games under .500 at home and expect to contend. The Mets are among the league leaders in road wins, but not dominating at home can be detrimental to a team.
No fan wants to see their team below .500.
It's hard to classify a sub-.500 season as a success because of the losing mentality that comes with losing more than winning.
Having said that, the Mets' season could have been much worse.
Without Davis and Wright, the Mets' season could have gone disastrously. The group somehow pulled together and overachieved to put them in this position.
The Mets are a fun team to watch, but is that because they are overachieving or is it because fans are getting more than they expected.
Are the Mets having a successful season to build upon in the future, or has this season been a nice, unexpected surprise to a summer that Mets fans anticipated going terribly?
Thanks for the read and feel free to answer the question in the comments.
Keep the military in your thoughts and prayers.
Follow me on twitter- http://twitter.com/#!/RobertDemmett