Milwaukee Brewers: Why They Will Win NL Central
August 8, 2011
Bob Levey/Getty Images
The Milwaukee Brewers are red hot.  
They have won nine of their last 10 games and just finished off a sweep of the lowly Houston Astros. 
Along with the Philadelphia Phillies, they are arguably the hottest team in baseball right now.  
Yet, despite all of the recent success, the Brewers still hold a slim three-game lead over the St. Louis Cardinals for the division lead.  
The Cardinals have played well all year, and there will likely be an exciting race for the NL Central in the next month.  
However close that race may become, the Brewers will come out on top for a number of reasons. 
The injury bug has hit the Brewers recently.  
Second baseman Rickie Weeks has been out for more than a week with a sprained left ankle.  
He was originally slated to miss 2-6 weeks, so his return will probably not be until late August.   That means Weeks will be back in time for the September playoff push.  
Outfielder Corey Hart is nursing a sore wrist, which has kept him out of one game so far and may hinder his playing time and effectiveness for a period of time.  
Weeks and Hart have had solid seasons, and once they return to the lineup at full strength, the Crew's lineup will once again be very formidable.  
Another reason the Brewers will broaden their division lead is pitcher Zack Greinke.  
Greinke has endured a poor season thus far, sporting a 4.21 ERA.  Recently, however, Greinke has been pitching like the ace that the Brewers need him to be.  
In his last six starts, he has given up no more than two runs per start, with two of those starts being shutout efforts.  If Greinke has finally settled in, he gives Milwaukee a steady ace in the rotation.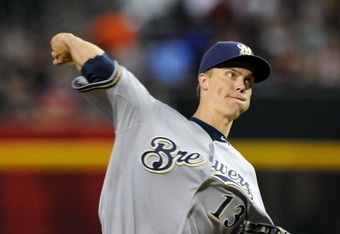 Norm Hall/Getty Images
Finally, the emergence of SS Yuniesky Betancourt is giving the Crew another impact bat in the lineup.  
Like Greinke, Betancourt has been slow to make an impact with his new team.  But lately, Betancourt has been raking at the plate.  
Since the All-Star break, he has recorded .388/.575/.980.  He is smoking the ball, hitting over .400 in his last 10 games.  Betancourt has been considered a weakness in the lineup this year, but if he can keep up even half of this pace, he becomes another threat.
The Brewers have a solid late-inning tandem in the bullpen in set-up man Francisco Rodriguez and closer John Axford.  
Along with Takashi Saito and LaTroy Hawkins, the Crew's pen is pretty solid.  
The return of injured players plus the emergence of two crucial players will ultimately give the Brewers the edge in the NL Central race.