How Good Is the 2011 Boston Red Sox Lineup? Check the Stat Sheet
August 8, 2011
Elsa/Getty Images
Since the inception of the designated hitter in 1973, the Boston Red Sox franchise has almost always had at least one hitter finish in the AL's top 10 in OPS (on-base percentage plus slugging percentage).  Two seasons stand out as exceptions: 1980 and 1992.
Aside from those campaigns, the Sox have had a top-10 hitter every year for nearly three decades.  The names have changed; Carl Yasterzemski, Fred Lynn, Dwight Evans, Jim Rice, Wade Boggs, Mo Vaughn, Nomar Garciaparra, Manny Ramirez.  But the team has been represented with stunning regularity. 
But never, in all that time, have the Sox done what they're doing in 2011.
Through Sunday's game with the Yankees, a 3-2 extra-innings win that gave Boston sole possession of first place in the AL East, the Sox are dominating baseball's offensive categories.  A look at the top 10 hitters in terms of OPS reveals five different Red Sox:  
Adrian Gonzalez (.962)
David Ortiz (.911)
Jacoby Ellsbury (.891) 
Dustin Pedroia (.880)
Kevin Youkilis (.870)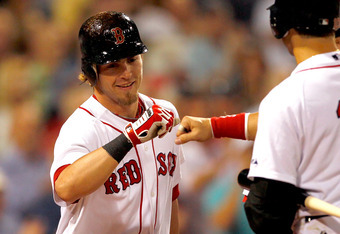 Jim Rogash/Getty Images
Five out of the top 10.  That's a feat that not even the vaunted '27 Yankees can lay claim to.  Nor the Big Red Machine of '75 or '76.  Nor the Bash Brothers teams in Oakland.
It's impressive enough to see Boston atop the leaderboard in terms of runs per game (5.46) and total scoring (817 runs).  But looking at what the individual players are doing relative to their elite peers puts things in a whole new light.
Maybe OPS doesn't impress you.  How about having three of the top 10 and four of the top 12 RBI men?  That list includes Ellsbury; yes, Boston's leadoff hitter is on pace for 100 RBI this year.
And of course, it's no surprise that the top third of the Sox lineup is among the AL top 10 in runs scored and runs created.
Josh Reddick, who doesn't have enough at-bats to qualify to be among the leaders, has an OPS of .939 through 156 plate appearances.  While he might cool off a little, he's likely to remain productive over the final two months, meaning that the Sox will probably finish the season with six players posting OPS totals greater than .850.
The quintet spread across the OPS leaderboard is on pace to finish with video-game numbers:
RUNS/ HR/ RBI (Slash line)
Ellsbury: 120/ 27/ 103 (.318/ .374/ .517)
Pedroia: 104/ 21/ 86 (.310/ .401/ .480)
Gonzalez: 111/ 26/ 130 (.348/ .409/ .554)
Youkilis: 90/ 23/ 109 (.270/ .383/ .487)
Ortiz: 84/ 30/ 101 (.288/ .377/ .534) 
Granted, this is just one aspect of the game.  The club's pitching still has to hold up, and that's not a sure thing by any stretch of the imagination.  And assuming Boston makes the playoffs, none of these statistics will matter as the postseason takes over.
But for the moment, the team is accomplishing something amazing.  And it's doing so despite the struggles of expected contributors like Carl Crawford and Jed Lowrie.
Fans need to pause and reflect on these gaudy numbers and fully appreciate the embarrassment of riches in this lineup.  Because what we're witnessing could well be a historic performance.