10 Young Faces Who Can Immediately Impact the San Diego Padres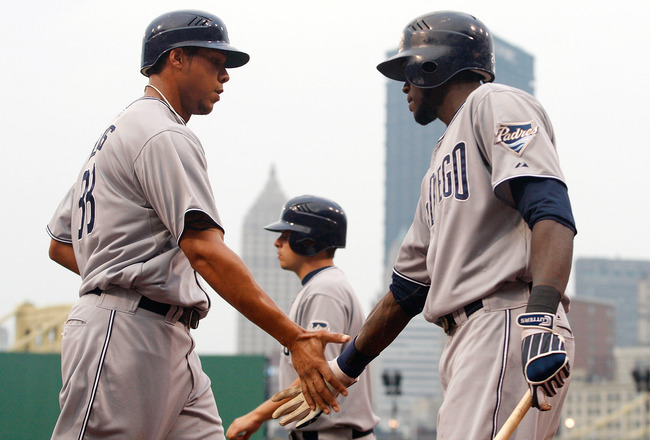 Jared Wickerham/Getty Images
Anyone who knows baseball knows that the Padres are the definition of a small-market team. Small market teams bring up young prospects or buy veterans on the cheap, let them succeed, then trade them away when their stock is highest, or when they have to be moved because of either decline or an expiring contract (i.e. Adrian Gonzalez, Jake Peavy, Mike Adams).
One thing the former management team of the Padres were able to do was to get value from trades, most notably trading Billy Killian, Akinori Otsuka and Adam Eaton.
Billy Killian never played in the majors, Akinori Otsuka appeared in less than 70 games in his career in Texas and has not pitched in the Majors since 2007, and Adam Eaton finished with a career 6.40 ERA after leaving San Diego.
There is no need to explain what Chris Young (who had a 3.60 ERA in 6 seasons with the Padres while winning 33 games) and especially Adrian Gonzalez (who in 5 seasons hit .288 and had 501 RBI) meant to the organization.
All of these players are 25 or younger, and all have major league experience, except for two. One of whom just got called up.
10. Matt Clark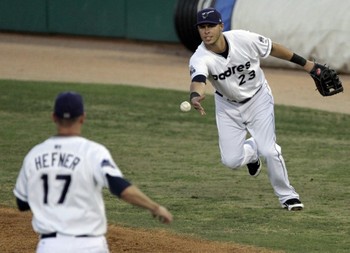 Matt Clark, 24, was acquired by the Padres in the 12th round of the amateur draft in 2008.
This season in Tucson, Matt Clark has hit .297 and is 13th in the PCL with 21 home runs and second on the team only behind Anthony Rizzo, who has 22 home runs.
Clark, who plays first base but can play in the outfield, would likely play in the outfield, considering the aforementioned Anthony Rizzo appears to have first base locked up for the future.
9. Erik Hamren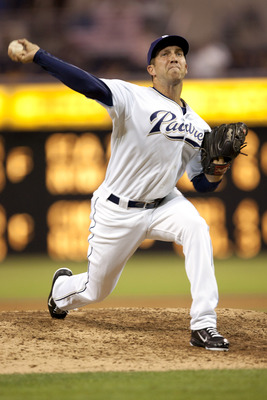 Kent Horner/Getty Images
Erik Hamren, 24, was drafted in the 37th round of the amateur draft in 2008 and was signed as a free agent in 2010.
Hamren got his first major league call August 1 of this year after dominating minor league hitters this season, with a combined .96 ERA in over 65 innings between AA San Antonio and A+ Lake Elsinore.
Since his call-up, he has appeared in three games and amassed a 6.75 ERA. He has allowed one earned run in two of the three appearances. However, both appearances were in games in which the game was already decided, which can make it hard for a reliever to get into a game no matter if he pitches his best or not.
Hamren is not expected to be a top-notch reliever for the club, but with the season likely being over, it appears he will get to show the club what he has to offer.
8. Blake Tekotte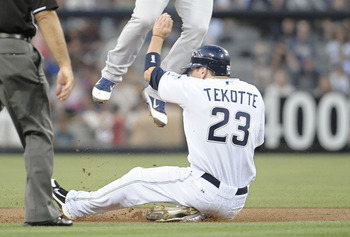 Denis Poroy/Getty Images
Tekotte, also 24, is already becoming a fan favorite. Blake Tekotte, a former Miami Hurricane, was acquired in the third round of the 2008 amateur draft. This season in AA San Antonio, Tekotte has amassed 17 home runs and has stolen 32 bases for the Missions.
With the Padres, Tekotte has struggled getting accustomed to major league pitching. He is hitting .240 but struck out 14 times in only 25 AB.
It's unsure what the future holds for Tekotte, with outfielders like Cam Maybin, Will Venable, Kyle Blanks and having the possibility of Chase Headley moving back to the outfield if James Darnell lives up to the hype that many Padres fans have built up for him.
7. Anthony Bass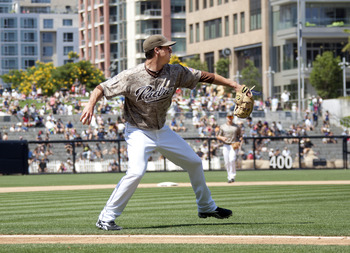 Kent Horner/Getty Images
Anthony Bass is another product of the 2008 amateur draft. The 23-year-old was selected with the Padres' fifth-round Pick. In over 370 innings in his minor league career Bass is 29-17 with a 3.01 ERA.
Since his major league call-up on June 13 of this year, Bass has a 1.13 ERA in 16 innings. In his first career start he went five innings against the Rockies at Coors Field and allowed only one run, picking up the win.
With Clayton Richard and Dustin Moseley out for the season, Bass may have some more spot starts in the future.
6. James Darnell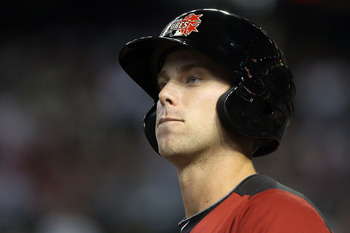 Jeff Gross/Getty Images
Besides Anthony Rizzo, James Darnell has been the prospect that fans can't wait to see in the big leagues.
And it appears they won't have to wait much longer. Darnell was flown out to New York and is expected to join the team as early as Monday while the team plays the Mets. Darnell may be getting his first chance in the major leagues because Chase Headley, who was having a stellar second half of the season, went down with a finger injury.
Darnell is yet another 2008 draftee. He was the Padres' second-round pick and was 90th in Baseball America's 2010 top 100 prospects.
In four seasons with five of the Padres minor league affiliates, Darnell is batting .304 and has hit 56 home runs, 23 of them coming this year.
5. Josh Spence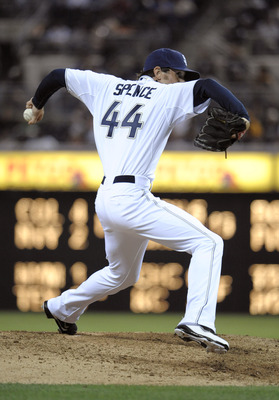 Denis Poroy/Getty Images
In 20 innings with the big boys, Spence, ("The Amazing Aussie") has a glossy .45 ERA and a WHIP of .65 which is equally impressive.
Spence was drafted twice before finally signing with the Padres after they drafted him in the ninth round of the 2010 amateur draft.
In the minors this season, Spence had a 1.71 ERA in 47.1 innings with the AA Missions.
Spence is quickly also becoming a fan favorite, being one of only seven active Australian-born major league baseball players.
The rest of the season will allow us to see if Spence will be a major part of the Padres bullpen in the future.
4. Kyle Blanks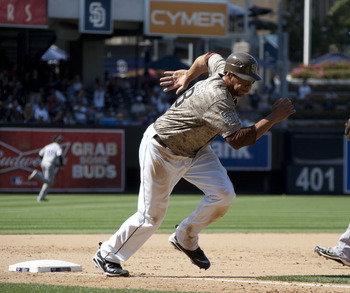 Kent Horner/Getty Images
The Padres found Kyle Blanks in the 42nd round of the 2004 amateur draft. Blanks was Baseball America's #50 prospect in 2009.
All Padre fans know that Blanks has pop, but has to stay consistent and get more major league at-bats. Kyle Blanks has struck out 118 times in only 295 at-bats. Blanks has also only hit 15 home runs with the Padres, which is surprising due to the fact that in about twice as many at-bats with Padres minor league affiliates, Blanks hit 88 home runs.
All Padre fans have high hopes for Blanks, and the future looks bright once he gets used to facing major league pitching.
3. Anthony Rizzo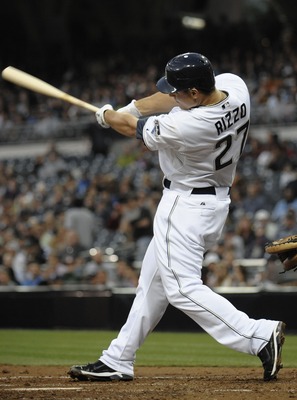 Denis Poroy/Getty Images
Anthony Rizzo was acquired from the Red Sox in the deal that sent Adrian Gonzalez to Boston. Along with Casey Kelly, Rizzo was the major piece in the trade.
Rizzomania lasted a few weeks until fans realized that the 21-year-old may not be ready to face major league pitching at this point in his career. In 35 games Rizzo hit a not-so-impressive .143 with only one home run and six RBI.
In Tucson, Rizzo is dominating pitchers with a .356 batting average, and has hit 22 home runs. Rizzo is without a doubt going to be a stellar player in baseball, but needs more time in the minors.
2. Cameron Maybin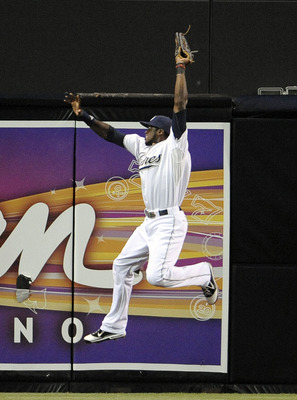 Denis Poroy/Getty Images
Cameron Maybin was acquired this offseason from the Marlins in exchange for Edward Mujica and Ryan Webb.
This season Cam is hitting .273 and has swiped an impressive 26 bags while only being caught twice.
Maybin was formerly one of the Marlins' top prospects, but struggled with the team.
Maybin is only 24, and fans hope to look forward to seeing him roam center field for the Padres for a long time.
1. Mat Latos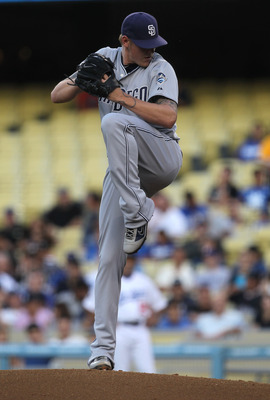 Stephen Dunn/Getty Images
The 11th-round pick of the 2006 amateur draft produced the closest thing the Padres have to a legitimate ace.
At only 23, Latos has already won 24 career games while striking out over 350 batters.
Latos had a 2.49 ERA in 35 starts in the minor leagues before staying with the major league ball club.
This season Latos has struggled, and is 6-11 with an ERA close to 4.
Even with his struggles this season, there is no doubt that he is the biggest piece to the Padres having success.
Keep Reading

San Diego Padres: Like this team?