UFC 133 Results: Does It Really Matter Who Rashad Evans Faces for the Title?
August 8, 2011
I should say not at all.
The UFC can market the fight whether it's UFC Light Heavyweight Champion Jon Jones or former UFC Light Heavyweight Champion Quinton "Rampage" Jackson that walks out of UFC 135 as the champion, and that is due to one simple reason:
Jon Jones and Quinton Jackson both do not like "Suga" Rashad Evans.
The Rampage-Evans saga goes back to 2009, when Evans was just coming off of his third-round finish of Forrest Griffin at UFC 92 and awaited the winner of Rampage's bout with Keith Jardine at UFC 96.
When Rampage beat Jardine, the trash talk began.
Rampage said he was getting his belt back and that he would knock Rashad clean out.
Rashad said he wasn't getting knocked out by Rampage and that he'd throw the first punch to Rampage.
Of course, the fight didn't happen until last year due to Rampage first getting injured, then pulling out of UFC 107, and then the infamous "retirement" of Rampage, as well as his choice to do The A-Team.
Rashad got knocked out by Lyoto Machida and wound up not fighting until UFC 108 against Thiago Silva, but then he beat Rampage by a unanimous decision that was initially panned by most fans.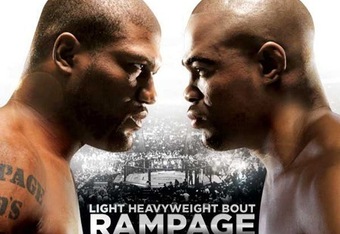 This would lead to his feud with Jones, which is well documented.
Call it jealousy or call it regret for the initial choice he made, but Rashad's feud with Bones began when he ran the risk of waiting for Mauricio "Shogun" Rua to heal.
For those who will find any excuse to slam Bones and hoist him to a level of hatred that makes Tito Ortiz seem humble, let's not forget that it was Jones' UFC 126 win over Ryan Bader that put him officially in the mix at 205 pounds, but let's also not exercise our selective memories for a moment:
Yes, the win over Bader put Jones in the mix, but it was when Joe Rogan announced in front of the world that Rashad had indeed been injured that Jones became the No. 1 contender.
Why call yourself a fighter if you're going to use a six-week camp as an excuse to turn down a title shot against one of the greatest Light Heavyweights in combat sports history, let alone Mixed Martial Arts history?
Bones took the fight for UFC 128—he gave the crowd the chance to see Shogun fight—and he dominated to where not even Jones' biggest critics and detractors could say Shogun effectively stole a round.
Bones was to get Evans last night, but a hand injury initially forced him from the bout, and by the time it was learned that Bones was not going to have any surgery on the hand, Phil Davis already volunteered to fight Evans.
We all know what happened from there, and we also know that Evans is as incapable of liking Rampage or Jones at this time, as both Rampage and Jones are incapable of liking Evans.
There is unfinished business on both sides, and a series of articles could be published about the curse of the UFC Light Heavyweight Title, which Bones will hope to break, starting with Rampage at UFC 135 and Evans at a later point in time.
So when you think ahead to how UFC 135 will be promoted, and when you look ahead to envision how Evans' shot at another UFC title reign will be promoted, does it really matter if Bones retains or if Rampage regains?
The hatred is there, the title is there, the storylines are there and the atmosphere is electric enough to power up a continent.
Now all that needs to happen is for us to find out at UFC 135 exactly who it is that will face Rashad Evans with their UFC Light Heavyweight Title on the line.