Milwaukee Brewers: 5 Reasons Ryan Braun and Co. Are World Series Material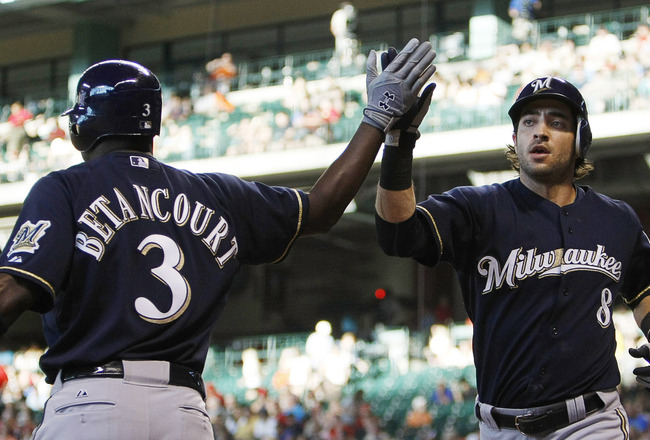 Bob Levey/Getty Images
Where's the respect?
While all eyes are seemingly focused in on the successes of MLB's so-called "power-house teams" such as the Philadelphia Phillies, Boston Red Sox and (as always) New York Yankees, the Milwaukee Brewers have quietly put together an unprecedented run.
Now sitting at four games ahead of the St. Louis Cardinals for the NL Central lead, the Brewers, led by the historically great dynamic duo in Ryan Braun and Prince Fielder, are now in solid position to make the postseason—though most of the baseball world has yet to recognize it.
Here are five clear reasons you shouldn't overlook the Brew Crew as World Series contenders.
This article was originally featured on Wisconsin Sports Talk. Read more from Alec Dopp here.
Casey McGehee Is Hitting, and Hitting Well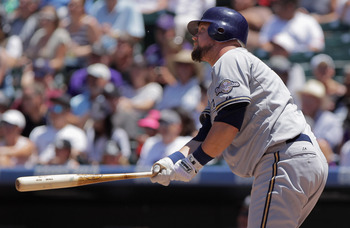 Doug Pensinger/Getty Images
Casey McGehee, who actually led Milwaukee in RBI (104) in 2010, has been an absolute gem for manager Ron Roenicke in the last month.
After starting the season on a dreary note, McGehee has raised his batting average to .237, while amassing 53 RBI and 8 HR.
It will be absolutely imperative for McGehee to stay hot as the playoff race heats up, as the Brewers cannot afford another slump from one of their most important offensive facilitators.
In the month of August, McGehee is batting .286 with 8 RBI, 3 HR and has a .895 OPS to his credit.
Consistent Pitching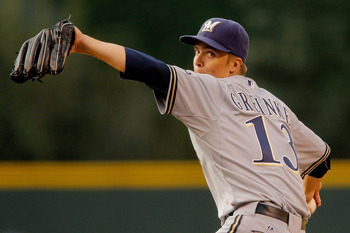 Justin Edmonds/Getty Images
When GM Doug Melvin searched the trade market last offseason, he clearly had one mission in mind: improve a lagging starting rotation with big-name talent.
The additions of Zack Greinke and Shaun Marcum were two of the biggest acquisitions in all of baseball. But until recently, they've only begun to show what's they're capable of.
With a five-man starting rotation comprised of Greinke, Marcum, Yovani Gallardo, Randy Wolf and Chris Narveson, the Brewers have four starters with postseason makeup—excluding Narveson. And, believe it or not, Wolf currently leads the staff in ERA (3.48).
The fact is, Milwaukee's new-and-improved rotation is ready for the postseason.
Offensive Firepower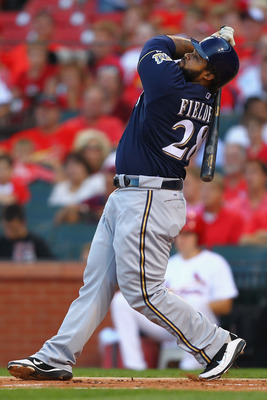 Dilip Vishwanat/Getty Images
Despite an $85 million payroll, the Brewers have managed to produce home-grown talent capable of producing unprecedented numbers on a nightly basis.
Prince Fielder, who is now batting .308 with 27 HR, 89 RBI and baseball's third highest OPS (.994), is proving to be worth every penny of what will eventually become a gaudy contract this offseason.
Likewise, Ryan Braun is—and has been—every bit as impressive. Batting .323 with 22 HR, 76 RBI and a .966 OPS, Braun is also affirming his status as one of baseball's few five-tool players.
But that's not where the production ends. Casey McGehee, Corey Hart, Rickie Weeks (who is due back from an ankle injury by September) and Nyjer Morgan have all managed outstanding offensive seasons.
Road Woes Taking a 180 Degree Turn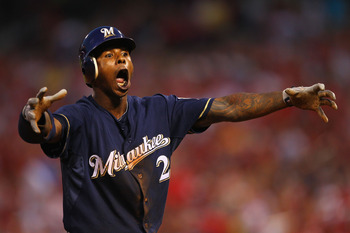 Dilip Vishwanat/Getty Images
Truth be told, the Brewers were one of the most atrocious ball clubs when it came to playing outside of home.
Those woes no longer exist as of late.
Since the All-Star break, Milwaukee has gone 10-7 on the road, including a critical series victory against Albert Pujols' Cardinals last week.
Much has yet to be done for the Brewers on the road, and we will get a great look at what they're capable of when games become more important in the coming weeks.
But, for now at least, can we stop with the criticism?
Refurbished Bullpen with Tremendous Potential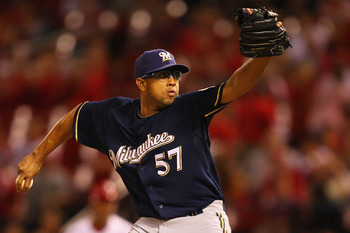 Dilip Vishwanat/Getty Images
Bullpen issues were one of the many factors leading to an unsuccessful 2010 campaign for the Brewers.
Ranking 26th in bullpen ERA last season (4.58), Milwaukee was in serious need of help. Signing Takashi Saito, who holds true to a 2.70 ERA and 6 HLD in 2011, was a major addition to a lackluster bullpen.
But it wasn't until the acquisition of Francisco Rodriguez that the Brewers' bullpen really took off.
Currently, Milwaukee ranks 16th in bullpen ERA (3.82), and has received tremendous production out of Rodriguez. In just 13 appearances, K-Rod has a 2.19 ERA, 7 HLD and 16 strikeouts.
Milwaukee also maintains a plethora of steadfast relief arms such as LaTroy Hawkins (1.73 ERA, 17 HLD), Kameron Loe (3.90 ERA, 15 HLD) and closer John Axford (2.48 ERA, 33 SV).
Keep Reading

Milwaukee Brewers: Like this team?