New York Giants: Position by Position Breakdown
Al Bello/Getty Images
The Football season can't come soon enough. And for the New York Giants, the season looks to be either exciting or a devastating one. Fans have not forgotten that the New York Giants, while they did not make the play offs, still finished with a 10-6 record last year. However last year was last year. It's a whole new roster for the New York Giants. Come Saturday August 13, 2011, the Giants will have their first pre-season game, which won't be as exciting as a regular season game but it will give New York fans a glimpse into what their number one football team has in store for the 2011-2012 season.
So far the off-season has not been an enjoyable one for Giants fans. As Giants fans have seen their arch nemesis The Eagles really dominate the free agency. Giants fans also lost one of their own veteran wideouts named Plaxico Burress sign with the New York Jets. The Giants have not really done much to boost their team. Granted they have done some things, but there are still issues to take care of concerning each position. Will the final roster be enough to contend with the coming schedule for the New York Football Giants?
Take a preview of what the Giants roster stands at and what's the best move
Quarterbacks: Who Backs Up Eli Manning?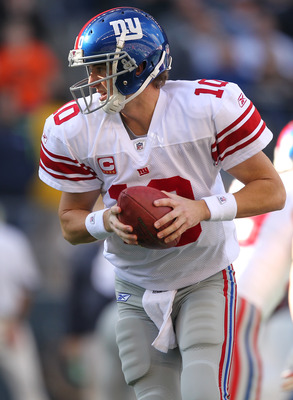 Otto Greule Jr/Getty Images
Fans already know, who the starting quarterback is for the Giants. His name isn't Peyton. It's Eli Manning. The question concerning this position is who will back him up?
Let's look at the candidates for this year.
The Giants have Sage Rosenfels, Ryan Perrilloux, and they brought back David Carr.
We'll start off with Sage Rosenfels. Last year, Sage only played one quarter of a regular season game for the Giants last year, and it was against the Seattle Seahawks, when the Giants destroyed the "12 men team" 41 to 7. Sage didn't even pass the ball once in the game, all he did was hand the ball off to DJ Ware, then when they got to the endzone, he took a knee for four downs. Rosenfels is 33 years old, and has been in the NFL since 2001, he debuted with the Miami Dolphins. Anyone who watch Rosenfels in 2005, knows what he did. He led the Dolphins back to win the game in two of his starts. One game against the Buffalo Bills, and the other one against the Jets. After that he signed with the Houston Texans then was traded to Minnesota, then traded to the Giants. Rosenfels has a record of 30 touchdowns, 29 interceptions, 4,156 passing yards. His quarterback rating is at 81.2.
Next we have David Carr. Carr returns to the New York Giants, after failing to be the starter in San Francisco for the 49ers. Everywhere Carr has gone he's served as a back-up for other quarterbacks. Other than Houston, where Carr was drafted, Carr has been a back-up for quarterbacks like Jake Delhome, Alex Smith, and Eli Manning. Wherever Carr has been, he's suffered injuries that ended his chance of being the starter for the franchise. Carr is 32 years old, has 65 touchdowns 71 interceptions. Carr's has 14,433 passing yards, and has a quarterback ranking is 74.9.
Finally there is Ryan Perrilloux. Perrilloux has no NFL career thus far, and was an undrafted rookie from LSU. At LSU Perrilloux was a back-up quarterback behind JaMarcus Russell and Matt Flynn. Perriloux is 24 years old and has yet to step foot on NFL gridiron
So who's in, out, and who's the underdog?
As far as things go right now:
David Carr is in if Rosenfels is out
Sage Rosenfels is in if Carr is out
And Ryan Perrilloux is the underdog.
In this case, fans will have to wait and see what happens in the pre-season.
Running Backs: Running Forward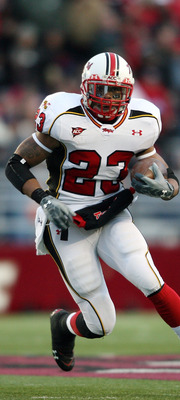 Elsa/Getty Images
Fortunately for the Giants, they were fortunate enough to restructure Brandon Jacobs' contract and bring back Ahmad Bradshaw. The Giants also re-signed DJ Ware and drafted rookie Da'Rel Scott.
With concern between Bradshaw and Jacobs: It appears Bradshaw will be the starter again this year, unless Coughlin makes a change of plans and puts Jacobs at the starter. So who's gonna be the starter is anybody's guess? And there is no chance of making Brandon Jacobs the fullback this year.
However the issue with this position is who will be the 3rd string running back?
Da'Rel Scott was drafted from Maryland by the Giants in the 7th round of the NFL draft. So with him drafted, what position does that put DJ Ware in?
Things don't look good for DJ Ware right now. Last year in the final quarter of the game against the Seattle Seahawks, if Giant fans were still watching the game they got a glimpse of how fast Ware can run. Ware is fast, but he's only got a one year contract.
As far as the other running backs go:
Andre Brown is out
Martell Mallett is already on reserve list due to injury so he's out
Charles Scott is out
So the contest is between Scott vs. Ware
Scott has yet to see an NFL game on the field as a player whereas Ware has been with the Giants since 2007.
In terms of who's in and who's the underdog?
Scott is both the underdog and on the Team this year
Ware is the underdog but may end up on the practice squad.
Filling in the Fullback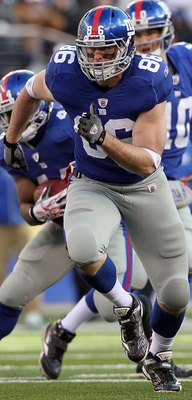 Jim McIsaac/Getty Images
Madison Hedgecock was a good fullback for the Giants but he is now gone. Unfortunately the Giants cut Hedgecock after the lockout ended. Hedgecock was part of the Giants Superbowl team in 2007. Now the Giants are ready to move on...but with whom?
Bear Pascoe appears to be the favorite in this matter, since last year when Hedgecock suffered an injury and ended up on the injurd reserve list. However Pascoe's role this year will be a big one but it all depedns what the Giants decide to do concerning their tight end issue this year. Pascoe also has competition for the fullback position this year with rookie, Henry Hynoski. Coughlin has already spoken highly about Hynoski on www.giants.com. However Pascoe has one advantage already he's experience the NFL.
As far as the competition goes it's anybody's guess? Pascoe's role for the Giants this coming season will apparently have an effect on Hynoski's future with the Giants.
There's two ways to look at this:
If Pascoe is made a tight end: Hynoski is the fullback
If Pascoe is made the fullback: Hynoski goes to the practice squad.
Either way there is big shoes to fill in this role.
Number 3 Wide Receiver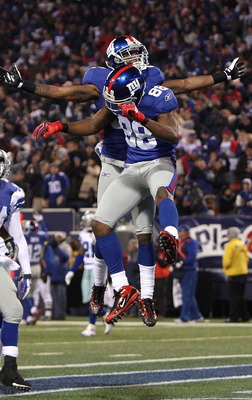 Jim McIsaac/Getty Images
Hakeem Nicks, and Mario Manningham are set as the Giants number one and number two receivers. The only concern for this position is who will emerge to be the number 3 wide receiver?
The Giants missed on their chance to sign free agents such as Plaxico Burress, Malcom Floyd, or Braylon Edwards. And The Giants have still not re-signed Steve Smith who is still recovering from a Knee Injury that cut his season short last year. With Smith, out Manningham stepped up big time, now the only question remains is who will back up Nicks, and Manningham?
The Giants have many options to look at this year:
Their first option is Domenik Hixon: Last year Hixon tore his ACL in pre-season and missed all last year. Now this year he hopes to return and make an impact an impact with the Giants receiving core. Hixon is also a key contributor on Special Teams, as he was mostly used in Kick and Punt returns. So Hixon may be the teams Kick and Punt Returner, but will he have competition? In terms of wide receiver, yes he will.
Hixon's competition include Victor Cruz, Ramses Barden, Jerrel Jernigan, Michael Clayton, Mark Clayton, Darius Reynaud, and Devin Thomas.
Ramses Barden has not been cleared to practice yet, as he suffered a broken leg against the Dallas Cowboys last year when he broke his ankle. The Doctors have yet to clear Barden, and it is also uncertain on what condition Barden will be, if or when he starts to play this pre-season. Barden's health is a concern for the Giants, and his health will be a key factor on who the third wide receiver will be.
Jerrel Jernigan, Duke Calhoun, Devin Thomas and Victor Cruz are the underdogs in this situation. Jerningan was drafted by the Giants in the third round of the 2011 NFL draft. Jernigan comes from Troy and has high expectation this season. Duke Calhoun shocked everyone when he beat Derek Hagan for the team spot of wide receiver last year. Devin Thomas proved to be a contributing factor on special teams last year (especially against his former team, The Washington Redskins). So Jernigan Calhoun, Thomas, and Cruz appear to be favorites in making the team, but the competition for the number 3 receiver is anybody's guess again?
Other notable mentions for underdogs are Michael and Mark Clayton. Mark Clayton appears to have signed with the New York Giants along with Michael Clayton. Both receivers have had experience in the NFL playing for other teams such as the Tampa Bay Buccaneers or the St. Louis Rams. Michael Clayton served the special teams well last year. So will they make the team? This one appears to be a long shot!
As far as the other receivers go:
Darius Reynaud's return does not appear to be likely at this point.
And Sam Giguere and Todd Watkins are out.
Take your pick on The Giants number three receiver which will depend on Barden's health and Steve Smith's possible return.
Tightening the End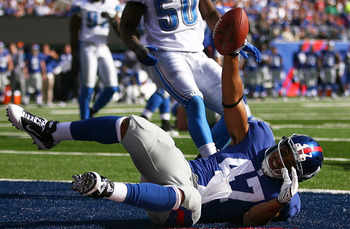 Andrew Burton/Getty Images
Kevin Boss is gone. He's moved on to Oakland to replace Zac Miller. Now it's time for guys to step up in this role. The competition for tight end will be between, Travis Beckum, Jake Ballard, Daniel Coats, Christian Hopkins, and Bear Pascoe.
Pascoe again appears to be one of the two favorites battling for the fullback position left vacant by Madison Hedgecock. So his role for the Giants this year will have an impact on the tight end position as well. However the number one tight end is a concern for the Giants. Travis Beckum appears to be the man for the job. So in regards to that Who will his back up be?
Wait until pre-season to find out
Oh My, the Line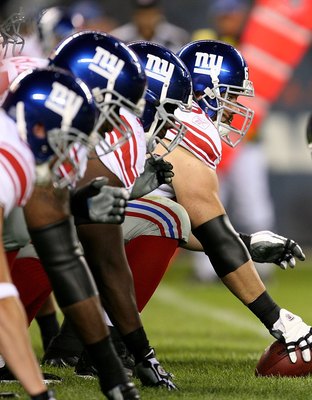 Jonathan Daniel/Getty Images
The departures of Shaun O'Hara, Rich Seubert, and Shawn Andrews are great losses for the New York Giants. Considering last year, Seubert was the center and O'Hara was mostly hurt. Seubert also went down due to injury on the final game of the season which meant Kevin Boothe was the center for the remainder of the game and what would be the Giants season. The Giants have added former 49ers center David Baas and center Chris White. Their signings might be a result of Adam Koets who went down as a result of an injury in the game against the Seahawks last year. As of right now Koets is physically unable to perform.
One Giants veteran who is still around is Kareem McKenzie. McKenzie maybe the leader of the offensive line this coming year, since he is the only veteran other than David Diehl on the team and McKenzie is now entering his 10th NFL season.
One other move the Giants made this off-season was sign former Seattle Seahawk Stacy Andrews
Other additions to the offensive line include: William Beatty, Mitch Petrus, Jamon Meredith, Chris Snee, (obviously), David Diehl, Ikechuku Ndukwe, Jim Crodle, James Brewer, Brant Clouser, and Jarriel King.
Every New York Giant fans knows which lineman are making the team: David Diehl, Mitch Petrus, William Beatty, David Baas, Chris Snee, and James Brewer (drafted this year in the fourth round).
Kareem McKenzie can be considered a maybe at this point but it's most likely he'll be on the team.
If Adam Koets is healthy and able to play he'll make the team.
The underdogs in this category include Kevin Boothe, Jamon Meredith, and Stacy Andrews. So here's predicting the list of the Giants O-line this year:
T- William Beatty, Jamon Meredith, Stacy Andrews, and Kareem McKenzie.
G- Chris Snee Kevin Boothe, James Brewer, Mitch Petrus and David Diehl
C- David Baas, Adam Koets
This Ain't D-End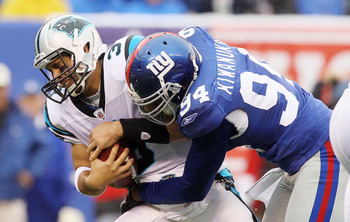 Jim McIsaac/Getty Images
The Giants have one of the best group of defensive ends on the team, in franchise history. The team was able to strike big this off-season when the Giants brought back Mathias Kiwanuka. Along with Kiwanuka, the Giants have pro-bowlers Justin Tuck, and Osi Umenyiora. With them the Giants have Jason Pierre-Paul, Dave Tollefson, Craig Marshall, Ayanga Okpokowuruk, Justin Trattou and Alex Hall.
Obviously the only issue with the defensive ends is the Giants' current situation with Pro-bowler Osi Umenyiora. If the Giants and Osi do not settle this debacle soon, drastic measure can be taken, and the Giants cannot afford to trade Osi, because they want a first round draft pick for Osi and no team is going to give that up.
So if things work out with Umenyiora, then Kiwanuka will apparently move to outside linebacker again. Fortunately for the Giants Kiwanuka is a great pass rusher both as a defensive end and a linebacker. And if Kiwanuka is made a linebacker that gives the Dave Tollefson an opportunity to make the team.
As far as it goes right now the only defensive ends making the final roster are: Justin Tuck, Osi Umenyiora, Mathias Kiwanuka, Jason Pierre-Paul, and Dave Tollefson. Everybody else is unfortunately expendable. Unless they show the Giants other wise.
De Only Way to Tackle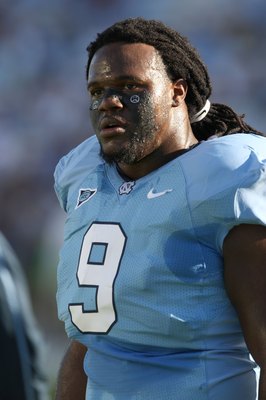 Streeter Lecka/Getty Images
Barry Coefield is gone to Washington. That is not really the best news for New York Giants fans and the organization. However there is still some men who are ready to give offensive lines a run for their money.
Chris Canty will return and will potentially be the starter entering the season. Canty's only problem are minor injuries. Backing up Canty is Linval Joseph, Marvin Austin, and recently waived then recently re-signed Rocky Bernard. At this point the only competition is whether or not Rocky Bernard will make the team or will he be beaten by Gabe Watson. Bernard shocked Giant fans last year when he beat Jay Alford for the job last year, it seems Bernard has found a new home.
Bernard and Watson are the only two men mentioned on the defensive tackle list that appear to be underdogs to make the team.
So it's a guarantee that Canty, Joseph, and rookie Austin will make the team. Bernard and Watson are underdogs. Every other defensive tackle is not highly regarded.
Line on Your Backs? No Problem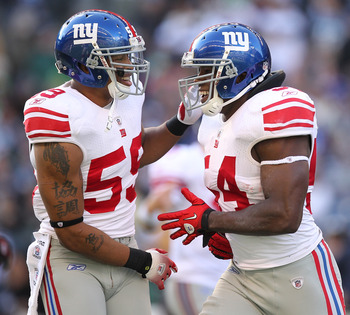 Otto Greule Jr/Getty Images
There are just two linebackers who won't even make it on the practice squad let alone the team this year. Kenny Ingram and Spencer Paysinger. Ingram and Paysinger's chances of making the team are if something happens to the other linebackers who will make the team. The only other question regarding this position is what to expect out of Phillip Dillard. The Giants haven't really regarded the position of linebackers highly in their drafts the past two years. As far as the practice squad goes Dillard is the only linebacker who appears to be on the practice squad.
However your question might be who will start this year and will Kiwanuka be one of the starting linebacker?
As far as predictions go:
OLB- Michael Boley
MLB- Jonathan Goff
OLB- Clint Sintim/Mathias Kiwanuka
It's also safe to say that Keith Bulluck will not return to the Giants.
Around the Corner to the Back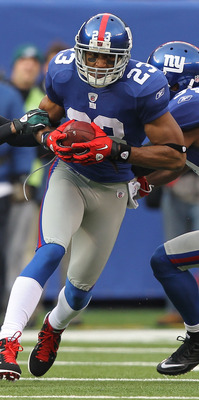 Al Bello/Getty Images
Bad news has already hit the Giants organization and fans. Prince Amukamara has suffered a broken foot, and Bruce Johnson has torn his achilles tendon. Amukamara will be out for 6 weeks, Johnson's season is already over.
The only thing reassuring for Prince Amukamara, was that no one expected him to start this year.
How could he start this year? Maybe he could've beaten Terrel Thomas for the other cornerback position but we'll never know now. Thomas did not have a good season last year. And that's saying a lot. The Giants cornerbacks suffered from many injuries last year and it seems to be following in this season. With Bruce Johnson down and out for the whole season Aaron Ross will also step up big time at least until Amukamara returns.
The Giants have a lot of potential regarding their cornerback position. The Giants probably have more cornerbacks on their team than wide defensive ends and defensive tackles combines.
Here are the candidates for the Giants' cornerback. Michael Coe, Joe Burnett, Darnell Burks,Woody Tuerenne, Brian Witherspoon, and Brian Jackson.
Out of all the names mentioned on the list, Brian Jackson has the advantage since he's played on the Giants last year when Johnson went down due to a knee injury. With Johnson unfortunately down again will Jackson be able to step up again this coming season? He's got a good chance! and he's got the experience to back it up
On a fantasy note: Maybe the Giants can trade to get Asante Samuel. It would require a first round pick. But at this point the Giants may want to take the chance?
But when Prince returns, what effect and impact will he have on the team? And will he return before it's too late? Wait and see!
Is It SafeTY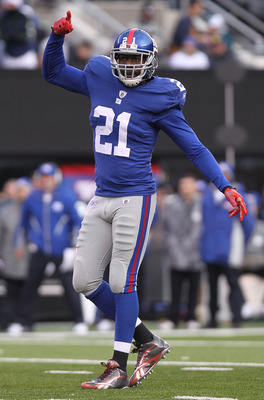 Nick Laham/Getty Images
The Big concern for the Giants at safety at this point is the health of Kenny Phillips and Chad Jones. Jones is still physically unable to perform since his car accident last year which ruptured and broke his fibula.
Due to Jones injury last year the Giants brought in Deon Grant to support Antrel Rolle, Kenny Phillips, and Michael Johnson. Unfortunately not is Deon Grant gone but so is Michael Johnson.
The lost of Michael Johnson was counteracted by the Giants drafting Tyler Sash in the 6th round of the 2011 NFL draft. Hopefully Jones can return to the Giants in time for the season and in the chance he does not the Giants will have Tyler Sash step up.
Also in the likely event that Jones does not return due to his previous injury. This may be an opportunity for the Giants to bring back either Michael Johnson or Deon Grant.
Once again a players' current situation with the team will effect the outcome.
On a optimistic note: The Giants safety this year will include Antrel Rolle, Kenny Phillips, Tyler Sash, and Chad Jones (or Michael Johnson or Deon Grant).
Time to play the waiting game again!
One Punter Is Going to Get Kicked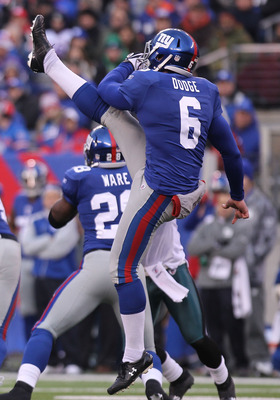 Nick Laham/Getty Images
There is no concern for the Giants' Kicker this coming year. It's Lawrence Tynes end of discussion.
Now we come to the punter!
Ever since Jeff Feagles made the decision to retire, The Giants had to rely on Matt Dodge to be the punter. And from the way it looks right now...That's not a good thing. Dodge has either given the opposing team more touchbacks or touchdowns. So the Giants brought in Steve Weatherford to provide competition for the rookie punter.
To decide who the better punter is, Coughlin and the Giants can't look at experience, because if they did Weatherford automatically wins. Punting yards on average however is a smart thing to look at with the punters.
Dodge's punt yard averages at 44 yards. And yes every Giant fan unfortuantely remembers Dodge's boneheaded punt directly to Desean Jackson. (I appologize for reminding Giant fans of that).
Meanwhile Steve Weatherford who has ten years of NFL experience punts an average of 42 yards.
On a personal note: If I were the Giants I would put Dodge on the Practice Squad and see what Weatherford can do. If Weatherford can get the job done, then say good-bye to Dodge.
Dodge needs time to learn more about punting in the NFL. It ain't the same as punting in college. And the Giants don't have time for Dodge to learn. So if Dodge can't do the job, cut him. But knowing the Giants, they'll keep Matt Dodge.
Take a Guess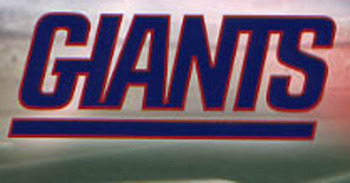 To conclude, this season is really going to be a challenging one for the Giants. And making the team will be even more of a challenge. Who will make it is one thing, who won't make it is anybody's guess.
Keep Reading

New York Giants: Like this team?