The 50 Most Memorable Moments in UFC History
Mixed martial arts is still a relatively new sport, on the grand scale, but it's already blessed us with some beautiful moments in its brief existence.
Today, we examine the UFC, MMA's most prominent promotion, and some of the company's moments that have really stuck in our brains.
A lot of different things can make a moment memorable, whether it be an epic fight, a first for the sport, a gruesome injury or something that is memorable for unexplainable reasons.
Let's take a look at the 50 most memorable moments in UFC history...
Begin Slideshow

»
At UFC 133, Brian Ebersole defeated Dennis Hallman by first-round TKO.
Hallman had an interesting choice of attire in the fight, wearing trunks that were... more revealing than most.
Dana White was disgusted by Dennis' choice of trunks and expressed after the event that he was upset that the people working for him even allowed Hallman to wear said trunks.
The $70,000 bonus was awarded to Brian for getting Dennis out of the Octagon as quickly as possible, so that the UFC President didn't have to look at Hallman any longer.
This fight is memorable for the non-traditional fight bonus that came as a result of it. Also, it's hard to forget a fight between a guy with his chest hair shaved into an arrow and a guy who is practically wearing panties.
Anyone who watched Nate Quarry vs. Kalib Starnes will never forget it; it was an "I can't believe this is happening" type of fight.
Starnes consistently backed away from Quarry throughout the course of the fight and refused to engage.
Eventually Nate got fed up with Kalib's refusal to fight and began to mock him by running after him and doing, what can be best described as, an impression of a rock-em sock-em robot.
One of the judges scored the fight 30-24 in favor of Quarry, which is the second widest point margin in UFC history.
People tend to remember a good gimmick.
Art Jimmerson fought Royce Gracie at UFC 1 and lost via submission.
He is known better as "the guy who wore one boxing glove" than he is by his own name.
Maybe not the best way to be remembered, but nonetheless, the fight happened almost 20 years ago and fans still fondly reminisce about it today.
There have been a few moments in UFC history that we would probably like to forget, but that doesn't make them any less memorable.
At UFC 113, Josh Koscheck managed to use his wrestling to control Paul Daley for three rounds, en route to winning a unanimous decision.
Apparently, during the last round, Koscheck added insult to injury by trash-talking Daley while he had him pinned down.
Paul took offense to this and, after the third round was over and the fight had officially concluded, walked up to Josh and hit him with a left hook.
This was the first time in the company's history that any fighter had shown such blatant unsportsmanlike conduct and Daley was subsequently released from the UFC.
The fight is memorable not only because it was a UFC first, but because of the extreme action Dana White took as a result, sending a message to fighters everywhere by cutting Paul and stating that he would never again fight for the UFC.
Freak show fights aren't a common occurrence in the UFC these days, but in the pre-Zuffa days, they weren't uncommon.
Perhaps the freak show fight of all freak show fights was Keith Hackney vs Emmanuel Yarborough, Keith being a Kenpo karate expert and Emmanuel being a 600-pound sumo wrestler.
At the time, Emmanuel was expected to win due to his size, but Hackney ended up dominating the fight, winning by TKO in under two minutes.
This easily one of the more memorable fight from the UFC's earlier days, purely based on how enormous Yarborough was.
photo courtesy of FIGHT Magazine
Corey Hill fought Dale Hart at UFC Fight for the Troops and, as you can see, suffered a brutal broken leg.
The leg break occurred early in the second round when Hill attempted a leg kick and had it checked by Hart, which somehow resulted in his shin bone ceasing to exist (I exaggerate, but that is what it looks like).
Whether you want to remember it or not, once you see this picture, you won't forget it.
Few things stick in people's minds like an incredible come-from-behind victory.
At UFC Live: Kongo vs. Barry, Cheick Kongo pulled off one of the greatest comebacks in the history of the sport against Pat Barry.
Barry managed to hurt Kongo with a combination in the first round and it looked like Cheick was about to go out.
At one point UFC commentator Joe Rogan actually said, "It's over," but the referee let the fight continue and it ended up being the right call.
Cheick managed to stagger back to his feet and, still on rubbery legs, knocked out an overconfident Barry.
It was easily one of the most exciting single-round fights in MMA history.
Tank Abbott knocking out John Matua is one of the most memorable knockouts in UFC history, not because of the knockout itself, but because of the position Matua's body froze in.
You might think this picture was taken while John's body was still in motion, but his body actually stayed like that for roughly 30 seconds after the knockout.
This was Abbott's first professional fight and the main reason for huge fan following he accumulated.
MMA fans have a great appreciation for fighters who stick in there until the end of a fight, refusing to give up, despite being dominated.
When Jon Fitch met Georges St-Pierre at UFC 87, St-Pierre absolutely outclassed Fitch in every area of the fight. It was one of the most one-sided beatdowns in the history of the sport.
Despite losing every aspect of the fight, Fitch showed no quit and hung in for all five rounds.
Jon gained more fans from this defeat than from any of his career victories.
Mark Hominick vs. Jose Aldo at UFC 129 was an amazing fight and it also marked the first time Aldo defended his featherweight championship in the UFC, but that's not what makes it memorable.
In the fourth round, Jose hit Hominick with a solid elbow from guard and the result was a massive hematoma above Mark's left eye.
Fans will always remember a gruesome injury and this was one of the nastiest, visually, in UFC history.
When Anderson Silva made his UFC debut, people weren't sure what to expect from him; he made a point of showing them very quickly what he could do.
Silva made his debut against Chris Leben, who was riding a five-fight win streak at the time and was on the cusp of becoming a legitimate title contender.
Anderson Silva became just the second man to defeat Leben and the first to knock him out, dominating Chris from the the first few seconds of the fight and eventually finishing it some 40 seconds later.
It was one of the most dominant performances the UFC fans had ever seen and immediately put Silva on the map in the middleweight division.
Rashad Evans is no stranger to taunting his opponents inside the cage and, for once, it came back it bite him in the ass.
Evans fought Lyoto Machida at UFC 98, hoping to defend his light heavyweight championship for the first time.
Machida was clearly winning the fight and outclassing Rashad in all areas and in the second round Evans tried to use some head games to frustrate Lyoto.
After Machida landed a clean combination, Evans tried to make fun of Lyoto's punching power.
Immediately after that, Machida knocked him unconscious.
It's not only memorable because it was a great fight, but it spawned this hilarious picture of Rashad, which any MMA fan has likely seen at least once.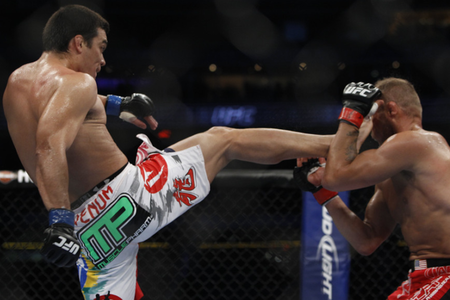 First ever flying front-kick knockout in UFC history.
It happened at the largest event in UFC history.
It was UFC Legend Randy Couture's last fight.
'Nuff said.
Brock Lesnar is easily the most important fighter the UFC has ever brought in, in terms of pure money-making ability.
There was a huge amount of buzz surrounding Lesnar when he made his UFC debut against former heavyweight champion Frank Mir.
Many believed that Brock had no chance of hanging in there with such an experienced mixed martial artist, given that it was only his second professional fight, but the former WWE superstar managed to put on a surprisingly impressive performance.
Lesnar rocked Mir with a big punch just seconds into the fight and followed up with some solid ground and pound.
Eventually, Brock's inexperience got the best of him, however, and Frank submitted him with a heel hook.
Despite the loss, this fight made people start to take Lesnar seriously as a mixed martial artist.
At UFC 121, Cain Velasquez took on Brock Lesnar with the UFC Heavyweight Championship on the line.
It was a classic match up between size and technique, and technique won on this night.
After having a bit of trouble with Brock's wrestling, Cain managed to get back to his feet and separate from Lesnar and it was all downhill for Brock from there.
Velasquez managed a takedown of his own and landed some solid ground and pound. Then the two got into a striking battle and it quickly became evident that Cain had a huge advantage in that area.
He made short work of Brock, rocking him with some big punches and finishing the fight with punches on the ground.
By winning this fight, Velasquez became the first-ever UFC heavyweight champion of Mexican descent.
Mark Coleman vs. Pete Williams is both one of the best knockouts and one of the biggest upsets in UFC history.
At the time, Coleman was considered nearly unstoppable and many were shocked that he had lost Maurice Smith in his previous fight.
Mark's bout with Williams was thought of by most as his comeback fight on the road back to the heavyweight championship.
The early goings of the fight were dominated by Coleman, but Williams was able to rally back and eventually land one of the cleanest head kicks ever, knocking Mark unconscious.
As we have already seen in this slideshow, some of the most memorable moments in the sport have been gruesome injuries.
At UFC 48, Frank Mir caught Tim Sylvia in an armbar and Sylvia refused to tap. The end result was Mir breaking Tim's forearm and you could actually see the bone pop when the tape was shown in slow motion.
Not only is Randy Couture an excellent fighter, he's got a great sense of humor.
Randy fought Tito Ortiz at UFC 44 for the light heavyweight championship and won the fight decisively.
Near the end of the fight, Tito went for a leg lock, in an attempt to pull off the come-from-behind victory. In going for the leg lock, Tito left pretty much only his butt vulnerable to Randy, so Couture decided to give him an old-fashioned spanking.
Forrest Griffin vs. Quinton Jackson was a five-round back-and-forth war that saw both fighters close to finishing the fight, and ultimately the underdog, Griffin, came out on top.
That's pretty much all there is to it. It was a really good fight.
Royce Gracie won the first two UFC tournaments and was the favorite to win the third.
However, his first fight of the tournament against Kimo Leopoldo was so grueling that Royce was unable to compete in his next bout against Harold Howard.
It was a shocking and disappointing moment for fans everywhere and one of the most talked about instances in the early days of the promotion.
This fight is memorable for a couple reasons.
First, Caol Uno charged out at the beginning of the fight and threw some kind of ridiculous kick, only to end up being brutally knocked out moments later.
Second, BJ Penn went against the normal UFC protocol and didn't stick around to be interviewed after the fight. He was so overcome with emotion that he ran out of the cage almost immediately and went backstage.
I'll let the picture do the talking for this one.
This is easily one of the grossest and most unforgettable injuries in MMA history.
This fight is classic Vitor Belfort; the hand speed he showed was incredible.
Belfort vs. Wanderlei Silva was expected to be a very competitive match up, but turned out to be a one-sided affair.
Early in the first round, Vitor charged forward, landing a lightning-fast combination of punches, ending the fight by TKO.
It was a fight between two of the sport's most prominent figures and ended with an incredible finish.
This is one of the UFC's most memorable knockouts due to its embarrassing nature.
Anderson Silva hurt Forrest Griffin in the first round of their fight with some solid punches and Forrest decided to keep plodding forward anyways.
The end result Griffin's foolhardy decision to stay on the offensive despite being rocked was him getting knocked out by, what Joe Rogan referred to as, a "pawing jab" from Silva.
photo courtesy of Tracy Lee
The very first time something happens in the UFC, it's always a memorable moment.
At UFC 126, Anderson Silva faced Vitor Belfort with the Middleweight Championship on the line and won the fight decisively, finishing Vitor with the first ever front-kick knockout in UFC history.
This knockout is just one of Anderson's many highlight-reel KO's.
At UFC 60, MMA legend Royce Gracie came out of retirement to face a legend in the making, Matt Hughes.
Gracie was out to prove that his style of fighting was still good enough to beat the best, despite the sport's evolution since he last competed.
Hughes was out to prove that the sport had evolved beyond Royce and that he (Hughes) was the new face of MMA.
Matt ended up dominating Gracie and proving just how far the sport had come in a few short years.
As previously mentioned, the fans love a good come-from-behind victory.
In the second round of his bout with Pete Sell, Scott Smith got hit with a good shot to the liver, which is normally enough to put any fighter away.
Smith cringed from the shot and it looked like he was about to go down. Pete rushed in to finish the fight and, with his last ounce of energy, Scott threw a big power punch that knocked Sell unconscious.
Heading into his bout with Ryan Bader at UFC 132, everyone was counting Tito Ortiz out.
Tito hadn't won a fight in five years and he needed this victory to keep his job.
Not only did Ortiz shock the world by winning the fight, but he won it in devastating fashion, rocking Bader with a big right hand before putting him away with a guillotine choke.
This fight has obvious importance and memorability right off the top because it was the first time UFC legend Matt Hughes captured a UFC championship, but there's more to it than that.
This is one of the most talked about fights in UFC history because of how it ended. Newton had Hughes in a triangle choke while Matt was standing and leaning against the cage.
After spending some time in the submission hold, Hughes dropped down and it was unclear whether he went unconscious or intentionally slammed Newton to the ground.
Either way, the force of the fall knocked Carlos unconscious and Matt was ruled the winner by KO.
However, it is a heavily debated decision and many believe the fight should have been ruled a no contest.
Way back at UFC 12, Vitor Belfort became the youngest-ever winner of a UFC tournament at the age of 19.
The night was memorable not only for the record that Belfort set, but for the dominance he showed in the fights he was in.
Vitor finished both his opponents in a combined time of two minutes.
UFC 12 is considered Belfort`s breakthrough performance and gained him a ton of exposure and a ton of fans.
When Matt Hughes defeated BJ Penn at UFC 63 to retain his UFC welterweight championship, Georges St-Pierre entered the ring after the fight to tell Matt, "I am not impressed by your performance."
I don't think I'm exaggerating when I say that this is the most frequently referenced quote in mixed martial arts history.
Anderson Silva vs. Rich Franklin was one of the most shockingly dominant performances in UFC history.
At the time that Silva was fighting for the title, he had just one win in the UFC and was still unknown to much of the casual fan base.
Franklin was totally dominating the middleweight division at this time, and most thought that it would be an extremely difficult task to dethrone him.
Anderson did it easily.
Showcasing his superior striking, especially within the Thai clinch, Silva dominated the entire course of the fight, knocking Rich out in the first round.
It was an incredible performance and the beginning of the longest title reign in UFC history.
When Georges St-Pierre fought Matt Hughes for the second time, Hughes was considered to be the best welterweight in the world by far.
Matt already owned a victory of GSP, as well as pretty much every other significant member of the division.
Few people believed that Georges stood a chance in a rematch with the champ, but St-Pierre ended up dominating the fight, winning by second-round TKO.
The match indicated a changing of the guard, as one legend fell and another began to rise.
At one point, Chuck Liddell vs. Wanderlei Silva had the potential to be one of the most relevant and looked-forward-to fights in the sport's history.
However, things didn't go quite as planned when the fight was pushed back and then both guys went on two-fight losing streaks.
The fight lost a good portion of the relevancy factor it had going, but was still a highly anticipated fight.
The bout would live up to the hype surrounding it, as it was one of the most epic three-round wars ever in the UFC.
Gabriel Gonzaga vs. Mirko Cro Cop had one of the most unexpected endings imaginable.
Going into the fight, Mirko was known mostly for his devastating kicks and Gonzaga for his tight ground game.
The fight seemed easy to predict. If it stayed standing, Cro Cop would win. If it went to the ground, Gonzaga would win.
In a shocking turn of events, Gabriel would give Mirko some of his own medicine, knocking him out with the most brutal head kicks in UFC history.
After being handed his first-ever defeat by Frank Mir, Brock Lesnar got his revenge at UFC 100, defeating Mir by second-round TKO.
However, winning the fight wasn't quite enough for an irate Lesnar.
When the fight was over, Brock added insult to injury by getting in Frank's face and screaming at him.
Then in the post-fight interview, Lesnar insulted a UFC sponsor and made lewd comments about his wife.
It was a poor display of sportsmanship and an overall embarrassing moment for MMA, but definitely memorable.
Earlier this year at UFC 128, Jon Jones defeated Mauricio Rua by third-round TKO to become the youngest champion in UFC history, at 23 years of age.
Many were curious how Jones would do in this fight, given that it was the first time he had faced a legitimately elite fighter.
Jon passed the test with flying colors, showing great improvement since his last fight, and dominating Rua wherever the fight went.
On the back of this win, many believe that Jones will be the first dominant light heavyweight since Chuck Liddell lost the belt years ago.
Before meeting Anderson Silva at UFC 117, Chael Sonnen said that the secret to defeating the middleweight champion was to actually fight him, arguing that many of Silva's opponents looked timid when they fought him, like they were expecting to lose.
Chael promised that he wouldn't cower from the champ, like most his other challengers had; he vowed to bring the fight to Anderson.
And that he did.
Sonnen was aggressive throughout the entire fight, dominating much of it using his superior wrestling skills.
It was the first time we had seen someone really take Silva out of his game and beat him up.
Unfortunately, Chael's gutsy performance was not enough to capture the title, as Anderson caught him with a triangle choke late in the fifth round.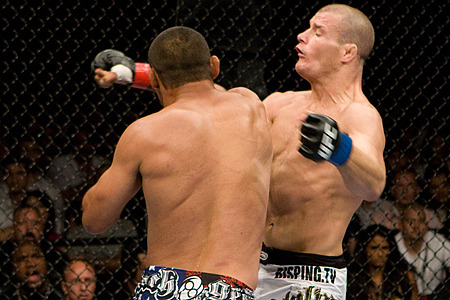 Simply put, this is the greatest one-punch knockout in UFC history, easily.
Dan Henderson and Michael Bisping coached a season of the Ultimate Fighter together before UFC 100 and, by the end of it, Dan couldn't wait to shut Bisping up.
And did he ever shut him up.
In the second round, Henderson hit Michael with a punch so hard that it's going to knock his grandchildren unconscious.
Royce Gracie is an extremely important figure in the UFC's history and the first-ever tournament winner.
In some ways, he is likely the fighter responsible for MMA evolving into well-rounded fighters, rather than just specialists from one martial art taking on specialists from another.
The jiu-jitsu that Gracie used to win UFC was so shocking and surprising to other fighters that they realized they would have to train in other disciplines and not just their own.
As much as we don't like remembering it, there are few things more memorable than seeing an icon fall.
Before losing to Quinton Jackson at UFC 71, Chuck Liddell was the most feared man in all of MMA and he seemed almost invulnerable to harm.
Chuck had defended his belt four times, and no one had come close to beating him.
Then in stepped Jackson, who was not well known by the UFC fans at this time, and he knocked Liddell out in the first round with a vicious left hook.
Fans everywhere were shocked to see their hero fall and, unfortunately, Chuck's career was pretty much all downhill form there.
Winning one UFC title is a difficult enough task. Winning two is almost unheard of.
At UFC 80, BJ Penn became just the second man in UFC history to capture titles in two different, winning the vacant lightweight championship by defeating Joe Stevenson.
The fight had historical significance due to Penn winning the belt and was also one of the most brutal beatdowns ever to take place inside the Octagon.
Super fights are an extremely rare occurrence in the UFC and so any time one happens, there is a lot of buzz around it.
Perhaps the most hyped super-fight in UFC history—that actually happened—was Georges St-Pierre vs. BJ Penn 2.
Both men were dominant champions in their respective divisions at the time, St-Pierre at welterweight and Penn at lightweight.
The two men had fought before in what was a very close fight and many expected the second fight to also be a closely contested match up.
However, this was not the case.
Georges showed that he had improved more than Penn had since the first time they fought. He absolutely dominated the fight and battered BJ to the point that he could no longer continue.
Chuck Liddell vs. Randy Couture is arguably the most storied and most significant rivalry in UFC history.
Both men were former champions and both had huge fan followings.
The two men fought at UFC 57, having already fought twice with each man winning one of the fights.
This last bout was to settle the score once and for all, and the bout had huge amounts of hype surrounding it.
Liddell would win the rubber match, knocking Couture out in the first round and finally ending their feud.
After the fight, Randy announced his retirement from the sport, although he would eventually fight again.
BJ Penn vs. Matt Hughes I is one of the biggest upsets in MMA history.
Hughes was a dominant welterweight champion at the time and had already defended his belt five times.
Penn was moving up from lightweight and was expected to have a significant size disadvantage against Matt.
Given that Hughes had been so dominant and Penn had only been somewhat successful as a lightweight at this point, everyone was expecting Matt to dominate.
Not to be counted out, BJ went out and fought the fight of his life, rocking Hughes with a giant right hand and then sinking in the rear-naked choke while the champ was dazed: an unforgettable performance from Penn.
This is the biggest upset in UFC history and by a wide margin.
Going into this match, Georges St-Pierre was coming off a dominant victory over a man who was considered the greatest welterweight of all time, Matt Hughes.
Matt Serra was coming off barely beating Chris Lytle to win The Ultimate Fighter: The Comeback.
Everyone, literally everyone, expected Serra to be destroyed by GSP.
However, Matt fought a good fight and was able to exploit some holes in St-Pierre's stand up, winning the fight by first-round TKO.
Easily the most shocking moment in UFC history.
When Randy Couture fought Chuck Liddell for the first time, people thought the Natural's career was already over.
He had been dominated in his last two fights in the heavyweight division and people saw the move down to light heavyweight as a desperate move by a fighter who was past his prime.
Randy proved to the fans that, even though he was pushing 40, he still had a lot left to give.
Couture dominated the highly favored Liddell, winning by third-round TKO and becoming the first man ever to win UFC championships in two separate weight classes.
Matt Hughes and Frank Trigg fought for the second time at UFC 52 in a match with no shortage of bad blood.
Early in the first round, Trigg hit Hughes with a low blow while in the clinch that went undetected by the referee. Hughes looked for the referee to stop the fight, but was told to fight on.
Frank took full advantage of the opportunity, swarming Matt and landing several big power punches.
The welterweight champion seemed to be on Dream Street while Trigg looked to sink in the rear naked choke, but Hughes eventually recovered and reversed the position.
From there, he picked Frank up and literally ran across the Octagon with him, slamming him to the ground.
Matt dominated the rest of the fight and sunk in a rear naked choke of his own, winning the fight by submission in the first round.
Randy Couture vs. Tim Sylvia is the single most inspirational fight I've ever seen, in any combat sport.
Couture came out of retirement at more than 40 years old to take on a man who was way taller than him, with almost a foot reach advantage, and who outweighed him by probably 50 pounds.
People thought that Randy was crazy to ask for this fight.
Crazy like a fox.
Shortly after the opening bell, Randy landed a huge overhanded right that separated Sylvia from his senses.
From that point on, the fight was all Couture; he dominated every aspect of the fight.
Couture hit takedowns at will, was able to control Tim on the ground, and even won kickboxing exchanges against the much-larger Sylvia.
All three judges scored the fight 50-45 in favor of Couture.
After the fight, Couture sealed the victory off with a perfect line: "Not bad for an old man, huh?"
I don't think anyone can be surprised to see this fight in the No. 1 slot.
Forrest Griffin vs Stephan Bonnar I is widely considered to be the most important fight in UFC history and largely responsible for boosting the sport's popularity.
In a nutshell, Griffin on Bonnar just put on a show.
Neither man seemed worried about winning, losing or potential injuries. They just went after each other for three straight rounds, throwing all caution to the wind.
It was a back-and-forth fight and a slug-fest for the ages.
Forrest Griffin was awarded the victory, but both men walked away winners, having both been awarded contracts by UFC President Dana White.
Andrew Barr is a Featured Columnist for Bleacherreport.com. For updates on what's happening in the world of MMA, follow him on Twitter http://twitter.com/#!/AndrewBarr8