NFL New York Jets: Why Losing Brad Smith Stings, but Isn't That Big of a Deal
August 8, 2011
Chris Trotman/Getty Images
Brad Smith was part of the New York Jets for a long time, he was with the team through good times and bad.  
I was in the stands on Thanksgiving day when he took a kick back for a touchdown in his socks. 
That was the game-changing play against the Bengals that day. Smith made his share of those plays considering his relatively limited role.  
All that being said, too much is being made of his departure.  
Sometimes as fans, we can all get blinded by players and teams that we have a connection to.  
When it comes down to it, Smith is a glorified special teams player.  Everyone wants to point out the void Smith left at the receiver position; he had four catches for 44 yards last year.  Not exactly a tremendous impact.  
Much has also been made of Smith playing quarterback in college and the benefits this gives him running the wildcat.  Is he able to read defenses a little bit better?
Maybe, but it's not like he's passing from the cat.  Last season, he had two attempts for six yards.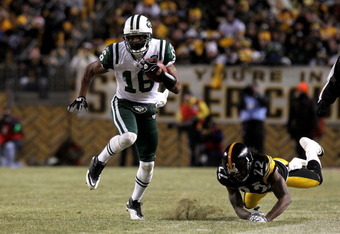 Nick Laham/Getty Images
Smith's biggest impact was in the return game, but he isn't one of the all-time great returners in NFL history.  
If the value of running backs has changed in recent years to the point where they have become replaceable, than why should a kick returner be exempt from that harsh reality? 
While a player's true importance may not always be reflected in his statistics, the Jets have leaders elsewhere who can fulfill that role both on and off the field.
Again, I'm not trying to bash Smith. His contributions were important over the years, but the NFL is a business and his skills are replaceable.  
LaDainian Tomlinson is a player who has the ability to run the wildcat effectively who is already on the Jets roster.  Joe McKnight is another guy on the team who has the ability to contribute in the return game and possibly the wildcat as well, along with 2011 draft pick Jeremy Kerley.
Smith leaving is a cruel ending to a special relationship with one of the most loyal fan bases in the NFL.  On the bright side for Smith, he will get a chance to make the Jets pay twice a year in 2011.