The 20 Most Pathetic Performances in MMA History
COURTESY OF JONCROWLEYMUSIC.BLOGSPOT.COM
Let me start off by saying that I have the utmost respect for every fighter to compete in combat sports such as boxing, MMA, kickboxing and many others.
These sports require an unfathomable amount of discipline and technique, and those that compete in such sports deserve respect for putting their health at risk, every time they compete.
MMA is a fairly young sport, and in the short time it has been around, we the fans have seen many different types of performances. We have seen fighters who have entertained, excited, bored and even disgusted the fans with their performances.
We have also seen fighters put out performances that are just pathetic.
The fighters that appear on this list are here for various reasons. Some are here for being dirty fighters or for getting humiliated for not even fighting in a dignified manner, and many more reasons.
Their performances are not what one would expect to see when watching an MMA fight and are deemed pathetic by the unforgiving, MMA community.
So without further ado, these are the 20 Most Pathetic Performances in MMA History.
Begin Slideshow

»
COURTESY OF EN.SUSUMUG.COM
When "Shogun" Rua and "Rampage" Jackson met at Pride Total Elimination 2005, MMA fans witnessed a very rare event; the annihilation of one of the most dominant fighters in MMA.
Shogun showed the world why he is one of the most feared strikers in the world with his phenomenal performance over Rampage Jackson. Rampage did little, if any, damage to Shogun.
Over the course of the fight, Shogun landed deadly knees to the body of Rampage and hurt him badly with his various strikes. Around four minutes into the fight, we saw Rampage succumb to vicious knees and soccer kicks to the head and face.
Rampage did not look himself in this fight, and coincidentally, we have not seen him get dominated in such a fashion since the fight against Shogun.
COURTESY OF FIGHTTIMES.COM
Koji Oishi makes the list for having one of the most bizarre game plans the sport of MMA has ever seen.
In the fight against Diaz, someone actually convinced Oishi that he could block Diaz's punches by punching them away.
However, Diaz knocked Oishi out in the first round.
Koji Oishi left everyone dumbfounded with this game plan, and Oishi was cut from the UFC following this performance.
COURTESY OF CAGEPOTATO.COM
Anderson Silva is the most feared striker in MMA, period.
No one in their right mind would want to keep the fight standing up with him, and Thales Leites was no exception. For those of you who haven't seen the fight, let me break it down for you.
We have all seen or heard about the fight between Fabricio Werdum and Alistair Overeem. Werdum kept pulling guard at every opportunity, and Overeem refused to engage with him on the ground, which led to lackluster performances from both fighters.
Now imagine this but ten times worse.
Leites tried incredibly hard to get this fight to the ground and had to resort to flopping—that's right, flopping—to get this fight to the ground. Each time Leites took to the ground, Silva would just turn around and walk away.
COURTESY OF MMADB.COM
Yuhi Sano was like a zombie in the fight against Royler Gracie at PRIDE 2.
Not like "The Korean Zombie," who can withstand heavy strikes without getting really hurt. No, Sano was repeatedly struck in the face, and the strikes clearly hurt him, yet he did not respond in the slightest manner.
Of all the people on the planet who should and would respond to a punch to the face, a fighter would be the most likely person to react.
However, Royler Gracie put a beating on Sano, and he did not react.
Here are some absolutely hilarious quotes from the commentators, Bas Rutten and Stephen Quadros, from the fight.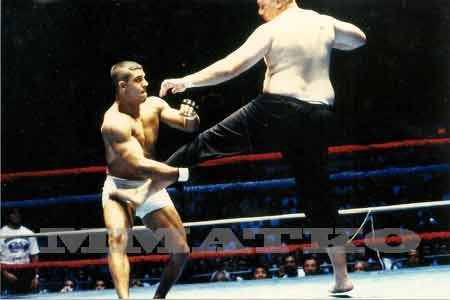 COURTESY OF MMATKO.COM
Jon Hess' performance against Andy Anderson at UFC 5 is widely credited as the dirtiest performance in UFC history.
The early days of the UFC were some of the darkest; MMA was considered a blood-sport, and Hess' performance didn't help matters. He repeatedly gouged the eyes of his opponent and committed other violations and was fined for doing so.
Hess actually struggled to find someone willing to fight him following this performance, before Vitor Belfort agreed to fight him.
Vitor Belfort did what he does best in the fight. In the space of the opening 12 seconds of the first round, Belfort took down the much larger Hess and unloaded a fury of devastating punches, knocking Hess out.
Hess has not fought professionally since that fight.
This fight was a special-rules exhibition match-up that took place at Dynamite!! 2010. The first round would be a kickboxing round, and the second round would be an MMA round.
Anyone who has seen Aoki fight will know that he is a wizard of submissions and of Jiu-Jitsu. So in the kickboxing only round, Aoki was out of his element, pretty badly.
He tried to evade Yuichiro Nagashima's strikes by going for takedowns, clinching and flopping so that he could move on to the MMA round, where he would be allowed to grapple and take the fight to the ground.
When the second round started, Aoki immediately went for a takedown that was stuffed and was knocked out in just four seconds.
Bob Sapp is a monstrous human being. He is one of the most physically imposing fighters we have ever seen in MMA.
However, when he fought Jerome LeBanner in 2004, we saw the big man reduced to near-tears in-between rounds.
LeBanner dominated the first round, and at one point he had Sapp cowering in the corner. And when the bell to end the round sounded, Sapp was visibly tired, upset and unmotivated.
Sapp managed to find his feet in the last two rounds and managed to end the fight in a draw.
COURTESY OF JONCROWLEYMUSIC.BLOGSPOT.COM
Forrest Griffin's performance against Anderson Silva was by far his weakest performance ever.
When these two met in a light-heavyweight fight at UFC 101, we witnessed Anderson "The Spider" Silva perform at his best. We saw just how great a striker Silva is, and we also saw his exceptional skills in evading strikes and counter-striking, which could be compared to the movie The Matrix.
Griffin did absolutely no damage to Silva, who managed to knock down Griffin three times in the very first round.
Silva managed to knock-out Griffin with a jab while walking away from Griffin.
This fight lasted 3:23 of the first round, and Silva was given two fight bonuses that night for his dominating performance.
Kimbo Slice became one of the most popular fighters in MMA history, thanks to his infamous street-fighting videos on YouTube.
Kimbo met Seth Petruzelli at EliteXC: Heat, where MMA fans saw Kimbo Slice get knocked out in just 14 seconds.
Petruzelli was backed up against the cage, and Kimbo looked ready to explode. However, in a dramatic turn of events, it looked like Kimbo's legs gave way and Petruzelli capitalized with ground and pound.
Shortly after this fight, EliteXC filed for bankruptcy and was disbanded, and many fans and critics credit Slice's loss for this.
In the build-up to the fight, Rivera released several videos on YouTube that poked fun at Bisping. These videos were purely to hype the fight, and although they were fairly tame, Bisping did not find them amusing and was infuriated by the videos.
He had misinterpreted many of what Rivera had said in the videos, and the animosity between the two had worsened.
Now, Bisping actually beat Rivera, but what happened during the fight had angered scores of MMA fans and even other fighters.
Bisping threw a knee to the head of Rivera while he was on both knees, and Rivera seemed to have been knocked-out. Now any MMA fighter in the world, especially with the experience of a fighter like Bisping, knows that this is not permitted and is an illegal move.
However, Bisping was not finished; he then went on to spit at the corner-men of Rivera.
Bisping was still not finished.
Rivera chose to continue and was very dazed and clearly injured due to the illegal knee. Unsurprisingly, Bisping got the win, and when the fight was over, he charged over to Rivera and decided to hurl abuse at him.
This was definitely one of the worst cases of bad sportsmanship ever seen in the UFC and is absolutely pathetic.
COURTESY OF MMASTREAMED.COM
Paulo Filho's fight against Chael Sonnen is considered as one of the worst fights in MMA history.
Filho was the middleweight champion of WEC at the time. When he was set to fight Chael Sonnen, he actually came in overweight, so the fight was changed to a non-title fight.
When it came to fight time, Filho was not what one would describe as, "normal."
Filho was seen to be talking to himself and to imaginary people around him. Furthermore, he did not seem to comprehend that he was getting punched in the face.
After this abysmal fight, Sonnen claimed that Filho even asked to lie down and rest.
I don't even know what to make of that.
Both fighters deserve a place on this list for their performances against each other at Inoke Bom-Ba-Ye 2001.
Let me start off by saying that this fight is not one of the worst fights ever, because it wasn't a fight.
No, this was two men who feared each other so much that they actually refused to do anything to each other, out of fear of what the opponent could do.
All rounds consisted of virtually nothing and the fight was called a draw.
Mark Kerr was once one of the most feared fighters in MMA. His wrestling skills and overall athleticism made him a very dangerous opponent and, unfortunately for Duarte, he agreed to fight Kerr while he was in his prime and at his most dangerous.
When these two met at Pride 4, we saw Kerr dominate from the get-go, and Duarte actually gave up. How do we know this? Because Duarte actually tried to leave the ring on several occasions and made complaints throughout the majority of the fight.
Then we witnessed one of the worst cases of sportsmanship when Duarte actually feigned unconsciousness to try and get the referee to stop the fight.
COURTESY OF FR.SUSUMUG.COM
Gilles Arsene did not look like a professional fighter in this match-up with the legendary Kazushi Sakuraba.
The inexperienced Arsene was pitted against Sakuraba at Pride 23 in a fight where Arsene did everything but fight. In fact, he event spent time in the fetal position during the fight.
Eventually, Sakuraba managed to get Arsene to the ground, where Sakuraba set up an arm-bar. However, Arsene tapped before the submission was even applied properly.
I have no words for this performance.
It was painful to watch the former MLB star, Jose Canseco, take on Choi Hong-man.
Jose didn't look like he knew what he was doing in this fight. He was running around the ring like it was actually a game of baseball, and he was way out of his element.
Canseco attempted jumping front-kicks and various other flashy strikes, which were poorly executed, and his strikes looked like it hurt him more than it did his opponent.
Furthermore, Canseco would literally run away after every strike he threw or his opponent threw.
After one of his fancy side thrust-kicks just rebounded off the towering Hong-man, Canseco fell to the ground, where his adversary pounded on him with hammer fists and punches.
Tim Sylvia was chosen to represent MMA in a fight against boxing legend Ray Mercer.
The two initially wanted to box each other, but unforeseen problems meant that the fight was changed to an MMA bout.
However, both men publicly promised each other that they would only box each other, despite it being an MMA fight.
Sylvia actually stated that he would represent the MMA community in this fight and get the sport the respect that it deserves.
When the fight had started, Sylvia seemed to forget that he had agreed to box Mercer, throwing an inside leg kick. Mercer actually dropped his guard and mean-mugged Sylvia.
A mere six seconds later, Mercer knocked Sylvia out.
This was a pathetic performance from someone who stated that he would represent MMA.
COURTESY OF FIGHTPASSPORT.COM
Anderson Silva's performance against Demian Maia is something that is brought up by many when criticizing him.
Demian Maia, like Thales Leites, knew it wouldn't be smart to stand-up and trade with Anderson Silva. Maia wanted to get the fight to the ground, where he is somewhat of an expert.
Anderson Silva registered this, and the taunting had begun. Silva ran around the octagon and was showboating the vast majority of the fight.
However, Silva managed to hurt Maia quite badly in this fight, even though a very small number of strikes were thrown.
Silva retained his title, but Dana White was so appalled with Silva's performance that he refused to ceremoniously put the belt around Silva's waist, and instead he gave it to his manager.
COURTESY OF MMAMANIA.COM
Gilbert Yvel is considered by many as the dirtiest fighter in the game.
It is not just the one performance that lands him on this list, as there are actually three performances that spring to mind that give him a place on here.
One of his "dirty" performances came against Don Frye at Pride 16. In this fight, Yvel gouged, raked and scratched the eyes of the legendary Don Frye, and Yvel was subsequently disqualified for this blatant flagrance of the rules.
In another fight, against Karimula Barkalaev, Yvel actually bit him, drawing comparisons to the Mike Tyson-Evander Holyfield fight, and its infamous biting incident. Again, he was disqualified.
In another performance, Yvel actually knocked the referee out. No, your eyes do not deceive you—that really does read, "the referee."
Yvel's history of bad conduct has led to several state athletic commissions refusing him a license to fight.
COURTESY OF HOOKEDONMMA.COM
By now, we should all be familiar with Kalib Starnes and his performance against Nate Quarry.
In this fight, we saw Starnes refuse to engage with Quarry and actually spent most of the time running away from his adversary. This was, undoubtedly, the easiest win of Quarry's career.
His performance was so bad, it looked like Kalib Starnes was picked off of the streets and was given about five minutes notice that he would be competing in a MMA match.
The fight was scored 30-24 by one judge in favor of Quarry, which makes it the second largest margin of victory in UFC history.
Needless to say, "The Running Man" was cut from the UFC following this pitiful performance.
COURTESY OF MMATKO.COM
The fight between Dan Severn and Ken Shamrock at UFC 9 is considered one of the most boring fights of all time.
When these two legends stepped into the octagon, fans were expecting an exciting fight. However, this is not what took place.
This fight has now been dubbed "The Detroit Dance" by critics.
Hours before the fight took place, UFC officials were in court pleading with the law to allow them to put on a show in Michigan. The court ruled that no closed-fist strikes could be made to the head, and if this rule was to be broken, the fighter to have violated the rule would be arrested.
When the fight actually took place, neither fighter wanted to do anything. Fair enough, they didn't want to get arrested, but there wasn't anything in the rules that stated the fighters couldn't grapple, at the very least.
What we saw was the two fighters circle each other and not do anything for the mass proportion of the 30 minutes of the "fight."