NFL Free Agency 2011: Hard to Determine Winners and Losers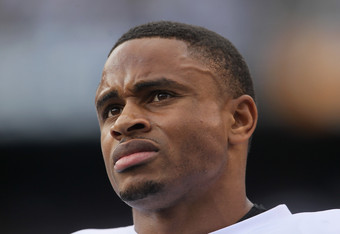 Jeff Gross/Getty Images
On July 25, the 130-day NFL lockout officially ended and a 72-hour window opened for teams to negotiate contracts with their own free agents.
Some new deals were signed, some old ones were ripped up and players were released and still others were restructured in some way to make room for potential incoming free agents or to get teams back under the $120 million salary cap.
Once that 72-hour window opened and closed, one of the most frenzied free agency periods in the history of sports ensued, and many high profile players changed uniforms for the upcoming 2011-12 season in the span of days.
While some players landed exactly where they were expected to, others went to dark horse teams that weren't even mentioned as possible landing spots until the last minute.
Some teams took a chance on aging veterans, hoping for one last strong season. Others banked on the untapped potential of a young player, betting they will break out with an expanded role on a new team.
Many teams filled needs by bringing in players who fit a hole in their starting roster, while others bolstered positions that were already considered strengths by signing a solid backup.
The road to a Super Bowl championship oftentimes starts with the construction of the roster, and this free agency period could well be looked back on as the start of something special once the season ends in early February.
It is just as likely, however, that a free agent signing could go bust and that a team and its fans will look back on this time period as a big mistake.
So, which teams got it right and which ones will look back on this crazy free agency period with the pangs of regret?
Gregory Shamus/Getty Images
While so many other teams were busy obsessing over Nnamdi Asomugha, the Houston Texans quietly swooped in and nabbed the consensus second best cornerback on the market in Jonathan Joseph, formerly of the Cincinnati Bengals.
Although many expected the Texans to make a gigantic offer to Asomugha, they instead opted for the younger and cheaper player in Joseph.
Joseph isn't as well known or as flashy a signing as Asomugha, but he will make a huge impact on the Texans' pass defense this year.
The Texans' pass defense has been the worst part of their team - and maybe any team in the league - over the past few seasons.
The Texans ranked dead last in passing yards allowed per game last season, and tied for last with the Dallas Cowboys for total passing touchdowns allowed with 33.
Joseph comes in and immediately brings some experience and stability to a unit that sorely needs it.
His primary responsibility will be to prevent the big plays that plagued Houston last season, as they allowed a league-leading 18 pass plays of over 40 yards.
Rookie first round pick Kareem Jackson sorely underachieved last season and was repeatedly burned on the deep ball, so Joseph's tutelage will be instrumental in his development.
Houston was also just 23rd in the league with 13 interceptions last season, and Joseph's 14 picks over 5 seasons should help them in that area as well.
In Wade Phillips' man-to-man heavy schemes, Joseph will have to deal with wide outs like Reggie Wayne, Pierre Garcon, and Kenny Britt on a game to game basis, so he'll have to bring his A-game every week.
If he and the Texans' defense can finally bring their games up to a respectable level this year, this could be the season that Houston makes its first trip to the playoffs in franchise history.
This article is
What is the duplicate article?
Why is this article offensive?
Where is this article plagiarized from?
Why is this article poorly edited?
Hannah Foslien/Getty Images
In a move seemingly almost five years in the making, Donovan McNabb was traded to the Minnesota Vikings this offseason.
McNabb will join a Vikings offense that returns Adrian Peterson, Percy Harvin and Visanthe Shiancoe but has lost Sidney Rice to the Seattle Seahawks.
Because of the massive changes in the passing game, the Vikings may have to lean on Adrian Peterson more than ever before. Peterson began to break down some toward the end of last season as he was injured and missed all or part of three games down the stretch.
McNabb has never had the strongest receiving corps' throughout his career, but Harvin represents somewhat of a downgrade from the last two years when McNabb's number one targets were DeSean Jackson and then Santana Moss.
Harvin may improve to the level of those players, but he's been mostly inconsistent as a pro.
McNabb's skills have also been on the decline for several years. His completion percentage has dropped every year since 2007, and his touchdown totals have dropped each of the past three seasons.
Donovan's trademark escapability should also begin to evaporate in the near future as he gets older. It doesn't help that the Vikings cut starting left tackle Bryant McKinnie, who would have been protecting the quarterback's blind side this season.
At 34 years old and with 13 seasons of wear and tear on his body, McNabb is no longer the same player.
He's also not necessarily the best mentor for young quarterback Christian Ponder out of Florida State, as he sometimes shows a tendency to force the ball into tight spots when the window isn't there.
This article is
What is the duplicate article?
Why is this article offensive?
Where is this article plagiarized from?
Why is this article poorly edited?
Nick Laham/Getty Images
Jerricho Cotchery was unceremoniously cut by the New York Jets in order to make room for Plaxico Burress and Derrick Mason to come aboard, completing the revamping of the Jets' receiving corps.
Cotchery, Brad Smith and Braylon Edwards are all out and Mark Sanchez has two new targets to throw to next season.
Cotchery now has to look for employment elsewhere, and there is no shortage of teams vying for the steady receiver's services.
Cotchery has arguably been the Jets' most consistent threat through the air in his career, and there are plenty of teams that could use him around, none more so than the Baltimore Ravens.
The Ravens lost Mason to the Jets, and after Anquan Boldin don't have a receiving threat who can be consistently counted on week in and week out. T.J. Houshmandzadeh struggled with drops last season and Dante Stallworth has never been a model of consistency in his career. Ed Dickson looks like he could be a solid tight end, but he's not a sure thing.
You know what you're getting with Jerricho Cotchery, and that is something that Joe Flacco can use as he develops as a quarterback.
His opportunities and statistics have dwindled the last few years in New York, but he is still able to bring value to an offense.
The Ravens tried and failed to bring in Malcom Floyd who would have provided similar stability to their passing offense.
Cotchery is the best and most consistent receiver still available on the open market, and would be a good signing for Baltimore.
This article is
What is the duplicate article?
Why is this article offensive?
Where is this article plagiarized from?
Why is this article poorly edited?
Grant Halverson/Getty Images
Arian Foster was the NFL's breakout star last year, coming out of nowhere to rush for 1,616 yards and 16 touchdowns on 327 carries while catching 66 passes for 604 yards and two more scores.
Foster's breakout was only able to happen because of a training camp injury to running back Ben Tate, who probably would have split carries with Foster last year.
Now, it's Foster who looks like he may have some injury problems, as he suffered a hamstring injury n Friday and missed Saturday's practice.
Hamstring injuries have a tendency to linger, and this could put a damper on what should have been another huge season for Foster. Running backs obviously need their legs to be in tip top shape in order to make tacklers miss with quick cuts and to power through arm tackles.
Foster was a master at gaining yards after contact last year, and that ability could be limited if the injury lingers. Adding an explosive running back to their high powered passing game brought the Texans' offense to new heights last year, and they'll need that same type of balance if they want to advance to the playoffs.
Owen Daniels was expected to be a big part of the passing offense again this year after missing much of last season with an injury, but it looks like he may be injured yet again.
Daniels provides a solid target over the middle for quarterback Matt Schaub, and if he is out for any extended period of time, it only places more pressure on the already heavy shoulders of wideout Andre Johnson.
If both Foster and Daniels wind up missing games the Texans' offense suddenly becomes extremely one dimensional; it's pretty much all Schaub to Johnson.
Houston definitely needs both of these guys healthy in order to have their best shot at the first playoff berth in franchise history.
This article is
What is the duplicate article?
Why is this article offensive?
Where is this article plagiarized from?
Why is this article poorly edited?
Handout/Getty Images
Osi Umenyiora is not happy with his contract situation and demanded a trade for the Giants this past week. The Giants told him and his agent they could seek a trade, but New York's high asking price led to there being no takers around the league.
Umenyiora's holdout is not doing any favors to the team, which needs him back in camp to get in rhythm and to give quarterback Eli Manning good looks to practice against. He's not doing himself a service either as he is missing valuable time to get himself into playing shape for the season after an extended offseason due to the lockout.
Osi has a bit of leverage on Giants brass because of his talent level, but if Pierre-Paul keeps performing the way he has been in training camp after his strong rookie campaign, Osi may return to the team and have to share snaps.
One player that has thrived in Osi's absence from training camp is second year defensive end out of South Florida Jason Pierre-Paul.
JPP has been practicing with the first team throughout training camp while Osi has sat on the sidelines, and is looking like the probable starter on opening day if the Umenyiora holdout and injury problems continue.
The Giants lost some of the depth along their defensive line this offseason, but still have stalwarts Justin Tuck, Mathias Kiwanuka and Chris Canty in tow to go along with JPP and, if he actually suits up, Umenyiora.
The defensive end has undeniable talent and is an intricate part of Perry Fewell's defense, but his holdout could negatively affect both him and the team this season, and maybe it's time for him to be replaced in the lineup, whether he is traded or not.
The Giants defense did not perform up to expectations last year and will need to be in top shape for the coming season if the G-Men are to return to the playoffs. Osi simply can't help if he's not on the field.
This holdout has to end, and soon, or else it will be time to start thinking about the JPP era at defensive end for the Giants.
This article is
What is the duplicate article?
Why is this article offensive?
Where is this article plagiarized from?
Why is this article poorly edited?
Joe Robbins/Getty Images
There was a time where Cortland Finnegan walking out of Tennessee Titans practice and demanding a new contract would have been relatively reasonable.
Unfortunately for Finnegan, that time was about two years ago, and his play has dipped faily dramatically over the last two seasons as his antics on the field have become more prevalent.
Finnegan was involved in a high profile fight with Houston Texans' wide receiver Andre Johnson in the middle of a game last season. Johnson, normally one of the more demure and calm wide receivers in today's NFL of trash talkers and showmen, became so enraged with Finnegan's dirty play that he ripped the Titans' corner back's helmet off and swung at him twice.
It was certainly not the first time Finnegan was cited for dirty play. In fact, USA Today questioned in 2010 whether Finnegan was the dirtiest player in the NFL.
Finnegan attempted to backtrack by returning to training camp and blaming the media for misinterpreting his actions. Finnegan claims that his absence was due to a personal matter and not the fact that he was holding our for another new contract.
Smart fans know better than to believe Cortland Finnegan on this one. General manager Mike Reinfeldt even spoke of his absence as a holdout as recently as Saturday.
Finnegan comes across as completely self interested and seems as though he does not care if his actions negatively affect the team. He is out there for Cortland Finnegan, and Cortland Finnegan only. It shows up in his play and his attitude on the field during games, and now it is showing up in his conduct during training camp as well.
This situation has the potential to spiral way out of control if the Titans don't take care of Finnegan and his attitude problems, and soon.
The Titans have already jettisoned a player who became a problem for them over the last few years in Vince Young, and if Finnegan continues to be a divisive force, he might have to hit the road soon as well.
This article is
What is the duplicate article?
Why is this article offensive?
Where is this article plagiarized from?
Why is this article poorly edited?
Harry How/Getty Images
Twenty-two wide receivers have changed teams this offseason, but the race for the one who will make the biggest impact is essentially a six man competition.
The candidates: Steve Breaston in Kansas City, Braylon Edwards in San Francisco, Chad Ochocinco in New England, Sidney Rice in Seattle, Mike Sims-Walker in St. Louis and Brad Smith in Buffalo.
Breaston will be reunited with his former Arizona Cardinals' offensive coordinator Todd Haley and will be a nice complement to wide receiver Dwayne Bowe. Bowe proved his value as a possession receiver last season and Breaston provides a deep threat for quarterback Matt Cassell. Breaston is lightning quick and can also be a help in a return game that already features the dangerous Dexter McCluster.
Meanwhile, Braylon Edwards takes his talents westward to join fellow Michigan alum Jim Harbaugh with the San Francisco 49ers. Edwards will likely be the third receiving option behind Michael Crabtree and Vernon Davis for whoever Harbaugh decides to make his starting quarterback. Edwards is a big bodied target who improved in his final season with the Jets last year, dropping only one pass after dropping more than 10 a year earlier.
Chad Ochocinco is coming off a down year, but a move to New England has revitalized veteran wide receivers many times before. Tom Brady just knows where to put the ball, and if Ochocinco can keep quiet and run crisp routes, Brady and Bill Belichick will consistently put him in position to succeed. Ochocinco did catch 67 passes last season, which is not bad for a number two or three wideout, which he will be in New England.
Sidney Rice signed a big deal to be the number one receiver for the Seattle Seahawks, and if he produces like he did in 2009, the Seahawks will be happy. Seattle took a big risk in giving Rice, a player with essentially a one year track record, such a big deal, but if he can recapture the magic it will all be worth it. Rice is the vertical threat the Seahawks offense lacked to complement the emergent Mike Williams last season.
Mike Sims-Walker is an underrated player whose signing in St. Louis went under the radar this offseason. Quarterback Sam Bradford looked like a future star worthy of the number one overall pick last season, and that was without a true number one wideout. Mark Clayton looked to be on the verge of a breakout last year before getting injured, and Danario Alexander flashed some talent, but for much of the season, undersized Danny Amendola functioned at the Rams' first target. Sims-Walker is a big, strong target who has caught 14 touchdown passes the last two seasons and will be a weapon for Bradford in the passing game.
Brad Smith is an all-purpose threat for the Buffalo Bills. He will make plays through the air, on the ground, and in the passing game for the Bills, just as he did for the New York Jets. Smith has the ability to score from anywhere on the football field, and also create scoring opportunities for others with his versatility.
Dark horse candidates also include Plaxico Burress in New York - especially if the Jets decide to force him the ball in the red zone to try to justify his signing - and Jabar Gaffney with the Washington Redskins.
This article is
What is the duplicate article?
Why is this article offensive?
Where is this article plagiarized from?
Why is this article poorly edited?
Jonathan Daniel/Getty Images
Former Dallas Cowboys wideout Roy Williams has inked a contract which allows him to return to the NFC North, this time as a member of the Chicago Bears.
Williams sorely underachieved in his stint in Dallas after the Boys acquired him in exchange for first, third and sixth round picks in 2008.
He especially struggled to build chemistry with quarterback Tony Romo. Williams often blamed Romo and Jason Garrett for not getting him the ball enough, but then he would drop it when it did come to him.
At one point in 2010, Roy led the NFL in dropped passes. Williams had a few famous drops in his time with the boys, including one play where he seemingly dropped the same pass five times.
Although the Bears have a need at wide receiver, and signing Williams allows them to reunite him with former Detroit Lions offensive coordinator Mike Martz, this is not a great fit.
Williams' 37 and 38 catches in the past two seasons are a much better indicator of his skill level than his 82-catch, seven touchdown year with Detroit in 2006. He totaled 1,310 receiving yards that season, but has yet to reach even 900 since.
Williams just gives the Bears another inconsistent threat in their wide receiving corps to join Devin Hester and Earl Bennett, who have both had big games as well as games where they all but disappeared.
Quarterback Jay Cutler does not show the greatest body language to inspire confidence in his receivers to begin with, and when Williams starts dropping passes, look out.
Williams has the potential to cause controversy in the locker room with his penchant for talking and blaming other people for his statistical failures.
He can also cause problems off the field, like when he was involved in a training camp dispute with Dez Bryant last year over shoulder pads and dinner bills.
This article is
What is the duplicate article?
Why is this article offensive?
Where is this article plagiarized from?
Why is this article poorly edited?
Tom Dahlin/Getty Images
The Seattle Seahawks have brought in two former Minnesota Vikings to energize their offense for the 2011-12 season.
Quarterback Tarvaris Jackson was brought in on a two year, $8 million deal to compete against Charlie Whitehurst for the starting job. Jackson has a leg up in the competition due to the fact that Seattle's offensive coordinator is Darell Bevell, who was Minnesota's offensive coordinator while Jackson played there.
However, Jackson was never able to win himself the starting job while in Minnesota, and that makes this a curious signing for the Seahawks.
Jackson's 24 touchdowns and 22 interceptins in 32 career games aren't the kind of numbers that foreshadow a quarterback about the break out.
And he now goes to an offense in which his primary running back was Adrian Peterson to on where Marshawn Lynch is the top back. Peterson averaged over a full yard per carry more in Minnesota last season than Lynch did for Seattle. Teams that used to load the box with defenders and give Jackson clear passing lanes will likely not do so as much anymore, which could lead to him being even more ineffective.
That certainly doesn't help the prospects for the other free agent pickup from Minnesota, Sidney Rice. Rice has had one great season in his career, and it came in Brett Favre's miracle comeback year in 2009. It's primarily because of the potential he showed that season that Seattle gave him a five year, $41 million deal.
Rice has 146 catches in his four season career thus far, and half of them came in his 83 catch season where Favre was his quarterback.
The Seahawks already have a fairly poor track record of big wide receiver signings as well. Past underachievers include Nate Burleson -also from the Vikings-, Deion Branch, T.J. Houshmandzadeh, Peter Warrick and even the great Jerry Rice.
In fact, former USC wideout Mike Williams, who himself broke out last season, may be more talented than Rice, even if he's not paid that way. Williams' huge frame allowed him to catch 65 passes last season as he developed a rapport with both Whitehurst and the departed Mass Hasselbeck.
Williams is a very good possession receiver and Pete Carroll and company are counting on Rice to be Jackson's deep threat.
Seattle has been looking for a true number one wide receiver and think they found him in Rice. However, Rice doesn't inspire the greatest confidence.
This article is
What is the duplicate article?
Why is this article offensive?
Where is this article plagiarized from?
Why is this article poorly edited?
Patrick McDermott/Getty Images
Plaxico Burress signed a one year deal to return to New York, only this time he will be playing for the Jets. The signing ends an almost two and a half year absence from the game after Burress shot himself in the thigh in a New York night club.
The signing of Burress can possibly give the Jets another big time receiving threat opposite Santonio Holmes and tight end Dustin Keller.
Given that Santonio Holmes is more of a deep threat than a possession receiver, Plaxico is an especially good fit for Gang Green.
Burress is potentially a huge weapon in the red zone for quarterback Mark Sanchez. Burress should also be able to provide Sanchez with a similar type of security blanket that he gave Eli Manning in his stint with the Giants.
In fact, Plaxico is so much bigger and taller than many defensive backs at 6'5" and 232 pounds, that simply throwing the ball as high as you can in his direction is sometimes a smart play. Burress' height is something that he definitely has not lost in his absence from the game, so he will have an advantage even if his skill has somewhat diminished and he shows a little early rust. That type of advantage on smaller DB's is what has allowed him to catch 55 touchdown passes in 10 years in the league, including 22 in a two season span for the Giants.
Rex Ryan's defense is already championship caliber, and Sanchez has done an admirable job in the playoffs of not turning the ball over and keeping his team in the game.
But Plaxico can take the passing game to another level, which will open up even more holes for LaDainian Tomlinson and Shonn Greene in the running game.
It's true that Burress is a risk given his troubled history, but he is a risk worth taking for a Jets team that desperately needs its offense to come on strong this year in order to get over the hump and into the Super Bowl.
This article is
What is the duplicate article?
Why is this article offensive?
Where is this article plagiarized from?
Why is this article poorly edited?
Matt Sullivan/Getty Images
Abram Elam signed a one-year contract with the Dallas Cowboys to return to the same place he originally started his NFL career six years ago.
Elam has bounced around since leaving Dallas, as he had two year stints with both the New York Jets and the Cleveland Browns.
Elam was primarily a special teams player the last time he wore the star on the side of his helmet, but he has improved greatly in the four years since he left.
Elam had the best two seasons of his career in Cleveland the past two years while playing safety for new Cowboys defensive coordinator Rob Ryan.
Elam's ability to force turnovers will be crucial to a Dallas defense that let up the second most points in the league last year. Elam forced and recovered two fumbles, and picked off another two passes.
Elam has already come out and said that he wants to be more of a playmaker this season, which should help a Dallas defense that struggled to force turnovers last year.
Elam has the ability to play either in the box in run support or to roam center field and make plays on balls in the air.
If Elam can help solidify the back end in zone coverage, it will surely help corner backs Mike Jenkins, Terence Newman and Orlando Scandrick, who struggled in man coverage schemes last year.
Rob Ryan likes to move his safeties around prior to the snap, and Elam's familiarity with his schemes will help in the communication between he and Gerald Sensabaugh, the other starting safety.
This article is
What is the duplicate article?
Why is this article offensive?
Where is this article plagiarized from?
Why is this article poorly edited?
Kevin C. Cox/Getty Images
Running back Jason Snelling has returned to the Atlanta Falcons on a one-year contract after testing the free agent market and not finding a suitable deal.
Snelling will likely enter the season as starting running back Michael Turner's top backup, a job he has shared with Jerious Norwood the past few seasons. Norwood left Atlanta to sign with the St. Louis Rams this offseason.
Over the course of his career thus far, Snelling has carried the ball 257 times for 1,042 yards, good for a 4.1 yards per carry average. He also has seven rushing touchdowns on his career.
Snelling has also proved himself capable of handling a starting load in games where Turner was injured.
He carried the ball 24 times for 129 yards and two touchdowns while also catching five passes for 57 yards and a touchdown in Week 2 against the Arizona Cardinals last season.
He similarly carried 25 times for 147 yards in a Week 17 victory over the Tampa Bay Buccaneers in 2009.
Although the Falcons drafted running back Jacquizz Rodgers out of Oregon State this year, it is expected that Snelling will be Michael Turner's primary backup this season.
Snelling's ability to catch passes out of the backfield makes him a valuable counter-point to Turner, who is more of a power runner that isn't much of a factor in the passing game.
Snelling will likely see a lot of time on third downs, as his ability to both pass protect and catch passes can cause problems for opposing defenses.
This article is
What is the duplicate article?
Why is this article offensive?
Where is this article plagiarized from?
Why is this article poorly edited?