Baseball in Style: Heidi Watney and the 20 Hottest Women Talking Baseball
We live in an age where technology allows us to experience information in a number of different ways. For instance, more than a hundred years ago, the only place you'd be able to brush up on your favorite team was in the newspaper.
Fast forward to 2011 and not only can we read about news, but we can hear and see it as well.
That's why a lot of companies that claim to bring you the best coverage in all of baseball have turned to these beautiful women—they're interesting. Not only that, but they're extremely talented and as of late, have helped do away with the conventional stereotype of the baseball reporter.
I can think of few ways to make this game any greater, but if you're going to give an intelligent, hot woman a microphone and tell her to go talk about baseball, well, that may push baseball over the edge for me.
So without further ado, allow me to introduce you to 20 of the hottest women in baseball today—the reporters.
Normally, I'd spend a moment telling you about how I'm narrowing the field, but why should we limit ourselves? I've expanded the list to include any girls that have spent time covering baseball to a media outlet.
20. Dana Strokovsky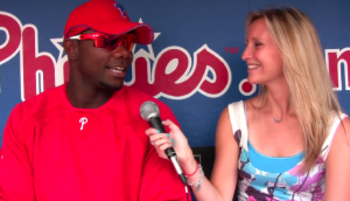 Dana Strokovsky isn't very popular on the national stage, but being from the Philadelphia area, I've heard of her before. She is currently working as an advanced media reporter from MLB.com, which is really just a fancy way of saying she gets to conduct interviews.
She has spent significant time with the Florida Marlins for other endeavors and as an advanced media reporter, has sat down with Philadelphia Phillies' players (like Ryan Howard) more than once.
Photo courtesy originalretrobrand.com/blog
19. Amy Gutierrez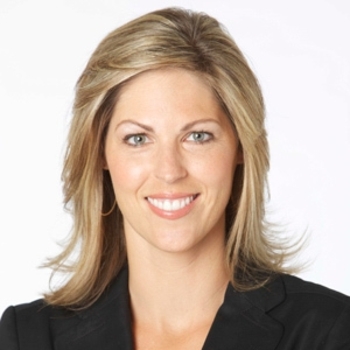 Amy Gutierrez is the perfect female sportscaster for the Bay Area, especially because she grew up watching the teams that she reports on to this day.
While she also spends time on the sidelines at football games, "Amy G" is also a well known sportscaster covering the San Francisco Giants' beat.
18. Jaymee Sire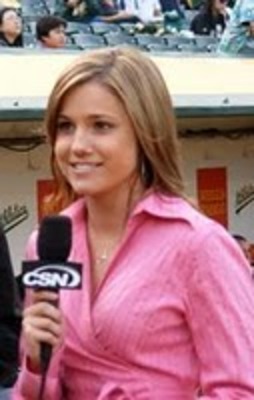 Along with Amy Gutierrez, Jaymee Sire helps complete the best female team on this list, helping out Comcast SportsNet in the Bay Area.
Not only does she do an excellent job covering the San Francisco Giants and Oakland Athletics, among other teams, but Sire is also easy on the eyes as well as the ears, especially when she's talking sports.
17. Amy Nelson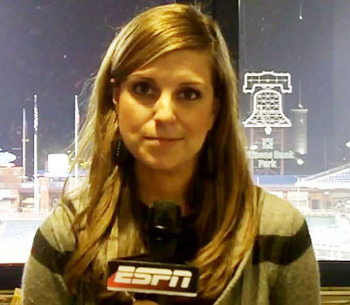 Amy Nelson may not be the most popular sportscaster in the world, but in terms of looks and talent, she is quickly climbing up in the world.
Having a small role with ESPN, there isn't much to say about her, other than she is a staff writer covering baseball.
That's enough for me though.
16. Trenni Kusnierek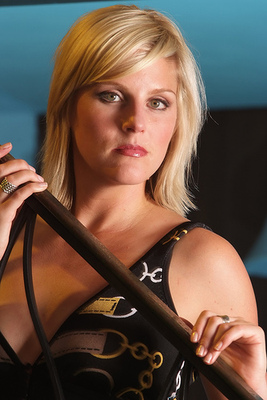 A lot of baseball fans will recognize Trenni Kusnierek as a hostess/reporter for a number of different programs on the MLB Network, where she worked until just recently to pursue a different venture for WTMJ (AM), a radio station in Milwaukee, Wisconsin.
The little known fact is that Kusnierek actually made her name in baseball with the Milwaukee Brewers, working as an on the field reporter.
Throughout her career, she's proven to be a versatile and knowledgeable baseball mind, spending time with CBS, Fox Sports and the Big Ten Network.
15. Jane Lee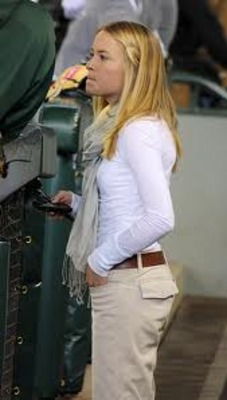 Not much information to be had here, but Jane Lee is the beat reporter for the Oakland Athletics for MLB.com.
She is a bit new to the baseball scene, but I'm sure that she'll fit in nicely. (Also, I follow her on Twitter. She knows her stuff.)
Photo courtesy Jaden Alexander, Flickr.com.
14. Amy Fadool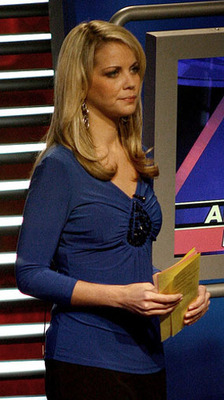 I couldn't find a photo to do her any justice, but coming from a guy who sees a lot of Amy Fadool, trust me, she's hot.
She moved to the Philadelphia area in January of 2009 to take over as an anchor for Comcast SportsNet. Living in the Philadelphia area, I see her almost daily, as she hosts the post-game show for the Philadelphia Phillies.
Now, my only plea—Please find a more flattering picture of her.
13. Lisa Kerney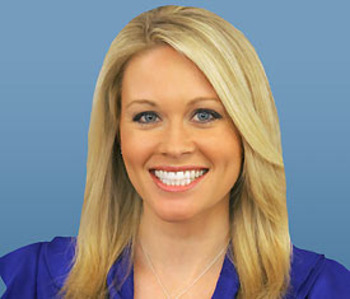 Along with Hazel Mae, Lisa Kerney has seen a tremendous increase in her exposure with the growth of the MLB Network.
After Trenni Kusnierek left the MLB Network, Kerney stepped up to replace her and has done a tremendous job in doing so, hosting a bevy of shows for baseball's premier source of information.
She also has a really great smile, in case you couldn't see that.
12. Tina Cervasio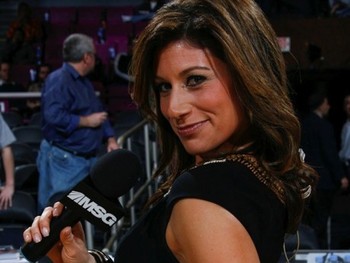 Cervasio has been a knowledgeable sideline reporter for almost a decade and certainly has the looks to back up her placing on this list.
Like many hot women we're ranking, she made a name for herself in the New England area working for NESN, mainly, as a reporter assigned to the Red Sox's beat.
Cervasio currently works as a sideline reporter for the New York Knicks and New York Red Bulls.
11. Julie Donaldson
Julie Donaldson exemplifies what it means to be beautiful and smart.
Long before she was a sportscaster, Donaldson was winning trophies as a beauty queen, where her biggest accomplishment was being named Miss Florida USA in 2001. She would then go on to graduate from the University of Florida before beginning her career in sports.
In terms of baseball, Donaldson's biggest gig was hosting a a show for Sportsnet New York called Mets Weekly, which was a weekly round-up of everything New York Mets.
Though she started getting back into the sports scene in 2010, she sadly had to take a step backwards when she got tangled up in a nasty domestic assault case with her then boyfriend.
10. Alex Flanagan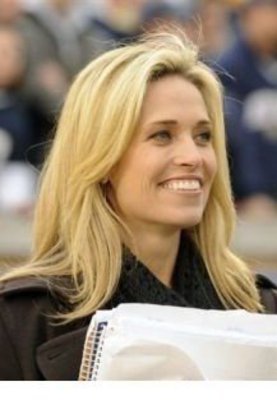 A lot of guys looking at this slide show are going to recognize Alex Flanagan as a sideline reporter for the NFL. That's an accurate assessment because this hottie now spends the majority of her journalistic talents on football.
However, before the MLB Network made it practically irrelevant, I remember watching Baseball Tonight on ESPN, waiting, hoping and praying that there would be a Flanagan sighting to break up the useless dribble mixed in with some of the baseball highlights.
For that reason alone, she makes this list, something like a Baseball Tonight savior now blessing the NFL with her talents.
9. Kristen Berset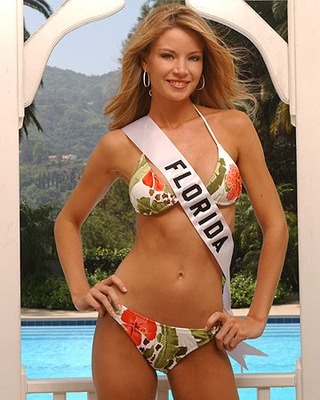 I could have used a picture of Kristen Berset all decked out in her sportscaster attire, but I thought you'd appreciate this one more. I know, you're welcome.
Berset certainly made a name for herself as a beauty queen, when she was named as Miss Florida USA in 2004. She would then go on to finish in the top 10 of the Miss USA competition before turning her focus to the sports world.
She broke into many sports when she signed a contract to become the sports anchor for Fox 45 in Baltimore, Maryland, where she covered the Baltimore Orioles with great frequency. She's since moved on to the Washington, D.C. area, still working as a sportscaster.
8. Amber Theoharis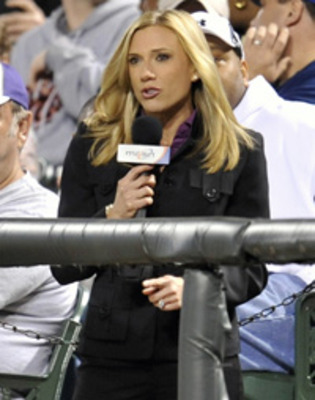 Amber Theoharis made her name in baseball covering the Baltimore Orioles, working for the MASN team. Not only is she easy on the eyes, but Theoharis is also an Emmy Award winning sportscaster, so her talent levels are off the charts as well.
With no winning season in sight, the Orioles need to hope that Theoharis sticks around for a long time. She's the only thing this franchise has going for them right now.
Photo courtesy ambertheoharis.com.
7. Hazel Mae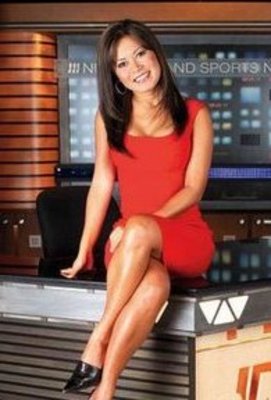 With the booming success and growing popularity of the MLB Network, Hazel Mae is probably one of the most recognizable hotties on this list.
Born in the Philippines and raised in Toronto, Canada, Mae has one of the broadest understandings of the game and has been embraced by the national media.
She broke her way into the baseball world with Rogers Sportsnet, working initially as an anchor and hosting a weekly magazine show about the Toronto Blue Jays.
She would eventually move on to NESN and finally, the MLB Network, where you can catch her daily as a hostess on The Rundown.
6. Nicole Zaloumis
Somehow, Nicole Zaloumis has managed to remain under the radar when it comes to hot baseball reporters on a national scale. Before having her child, she worked with the Fox Sports Network in Seattle, Washington, as a liaison for the Seattle Mariners.
Following her return from maternity leave, however, she took her talents to the New England area, where she currently serves as an anchor/reporter.
It's a shame she had to leave the Washington area, because she'd be the best thing the Mariners had going for them this season. (Zing!)
5. Charissa Thompson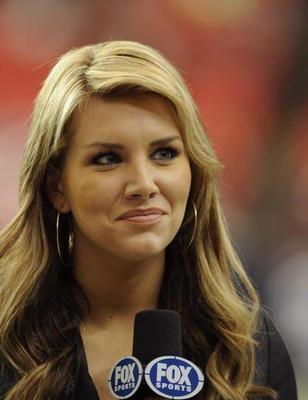 Nominated as one of Playboy's sexiest sportscasters of the year in 2009 (and finishing within the top five), Charissa Thompson was an easy choice for this list.
Though she started off working in the human resources department for Fox SportsNet in Colorado, she quickly rose through the rankings and was soon hosting the weekly magazine show, Rockies All Access.
Though she's bounced around a bit since then, she was a member of the Versus crew as an on-ice reporter until she was recently dropped by the company, only to be snagged by ESPN, where we should be seeing a lot more of her.
Good news for everyone!
4. Maria Sansone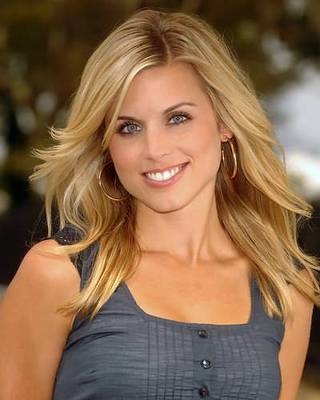 Maria Sansone—not much of a factor in sports anymore—is greatly missed by the sporting community as a whole.
In terms of baseball, she is one of the few people on this list to have covered just about every level of baseball that you can, starting with the Little League World Series and making her way up.
She would go on to cover the Boston Red Sox with NESN, before leaving the sports community as a whole to pursue other endeavors.
Personally, I wish she would come back to baseball. I think we can all agree on that.
3. Jenn Brown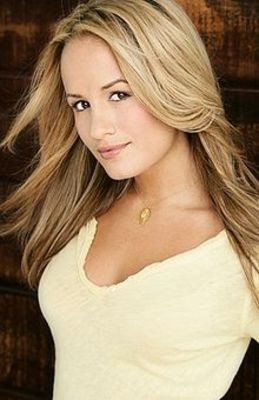 Truth be told, I couldn't help myself putting Jenn Brown on this list. She has no ties to Major League Baseball at any level, other than she works for ESPN, and the closest she comes to being a baseball reporter is as a correspondent for the College World Series.
College or not, baseball is baseball, and I couldn't leave her off the list. I just couldn't do it.
Hailed by some as the next Erin Andrews, her career is obviously off to a booming start, and while she's just No. 3 now, she'll soon be No. 1 at this pace.
2. Heidi Watney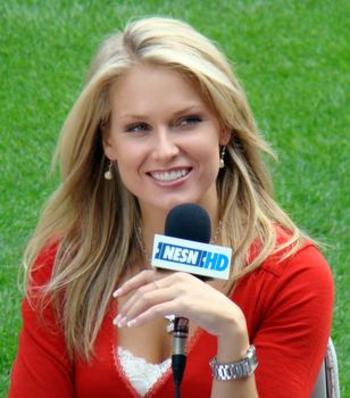 If anyone is making a push to become the nation's new top female reporter, it has to be Heidi Watney.
After hosting a number of small weekly shows replacing Hazel Mae, Watney became the on-field reporter for the Boston Red Sox, and her popularity has gone through the roof.
It's really hard to go wrong once you get into the top three on this list, but there's an argument to be made that Watney could be No. 1.
1. Erin Andrews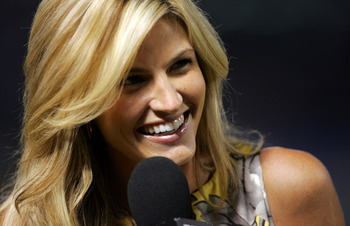 Even with some of the hotties on this list, like Heidi Watney and Jenn Brown, making great strides, I think it's time to face facts—there is no other option for the top spot.
Erin Andrews has been the best female sportscaster (and the hottest) for more than a decade, and no one has come close to proving otherwise.
Though she has covered a number of different sports, Andrews' first baseball gig came when she began covering the Atlanta Braves for Turner Sports. Once she joined ESPN, she became the most prominent sideline reporter in baseball, as well as a correspondent for the College World Series.
She's the best in the business, and it's her title to lose.
Keep Reading