Ravens vs. Eagles: NFL Preseason Game Recap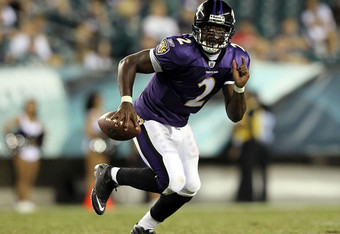 Is this the guy you want if Flacco goes down?
Jim McIsaac/Getty Images
For Week 1 of the preseason, the Ravens traveled to Philadelphia to face a regular preseason opponent: the Eagles. The Eagles have developed a reputation as a "dream team" after picking up some of the best free agents available. Both teams are perennial playoff contenders, which in theory should make this game one of the preseason's marquee matchups.
Unfortunately, that theory wasn't true last night. The Eagles won 13-6 in a sloppy, low-scoring game with mistakes by both sides. This is to be expected after the longest work stoppage in NFL history gave each team only a week to prepare for this exhibition game.
Unsurprisingly, this led to some dumb penalties. Michael Oher stalled a promising drive after committing an illegal formation penalty.Terrell Suggs had an offsides penalty on the Eagles' drive that led to the game's only touchdown.
For the most part, each team retired their starters relatively early. The Eagles took their offensive starters out after scoring the touchdown and the Ravens' offensive starters were mostly gone by the end of the first quarter. This led to a lot of reps for rookies and new players trying to adjust to the game.
Although the Ravens did not win the game, they achieved the standard preseason goal of having no serious injuries. The game also brought more clarity to various position battles and areas in which the team is still in need.
Here are some of my observations of what I liked and didn't like about the Ravens' game last night.
What I Liked
Dennis Pitta was a pleasant surprise in his first start at tight end. With the exit of Todd Heap, it seemed assumed that either Ed Dickson would start or the Ravens would try to get a veteran free agent.
But last night, Pitta showed that he can't be counted out. He made a catch around the back of safety Kurt Coleman to complete a 27-yard pass. After finishing the game with four receptions for 47 yards, Pitta showed that he could have a big role to play in a Ravens passing offense that is looking for players to step up.
Bernard Pollard also had a great game in his Ravens debut. He intercepted a pass and made two tackles. I've liked what I've seen from Pollard during his stints with the Chiefs and the Texans. He could very well be the right person to have next to Ed Reed when the season starts.
Paul Krueger and Sergio Kindle all made good contributions on the defensive side. Krueger provided a great pass rush and ended with 4 tackles. Kindle saw his first NFL action after fracturing his skull a year ago. It's great to see him on the field so soon after falling down two sets of stairs and missing a whole year.
What I Didn't Like
Tyrod Taylor showed why the Ravens need a different backup quarterback. He had two costly red-zone interceptions that could have changed the outcome of the game. His numbers were average, as he completed 19-of-28 passes and he also showed running ability similar to the Eagles' own Michael Vick. Still, it's clear the Ravens need more experience at backup QB.
The offensive line's play was disturbing as well. Oniel Cousins was a culprit for the large amount of pressure allowed. He is still likely the most week of the starters on the offensive line and maybe shouldn't even start at all.
The Ravens pass coverage had some bad breakdowns. One play that comes to mind is Vick's completion to Riley Cooper right before the touchdown. The tackling was awful and far too many of the Eagles receivers were open. First-round pick Jimmy Smith sat out, but based on the play of his competition, he looks like he has a good chance to start in Week 1.
The Final Word
Again this is an exhibition matchup so a major goal is that no one gets hurt. Ultimately that happened and the Ravens got to see some areas of need. We can only hope that next week against the Chiefs will be less sloppy.
But for now the Ravens start the preseason off with a loss and show they have work to do before the start of the regular season.
This article is
What is the duplicate article?
Why is this article offensive?
Where is this article plagiarized from?
Why is this article poorly edited?

Baltimore Ravens: Like this team?