NFL Rumors: Vikings Must Give Adrian Peterson a Deal Before Trade Rumors Begin
August 6, 2011
Jed Jacobsohn/Getty Images
It's time to state the obvious:
The Minnesota Vikings need to do everything in their power to lock down Adrian Peterson with a long-term contract this year.
Not only will that secure their fate at running back for the future, but it will also save them and their fans a lot of headaches and heartaches when the trade rumors start circling the Vikings locker room.
Let me paint a pretty picture for the NFL and a scary picture for the Vikings:
As expected, the Minnesota Vikings struggle this year in a tough division and a very tough conference.
Midway through the season, they are in the cellar of the NFC North and looking a long way up.
Peterson is in the last year of his contract, and he isn't too happy with the teams losing ways. In fact, he is quite frustrated.
He may not say it, but he is looking forward to free agency, where he will easily be one of the most prized free agents to hit the NFL market in a very long time.
The Vikings would stand the chance of losing him for nothing, but then the phones start ringing.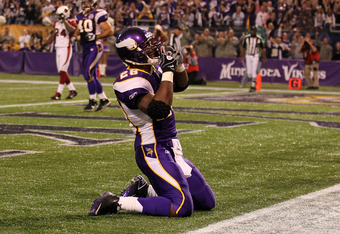 Stephen Dunn/Getty Images
On the other line are teams calling Minnesota inquiring about what they can do to take the chance on Peterson in hopes of making a Super Bowl run.
Their goal is to get a sign and trade or a trade that will allow them to re-structure his deal.
The Vikings face a lose-lose situation, as they must part ways with their franchise superstar via a trade, or watch him freely walk away in free agency.
This is why the Vikings need to do everything they can to re-sign Peterson long term, and they needed to do it yesterday.
The Vikings have some good news though, according to Mark Craig of the Star-Tribune:
Peterson told the team he will report on time, with or without the comfort of the long-term deal he wants. Like Gore in San Francisco and Johnson in Tennessee, Peterson is entering the final year of his contract while playing the position that typically produces the shortest NFL careers.

Gore, coming off a season-ending fractured hip, is scheduled to make $4.9 million this year, while Johnson, a 2,000-yard rusher in 2009, will make $800,000. Another disgruntled running back, Chicago's Matt Forte, also isn't happy about the final year of his contract, or the fact his 550,000 salary is less than half of what his backup, former Viking Chester Taylor ($1.25 million), will make.

Yes, Peterson is due to make a lot more. Yes, it's $10.72 million. But Peterson also knows that he's positioned himself for a guarantee of about $25 million, or more, based on terms of the deal Carolina's DeAngelo Williams signed on Wednesday.

Williams, a 28-year-old who's missed 13 games because of injuries the past two seasons, signed a five-year, $43 million deal with $21 million guaranteed. Peterson, 26, who has missed only three games in four years, has a league-high 5,782 yards rushing since joining the Vikings in 2007.
Apparently Peterson is going to be the good guy in this contract situation and allow things to play out, which I really respect.
The Vikings shouldn't be too quick to take advantage of his loyalty though.
If things go south on the field, which I expect they will, I'm not sure how much longer Peterson will remain happy.
When that happens, the trade rumors are going to start flying.

Follow Andrew on Twitter: @AKonSports