Fantasy Football: Is Michael Vick Worthy of Being Your First-Round Pick?
August 6, 2011
Nick Laham/Getty Images
After establishing himself as one of the best quarterbacks in the NFL, Michael Vick's life took a dramatic turn for the worse when he spent 18 months behind bars for being involved in a dog fighting operation.
When he returned to the NFL in 2009, the Eagles saw a unique opportunity and took a risk by bringing in Vick. By the end of 2010, it was clear their risk paid off.
Last season, Vick threw for 3,018 yards, rushed for another 676 yards and had 30 total touchdowns (21 passing, nine rushing).
Oh yeah, he did that in just 12 games too.
Make no mistake, Vick is back, and this upcoming season, we could see him cash in his best season ever.
Yes, even better than his 2006 season, when he threw for 2,474 yards, rushed for 1,039 yards and had 20 touchdowns through the air and two on the ground.
It comes to no surprise that Vick is once again an elite option at the quarterback position for your fantasy team. But what will you do when you enter your draft room and you see you've been rewarded with the No. 1 pick overall?
Do you make the traditional move and draft an elite running back like Adrian Peterson or Arian Foster, or do you take Vick and build your team around him?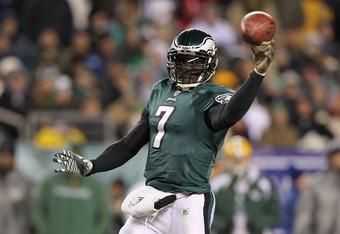 Al Bello/Getty Images
There are clear reasons why you should take Vick in the first round. He's clearly shaken off any remaining rust and is once again one of the best quarterbacks in the league. His projected numbers are good. ESPN has Vick throwing for over 3,000 yards and 20 touchdown passes.
So why is Vick ranked ahead of Drew Brees, who is projected to throw for over 4,500 yards and 34 touchdown passes? It is because Vick has another weapon that Brees, or any of the other elite quarterbacks for that matter, don't have: The ability to run.
Vick is likely to mirror his 2010 rushing numbers, and the opportunity to draft a dual-threat quarterback can be very tempting to fantasy owners.
That leads to why you shouldn't draft Vick in the first round. Every time Vick takes off running, which he did 100 times in 12 games last season, the injury risk skyrockets.
Quarterbacks are at risk for injury every time they take a snap, but when a quarterback scrambles, he becomes even more likely to go down.
That being said, Vick is a great option at quarterback for your fantasy squad, but he will be a risk. If you feel like you know fantasy football well enough to where you are willing to take a risk on Vick, by all means, go for it.
But if I were you, I would let Vick pass to someone else in your league, take the best player available when you make your first pick, and pick up the "safe" option at quarterback (Brees, Brady or Manning), who all should be available in the second round of all drafts.