San Francisco Giants: Why Is Aubrey Huff Still Starting Over Brandon Belt?
August 6, 2011
Ezra Shaw/Getty Images
When Brandon Belt was optioned to Triple A Fresno on Thursday, the frustration of an entire fan base waiting for the Aubrey Huff of 2010 to show up could be felt like an earthquake reverberating through the Bay Area.
Huff, who is hitting just .244 with 10 home runs and 49 RBI in 2011 after a 2010 campaign during which he hit .290 with 26 homers and 86 RBI, has been perhaps the greatest disappointment for the defending world champs this season.
Huff has been one constant in an ever-changing lineup and even with the drastic changes in the complexion of the club following the acquisitions of Jeff Keppinger, Carlos Beltran and Orlando Cabrera in recent weeks, there's still a place for number 17 over at first base.
Possibly the most disturbing statistic with Huff is his on-base percentage, a dismal .296 compared with a .385 OBP in 2010.
That gap of nearly 100 points has hurt the Giants who, after the season-ending injuries to Buster Posey and Freddy Sanchez, have looked to Huff for offensive salvation.
Now that Carlos Beltran has been brought in to solidify the middle of the order, which is much more formidable with Keppinger and Pablo Sandoval hitting before him in the lineup, the question becomes: Why is Huff still getting start after start when Brandon Belt has shown he's ready to contribute with the bat at the big league level?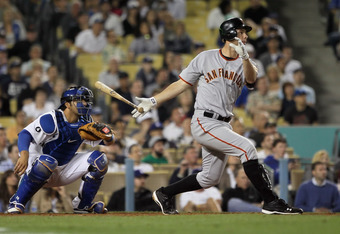 Jeff Gross/Getty Images
Belt, who hit .324 with a 1.011 OPS in Triple A, made his first at-bat with the Giants upon his return from rehab (broken wrist) count, hitting a solo homer over the right field arcade at AT&T Park.
Later in the same game Belt doubled home another two runs and looked every bit as good as advertised when he was drafted.
Is it the money?
Okay, let's talk money.
Huff is being paid $10 million for 2011 and his lack of production this season has put him over in the corner of the room next to Aaron Rowand and Barry Zito under the "Overpaid and Under-Performing" sign.
Is it that the Giants can't bear to watch $10 million ride the bench?
If the Giants were still cruising with a 4.5 game lead on the Diamondbacks in the NL West, maybe.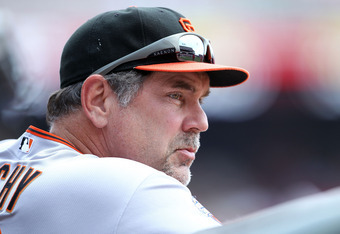 Andy Lyons/Getty Images
But now that they're only a half game up in their division entering Friday night's contest with the Phillies, surely it's not just about money.
Bochy's a Believer
It's clear that Bruce Bochy believes in Aubrey Huff.
With all of the moves that Bochy has made over the past two seasons, changing the lineups day by day, sitting guys who are slumping (as he is doing with Nate Schierholtz right now), he would have had Huff watch from the bench if he didn't have faith in him.
It seems like Huff is testing the limits of that faith, but he is a veteran and knows what a stretch run push toward the postseason is like after the second half of 2010.
Bochy appears to be one that doesn't take for granted the position the Giants are in, currently holding on precariously to the top spot in the NL West.
The manager of the defending World Series champions understands that what he has is a club that can repeat, but not in the conventional way and not with what they have on paper.
He knows this team is greater than the sum of its individual parts and Aubrey Huff has to be a part of the recipe if it is going to produce success from here on out in 2011.
Bochy's steadfast belief in his first baseman seems to be starting to pay off because Huff is showing signs of coming around.
Quietly coming out of hibernation
You may not have noticed it, but Aubrey Huff is 12 for his last 36. That works out to a .333 batting average dating back to July 24.
Huff has raised his overall batting average from .219 to .244 since June 1 and if he continues this trend, could be a real asset offensively for the Giants come September and October.
Bruce Bochy has been criticized sharply from time to time for his moves and non-moves, but he proved his mettle by winning a world championship with a team that logic would dictate could never have accomplished such a feat.
Time will reveal whether he's got the right hunch with Aubrey Huff.