2011 Miami Dolphins Season Preview: Kyle Orton Won't Be Traded to Miami
August 5, 2011
Kevork Djansezian/Getty Images
Miami Dolphins fans can stop holding their breath, hoping that Kyle Orton will be traded from the Denver Broncos. Miami has signed another quarterback today, and it appears they are planning on sticking with Chad Henne and Matt Moore.
Unless this is some kind of strategy to make the Broncos offer up Orton for well below market value, I think the Dolphins have their roster locked in for the upcoming season.
Although Miami didn't get their main need, in a quarterback, this offseason was surprisingly productive.
Even though Chad Henne isn't the type of guy who will throw for 300 yards and four touchdowns, his job got much easier this year.
Miami did a great job in the draft, first by taking a sure thing in Mike Pouncey and solidifying their offensive line. Pouncey will step in right away and become a topnotch NFL player. He will help the line become the dominant run-blocking force that it was in 2008. Pouncey gets to the next level quick and is good at pulling both directions and leading the charge.
Miami signed Marc Colombo to play right tackle opposite Pro Bowler Jake Long. Colombo will allow the aging Vernon Carey to move to right guard; this will significantly help the right side of the line. This move gives Miami arguably the best offensive line in the NFL.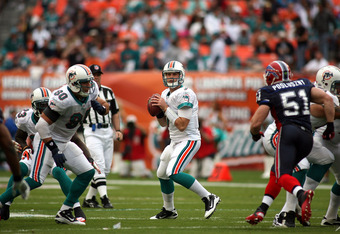 Marc Serota/Getty Images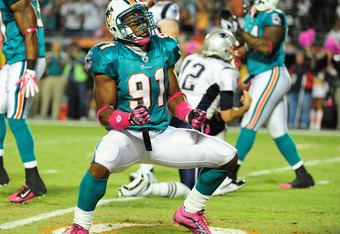 Scott Cunningham/Getty Images
Last year the receiving corps had problems, and Miami needed someone to come in and play opposite Brandon Marshall to take some of the heat off of him. Jeff Ireland and company went to the draft for this one and got speedster Edmund Gates out of Abilene Christian University.
Gates should be able to come in right away and be a solid deep threat. This will open up the field for Marshall and skilled slot-man Davone Bess. Miami also has an underrated tight end in Anthony Fasano, who is solid in the receiving game.
Possibly the biggest move for Miami this offseason was trading for Reggie Bush from the New Orleans Saints. The former Heisman winner has never lived up to his potential, and many experts believe that Reggie is still one of the most dynamic mismatches in the NFL.
Miami drafted running back Daniel Thomas out of Kansas State to possibly be their No. 1 running back. Thomas is big and strong and will be able to carry the load.
I believe that running backs are made based on how good a teams O-line is, and Miami will bolster one of the best. If Reggie Bush is used correctly, he and Daniel Thomas will have every opportunity to be game-breakers and tear up opposing defenses. I have never been a Chad Henne fan, but I do believe he has enough talent, that in a run first system, he can be good enough to get the Fins into the playoffs.
Doug Benc/Getty Images
Last year in Miami, defense was the main bright spot. The Karlos Dansby signing paid off in full, as he helped solidify the middle of the defense.
Kevin Burnett was signed from the San Diego Chargers to play alongside Dansby. He is an upgrade from the recently released Channing Crowder. Expect him to make this linebacking corps even better this year.
Cameron Wake was a huge breakout star last year at pass rusher and I predict he will be even better this year. He could have had well over 20 sacks last year, if you take into account the high number of holding penalties against him.
There are high hopes for second-year pass-rusher Koa Misi; Miami expects him to come in opposite Wake and hunt down quarterbacks.
Miami signed former-Dolphin, Jason Taylor, who over the last few years had defected to the division rival New York Jets and New England Patriots. I don't see Taylor being a starter or playing many snaps, but he should be able to earn his paycheck in situational pass-rush situations. Perhaps the most value he will bring will be leadership to Wake and Misi; hopefully, he can help them become elite rushers like he once was.
Miami has a very solid defensive line which is very deep this year. Tony McDaniel, Kendall Langford, Paul Soliai and Randy Starks are expected to be the dominant run-stopping force they were a year ago.
The Dolphins will also get back last year's first-round pick Jared Odrick, who sat out a year with injuries. Reports from camp are that he looks good and healthy. Hopefully he can come in and reach the potential that the Fins drafted him on.
Miami has a good young secondary that is poised to have a breakout year. The anchor is long-time Dolphin, Yeremiah Bell, who is a tackling machine. He will be playing at safety beside sophomore Chris Clemons.
Perhaps the most promising talent in the secondary is young cornerback, Vontae Davis, who had an outstanding year in 2010 playing against team's top receivers. Davis is quickly flourishing into one of the best cornerbacks in the game. This year will be his coming-out party; NFL fans will know his name after this season.
Opposite Davis is Sean Smith who had a shaky 2010, coming in midway through the season to gain the starting job. Last year, he played alright but dropped many potential interceptions. If he can catch those balls, he will prove to be a much-needed game changer on D.
Miami didn't get the quarterback that everyone wanted. This offseason was not a failure though; Miami improved drastically at many positions. Miami is still a team on the rise; how well can they do in one of footballs toughest divisions?