LeBron James: Comments on Tebow a PR Stunt for Embattled Superstar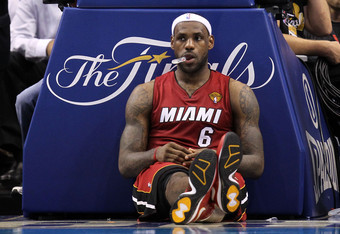 LeBron James couldn't care less about Tim Tebow.
When the Miami Heat superstar defended the Denver quarterback, it sent shockwaves through the sports world, seeing as James was ripping ESPN analyst Merrill Hoge for his strongly worded criticism about Tebow's chances of being a successful pro quarterback.
Per FanIQ.com:
Lebron used Twitter to chime in on the topic: "Guys get on that TV and act like they was all WORLD when they played. How bout encouraging him and wishing him the best instead of hating!!"

"Tim Tebow will succeed in the NFL," James tweeted. "He's a hard worker, a student of the game, a natural born leader and most of all a WINNER! It takes time and he'll be nice."
In reality, James did this to earn good faith with fans who took sheer glee in his miserable failure in the NBA Finals. For the brand of LeBron James, everything is calculated, and it was done with the purpose of improving his standing among fans.
People still buy his jersey and his sneakers, but there is no denying that the hatred of him and his teammates is palpable. Defending a fan-favorite like Tebow is an effort to warm people's hearts and minds towards the idea of him winning a championship.
LeBron is a sports fan like the rest of us, and that is what makes this move such a crafty decision. James is a visible sports personality, and knows that his comments will go a long way and make it into the media cycle.
We are all talking about his comments, and people are agreeing with James, and rightfully so. When he linked himself to such a likable person like Tebow, fans start to believe that deep down, he is the same person everyone loved before he stabbed Cleveland in the back.
The smarter fans won't fall for his ploy, and everyone has seen James' true colors in the past year. It is a crafty move, but it won't give LeBron what he wants, and that's the respect of NBA fans.
Most recent updates:
This article is
What is the duplicate article?
Why is this article offensive?
Where is this article plagiarized from?
Why is this article poorly edited?