Brett Favre, LeBron James, Tiger Woods and Today's Top Sports Buzz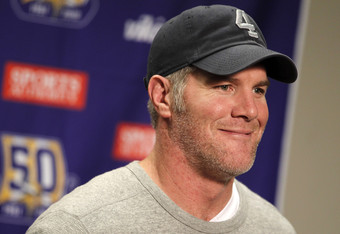 Gregory Shamus/Getty Images
No, this isn't a nightmare. Brett Favre is back in the news just as we get into the swing of things in the NFL preseason.
The Miami Dolphins have opened the door, and speculation is in full force as fans and media alike are pondering the future of football's favorite gunslinger. Will he stay retired, as his agent insists, or will Favre suit up one more time? We'll discuss that and all of the wild, crazy possibilities that come with the legendary quarterback.
While that was going on, LeBron James caused a stir with his comments about criticism of Tim Tebow. The former MVP defended the quarterback, but was it all a move to get back in the public's good graces? We'll delve further into that, along with LeBron's complex public image.
Finally, Tiger Woods is back on the golf course, and while he's not dominating the field like he used to, should we be encouraged by his first two rounds at Firestone? We'll look forward to the weekend and see if Woods can finally shake the monkey off of his back.
As always, if you have anything to say, make sure you leave it in the comments below.
Ronald Martinez/Getty Images
LeBron James couldn't care less about Tim Tebow.
When the Miami Heat superstar defended the Denver quarterback, it sent shockwaves through the sports world, seeing as James was ripping ESPN analyst Merrill Hoge for his strongly worded criticism about Tebow's chances of being a successful pro quarterback.
Per FanIQ.com:
Lebron used Twitter to chime in on the topic: "Guys get on that TV and act like they was all WORLD when they played. How bout encouraging him and wishing him the best instead of hating!!"

"Tim Tebow will succeed in the NFL," James tweeted. "He's a hard worker, a student of the game, a natural born leader and most of all a WINNER! It takes time and he'll be nice."
In reality, James did this to earn good faith with fans who took sheer glee in his miserable failure in the NBA Finals. For the brand of LeBron James, everything is calculated, and it was done with the purpose of improving his standing among fans.
People still buy his jersey and his sneakers, but there is no denying that the hatred of him and his teammates is palpable. Defending a fan-favorite like Tebow is an effort to warm people's hearts and minds towards the idea of him winning a championship.
LeBron is a sports fan like the rest of us, and that is what makes this move such a crafty decision. James is a visible sports personality, and knows that his comments will go a long way and make it into the media cycle.
We are all talking about his comments, and people are agreeing with James, and rightfully so. When he linked himself to such a likable person like Tebow, fans start to believe that deep down, he is the same person everyone loved before he stabbed Cleveland in the back.
The smarter fans won't fall for his ploy, and everyone has seen James' true colors in the past year. It is a crafty move, but it won't give LeBron what he wants, and that's the respect of NBA fans.
This article is
What is the duplicate article?
Why is this article offensive?
Where is this article plagiarized from?
Why is this article poorly edited?
Andy Lyons/Getty Images
Tiger Woods is back, but something doesn't feel right.
Sure, he looks the same, and the golfer is saying all of the things you want to hear from a man who hasn't won a tournament in ages, but it just feels different. Woods is a broken man, and he has failed to find the edge that made him a feared force in the sport of golf.
When Tiger was in his prime, he had a swagger that made other competitors shake at the sight of him on the leaderboard. Now, other golfers pity him, and that edge that made him a killer on the course is long gone.
Before tournaments, people asked if you would take Tiger or the field, and now, we wonder if he'll even finish in the top 10. It has been a stunning fall from grace, and even though Woods has hung around in his return from injury, it has become clear that he doesn't have what it takes to seal the deal.
Right now, it's clear that Woods is trying to get his legs under him in order to get back to the point where he can win multiple major championships and strike fear into the field like he used to. When Tiger starts dominating, golfers notice and start to worry.
For now, Woods has failed to hit the ball well off of the tee or on the putting surface, and that is what has held him back from true greatness. Once he starts to putt well, all bets are off, because once upon a time, Tiger was one of the best once he got on the green.
When his putter left, his game took a nosedive, and finding that stroke is key to his success.
Few athletes can get in a zone quite like Tiger, and when he's making his putts and driving it down the fairway, the swagger starts going and Woods can go on a real tear. Somewhere, that person is there, but not at this moment in time.
The first two rounds at Firestone have been encouraging, but until he finds his edge, he won't win a tournament.
This article is
What is the duplicate article?
Why is this article offensive?
Where is this article plagiarized from?
Why is this article poorly edited?
Matthew Stockman/Getty Images
No matter how hard coaches and the media try, Brett Favre is retired.
There is no other way to cut it. By the end of last year, the future Hall of Fame quarterback was a beaten, broken man who had nothing left in the gas tank. Favre couldn't extend his ironman streak and was destroyed by opposing defenses.
When the season came and went, it seemed like the signal caller was at peace with his future, but Tony Sporano had to open his big mouth and leave the door open for a return. My question is, if Favre truly wanted to come back, why Miami?
The Dolphins have no shot of winning the Super Bowl and even with his addition, they would still be a third place team behind the Jets and Patriots. Needless to say, it isn't an ideal scenario for a quarterback whose window is all but closed.
Favre hasn't made a peep about coming back, but inevitably, the NFL and those who cover it feed off of drama about a possible return. As much as people want to say they hate it, there is a large segment of the population who love the drama about his constant waffling.
Bus Cook, Favre's agent, has ruled this possibility out, saying that the man is retired, and that there's nothing anyone can say or do to change that. Finally, after years of drama, the gunslinger has realized that his time has come and gone.
It had to happen sometime, and thankfully, he did it without seriously jeopardizing his health in the process. With the way last year ended, it was obvious that if he hung around for more punishment, Favre would be putting himself in harm's way.
The media can speculate all it wants, but in the end, Favre is going to watch the 2011 season from his couch with the rest of us. In the end, that is what's best for everyone involved, the Dolphins included.
Miami may he seduced by the big-name that Favre possesses, but it would be a sure-fire disaster that would turn into a sideshow before the end of the season. No franchise needs that kind of attention.
This article is
What is the duplicate article?
Why is this article offensive?
Where is this article plagiarized from?
Why is this article poorly edited?