Osi Umenyiora Rumors: The Latest on Disgruntled New York Giants DE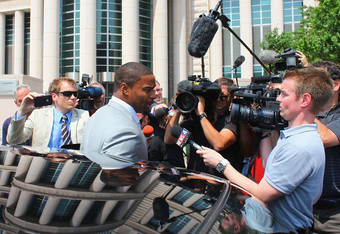 Dilip Vishwanat/Getty Images
Osi Umenyiora, you have brought the circus to town. The New York Giants' best defensive player is frustrated over the lack of a new contract.
And from the looks of things, this issue is not going to be settled quietly.
Umenyiora had a stretch last season where he had seven sacks in just three games, including six forced fumbles. Yes, SIX. That number is so astonishing; in fact, if he had just played those three games, he would have been tied for the league lead in forced fumbles.
Instead, he finished with 10. Wow.
So I think we have established that Umenyiora is a nightmare for opposing quarterbacks.
The question is, how come nobody was willing to give the Giants a sweet enough deal when Osi was on the trade block earlier this week?
Well, for starters, the Giants' price was a little high. (Did it need to be a first-rounder?) Second, this is the end of free agency, and many teams who would have surely been in the bidding cannot afford the 29-year-old superstar.
Check back here as I delve into the latest news surrounding the ever-intriguing Osi Umenyiora saga.
Osi Umenyiora is pulling out all of the stops. Or is he?
Via the Star Ledger:
The Giants informed reporters tonight Umenyiora has been sitting out because "he says he has a sore knee," according to the team's public relations staff. The key part there, of course, is the "he says" in that statement. Though the team says it has no reason to believe he isn't in pain, it is clearly separating itself from the diagnosis.

A person familiar with Umenyiora's status said he is dealing with a meniscus cartilage issue that, as The Wall Street Journal reported today, could require surgery. The person requested anonymity because the extent of the injury has not been made public.

Umenyiora, who missed the entire 2008 season to repair the meniscus in the same knee, hasn't threatened to undergo the procedure if his demands for a new contract or a trade aren't met. Even if he did, the expected recovery time wouldn't last the whole season.

Giants coach Tom Coughlin wasn't available to reporters after the team released the information on Umenyiora's knee, and the two-time Pro Bowl defensive end has yet to speak to reporters since arriving at camp last Saturday.
That is a hell of a bombshell! Umenyiora might need surgery on his meniscus, again?
This is when things are going to get really, really fishy. The Wall Street Journal is not a newspaper that would be suspected of printing false reports. But if the reports are real, then why is everyone so skeptical about Osi skipping practices?
He has a torn meniscus for crying out loud!
I guess this is how crazy things are going to be between Umeniyora and the Giants from here on out.
Umenyiora is expected to make only $7 million combined in the next two seasons. In the free agent market, he could probably get a little better than Charles Johnson money. That would put him in line to get a deal for like 5 years/$65 million, $25 million guaranteed.
No wonder he wants out of New York.
But is all of this foolishness and child play worth it?
Hell yeah! What would you do for an extra $25 million guaranteed?
This article is
What is the duplicate article?
Why is this article offensive?
Where is this article plagiarized from?
Why is this article poorly edited?
Osi Umenyiora wants to be traded, and he wants to be traded now.
Unfortunately for him, after being dangled by the New York Giants for a hefty price at the beginning of the week, Osi was pulled off the block.
His reaction?
The defensive end is furious.
Here is the latest, via NYDailyNews:
The disgruntled defensive end was a surprise spectator at practice, hours after a source said Giants general manager Jerry Reese told him to "take the rest of the day off to clear your head." He was still refusing to participate and there is no end in sight to his war with the Giants.
This does not sound good. Luckily, the Giants re-signed defensive end/outside linebacker Mathias Kiwanuka, because the chances of Umenyiora playing for the Giants without a contract do not look too high right now.
The main reason that Umenyiora is angered, is not because they took him off the trade-block. It is because he was sure that teams were calling, but the Giants were not being helpful in accommodating the trade.
"He is sure they could've traded him," one source close to Umenyiora told the Daily News Wednesday night. "They had a lot more interest in him than they thought they would."
Seems like a classic case of a panic. Usually when teams use this tactic of jacking up the price in a slow market, the team simply stands idly by. No one calls, they tell the player that no one is interested, and that is that. This one was the exception to the rule.
The Giants put out a huge price tag on Osi, and apparently, there were many suitors. Once New York realized that their ploy would not work, they took him off the block.
Now, they will have to deal with the consequences.
This article is
What is the duplicate article?
Why is this article offensive?
Where is this article plagiarized from?
Why is this article poorly edited?

New York Giants: Like this team?