Why Bernard Berrian Will Be an Impact Player in 2011 for the Minnesota Vikings
August 5, 2011
Jamie Squire/Getty Images
He's been the subject of criticism from most of Vikings fan nation. His past two seasons have been forgettable to say the least.
However, there is reason for optimism amongst Viking fans—Bernard Berrian will have career year in 2011.
Signed in the 2008 offseason by the former Brad Childress regime, former Chicago Bear Bernard Berrian was handpicked to be Minnesota's missing deep threat wide receiver for Childress' "Kick Ass Offense."
Berrian, who also goes by "BTwice," signed a six-year, $42 million contract with the Vikings and had a solid first year - hauling in 48 passes for 964 yards (a league-leading 20.1-yard average) and seven touchdowns (career highs in both yards and TD). 
He even tied and NFL Record for longest passing touchdown play, after going 99 yards for a touchdown on a pass from Gus Frerotte. That's right, Gus Frerotte.
Bernard Berrian had his career best year with a journeyman quarterback who had been on seven different teams in 15 years—and was slated as the backup to Tarvaris Jackson.
Before Frerotte and Jackson, he had Rex Grossman and a young Kyle Orton. Imagine what Berrian can do with a quarterback who led his team to five NFC Championship games and a Super Bowl appearance: six-time Pro Bowler Donovan McNabb. 
I know, I know: "OK, but Favre's credentials are better than that." Well, that maybe true, but he is also seven years younger than The Silver Fox.
Look, Berrian's 2009 campaign wasn't horrible. It wasn't great and certainly wasn't worth his salary. However, it's not terrible considering he was injured for some of the season.
That led to his sour relationship with Favre, which in turn led to his subpar season last year.
Then there is the argument that, because he has never gone over 1,000 yards receiving, he's not a good receiver. Well, think of the different offensive schemes teams run. Berrian, in previous years, was on a team whose offense was predominantly power running (with subpar quarterback play) and defense that was built to stop the run.
Berrian was used as the occasional, "if the shot is there deep you take it..." type of receiver. He isn't a Sidney Rice. Berrian is a vertical threat, he's the burner. He stretches the field.
Which is exactly how new offensive coordinator Bill Musgrave plans to use him. He spoke to reporters after the Vikings' August 3 training camp practice.
"We went back and looked at a bunch of film when he had those 790 or 800 yards and averaged nearly 20 yards a catch three years ago and again. We want to know what Bernard excels at and then we want to make sure we put him in those positions.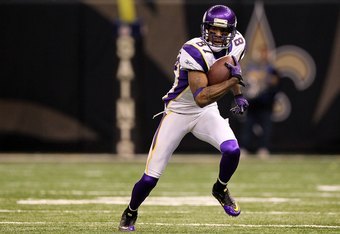 Jed Jacobsohn/Getty Images
"He could fill in at the flanker spot or the slot, but we expect him to start at the split-end and really be our intermediate to deep route runner when we want to do all of our play-actions."
If you ask me, Berrian will now be put in an offense that will tailor to his biggest strength: his speed.
And now, the Vikings have the perfect man under center for those types of plays. McNabb excels at the deep ball off play action and deep drops, which gives Berrian time to get down the field and open.
The new regime has faith in Berrian. Frazier has so far made very reasonable and smart personnel decisions. If they didn't feel comfortable with Berrian as that deep threat, they would have replaced him.
They did, however, encourage him even more. They restructured his contract (essentially making him take a pay cut) and made it void after this season. 
The Vikings kept Berrian on a "prove it" deal. Bernard will capitalize.
Let's face it. If he does have a breakout year, the Vikings will most likely re-sign him, and they will have that deep-threat role once again filled, allowing Harvin to flourish in the slot. If he doesn't have a breakout year, he'll be left on the free agent market next offseason, and the Vikings are left without that huge salary...
Berrian has all the tools to become a great receiver. He's got the speed and hands. Berrian has also shown that he has the talent in previous years, combined with playoff experience. Bernard just needs to get back his confidence, and the current staff is encouraging him.
They have a tailor-fit offense, a mobile big-armed quarterback and a power running back who will keep defenses guessing.
This year, Bernard Berrian will have a career-best season for the Minnesota Vikings.
2011 Prediction: 74 receptions for 1,115 yards and seven touchdowns 
I wanted to leave this link because it has some terrific Berrian highlights from 2008. People forget how he looked that season and the ability he possesses.