UFC 133 Results: Evans vs. Ortiz Live Analysis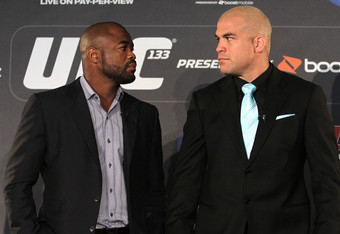 UFC 133: Evans vs. Ortiz was originally supposed to feature two men who don't like each other, so it's fitting that Tito Ortiz ultimately stepped in to fight Rashad Evans. It doesn't even matter that the card's No. 2 bout between Vitor Belfort and Yoshihiro Akiyama seems congenial by comparison.
The Huntington Beach Bad Boy and Suga Rashad have enough animosity for the entire event.
Evans seems like a sweetheart in person, but he sure doesn't get along well with the other kids in the 205-pound class. His squabbles with UFC Light Heavyweight Champion Jon Jones are a matter of the well read public record, but his long-standing war of both words and fists with his opponent in UFC 133's main event is only marginally less notorious.
Rashad Evans and Tito Ortiz just don't like each other—they've thrown verbal barbs in the press and physical ones to a draw at UFC 73. While the war of words hasn't been as heated this time around, it's still evident these two gentlemen have a respectful-but-genuine rivalry.
That's typically good news for the fans.
Toss in Suga's yearlong layoff plus the Bad Boy's comeback and you've got the recipe for a burner.
In addition to a sizzling main event, the Philadelphia card offers a few other gems amidst a slate ravaged by injuries. Jones, the champ's original replacement (Phil Davis), UFC Featherweight Champion Jose Aldo (scrapping a rumored bout with Chad Mendes), Antonio Rogerio Nogueira, Vladimir Matyushenko and Alessio Sakara were all scratched due to injury.
We've got the aforementioned clash between the Phenom's and Sexiyama, Rory MacDonald's first appearance since the Waterboy dominated Nate Diaz at UFC 129, a trap bout for Chad Mendes' title aspirations and an appearance by fan-favorite Matt Hamill.
Yes, the injuries have hurt, but you never know when an epic tussle will break out.
So join us on Saturday at 5:45 PM ET/2:45 PM PT for the preliminary bouts on Facebook before the proceedings go live on Spike TV at 8 PM ET/5 PM PT.
Main Card Bouts
Light Heavyweights: Rashad Evans vs. Tito Ortiz—Evans defeats Ortiz by TKO (strikes) at 4:48 of the second round.
Middleweights: Vitor Belfort vs. Yoshihiro Akiyama—Belfort defeats Akiyama by TKO (punches) at 1:54 of the first round.

Welterweights: Brian Ebersole vs. Dennis Hallman—Ebersole defeats Hallman by TKO (strikes) at 4:28 of the first round.

Middleweights: Jorge Rivera vs. Constantinos Philippou—Philippou defeats Rivera by split decision (28-29, 29-28, 29-28).

Welterweights: Rory MacDonald vs. Mike Pyle—MacDonald defeats Pyle by TKO (strikes) at 3:54 of the first round.

Preliminary Card Bouts
Light Heavyweights: Matt Hamill vs. Alexander Gustafsson—Gustafsson defeats Hamill by TKO (elbows) at 3:34 of the second round.
Featherweights: Chad Mendes vs. Rani Yahya— Mendes defeats Yahya by unanimous decision (30-27, 30-27, 30-27).

Bantamweights: Ivan Menjivar vs. Nick Pace— Menjivar defeats Pace by unanimous decision (29-28, 29-28, 29-28).

Welterweights: Johny Hendricks vs. Mike Pierce—Hendricks defeats Pierce by split decision (28-29, 29-28, 29-28).

Featherweights: Mike Brown vs. Nam Phan—Brown defeats Phan by unanimous decision (29-27, 29-28, 29-28).

Middleweights: Rafael Natal vs. Paul Bradley—Natal defeats Bradley by unanimous decision (30-27, 29-28, 29-28).

Here we go, fight fans, the card's pace has picked up with four thunderous stoppages in the last five fights and now it's time for the main event.
Tito "The Huntington Beach Bad Boy" Ortiz approaches the cage the picture of composure and you have to wonder if the absence of the emotion he showed at UFC 132 is a precursor of things to come. Meanwhile, "Suga" Rashad Evans was stoic until he was actually standing cageside, but then he broke out the swagger MMA fans have become accustomed to seeing from the former light heavyweight champ.
Tito looks like he's in the same excellent shape he was for his showdown with Ryan "Darth" Bader while Evans looks quite a bit bigger since last we saw him.
Suga scores a big left hand, but it doesn't trouble Ortiz. It does evidence, however, that Evans isn't showing too much ring rust despite a layoff of more than a year.
Ortiz keeps pressing forward and shoots in for successful takedown two minutes into first round, but Rashad is able to escape and hurt Tito with a big right hand. Tito gets tagged by a couple more big shots as a slugfest opens up, but the Huntington Beach Bad Boy is able to recover before landing an elbow and knee of his own.
Suga is only momentarily taken aback as he jumps right back in for a takedown of his own. Evans unleashes a torrent of elbows from side mount and pushes the scrap to the edge of a stoppage, but Tito survives again to taste the second round.
Rashad comes out cautiously to start the second and Tito is only too happy to oblige the slowdown tactics.
And they almost work.
Evans haphazardly comes in for a shot and Ortiz is able to lock in a sincere guillotine. Though the submission attempt looks worse than it probably was. Once Suga extricates his neck from trouble, the smothering assault is on.
Evans never gives back control of the round, eventually putting Ortiz in a crucifix and teeing off through the window of vulnerability. Tito tries to rally with a kneebar, but Evans is too much of a veteran to fall for such shenanigans.
That was Custer's last stand as Ortiz has nothing more from that point on and a catastrophic knee to the Huntington Beach Bad Boy's torso is the coup de gras. That knee chases the fight from Tito and an unanswered salvo of hammerfists forces an end to the bout.
Rashad Evans defeats Tito Ortiz by TKO (strikes) at 4:30 of the second round.
Both Evans and Ortiz acquit themselves like sportsman in their postfight interviews—Suga Rashad expresses his intent to get his belt back from whomever might have it while the Bad Boy gives credit where credit is due.
Tito says Rashad was the better man tonight and he's right.
Tremendous showing from Rashad Evans in his first bout in more than a year.
This article is
What is the duplicate article?
Why is this article offensive?
Where is this article plagiarized from?
Why is this article poorly edited?
We're almost at the main event, but first, we get what many consider the darkhorse for Fight of the Night.
On paper, it looks like Vitor "The Phenom" Belfort should walk over Yoshihiro "Sexyama" Akiyama without much trouble. The Phenom is an utter nightmare on his feet and one of the sports all-time greats whereas Sexyama has had major trouble since arriving on the UFC scene.
But Yoshihiro has the sympathy of the non-Belfort fan world behind him, fighting with the tragedy suffered by his native Japan fresh in the minds of many fans.
So its a battle of mind versus heart—the smart money against the sentimental money.
And the smart money wins.
It didn't take long for the Phenom to stagger his opponent and then rush right over him with a relentless series of left hands to the damaged Japanese warrior. Sexyama tried to weather the storm and it seemed like he might even escape until a well-placed right hand sneaked through Akiyama's defense. The shot knocked him out cold and the ref had to step in to save the limp, defeated fighter.
Vitor Belfort defeats Yoshihiro Akiyama by TKO (punches) at 1:54 of the first round.
We all saw what UFC Middleweight Champion Anderson "The Spider" Silva did to Belfort, so it's tough to argue he is right back atop the contenders' ladder in the 185-pound division. That said, Sexyama isn't chump change so the dominating victory definitely re-establishes the Phenom's footing within the division.
As for Akiyama, it might be curtains for his run in the UFC.
Given his backstory, it'd be a cruel blow to send him into exile at this particular juncture. Of course, the loss to Belfort is Yoshihiro's third straight and two of them have been stoppages. UFC President Dana White might take pity on the man, taking into account the uniquely adverse circumstances.
Then again, this is a business and only the cold-blooded thrive.
This article is
What is the duplicate article?
Why is this article offensive?
Where is this article plagiarized from?
Why is this article poorly edited?
Brian "Bad Boy" Ebersole entered the cage at UFC 127 as an unheralded novelty who had a penchant for cartwheel kicks. He was supposed to be a medium for Chris "Lights Out" Lytle to paint another striking masterpiece and most thought that's precisely what was going to happen.
A funny thing happened, however, on the way to Lytle's expected Knockout of the Night.
The Bad Boy came to scrap, putting on a performance that earned him both the unanimous decision and Fight of the Night honors. That surprising outcome was supposed to be the height of his experience in the UFC.
Flash forward to tonight's action against Dennis "Superman" Hallman.
The tough-as-nails veteran was supposed to add a third victory and Ebersole's name to his win streak. Fresh off victories over Karo "The Heat" Parisyan and Ben "Killa B" Saunders, Superman would use his savvy knowledge and superlative ground game to end Ebersole's warm fuzzy feelings.
Turns out, maybe Brian likes being counted out.
After an awkward start that saw Hallman take the immediate advantage on the ground, Bad Boy rallied and eventually pushed Superman to the brink. Using a flurry of strikes to a turtled Hallman to end the fight in just the first round.
Impressive stuff from the wild card.
Brian Ebersole defeats Dennis Hallman by TKO (strikes) at 4:28 of the first round.
Ebersole still doesn't seem destined to be taken seriously by the casual MMA fan, but that doesn't really matter. His next opponent better size him up with gravity because that's two take-notice wins in a row from the 30-year-old.
Ebersole still doesn't seem destined to
This article is
What is the duplicate article?
Why is this article offensive?
Where is this article plagiarized from?
Why is this article poorly edited?
The second bout of the pay-per-view card leaves me (and many other observers) wondering what the hell it's doing on the main card at all, let alone as the second offering.
Jorge "El Conquistador" Rivera and Constantinos Philippou aren't exactly the sport's biggest names. In fact, they're not even real contenders at middleweight. Part of the placement can be explained by the fact that it wasn't the original plan—Alessio "Legionarius" Sakara was initially slated to face El Conquistador, but Legionarius tore his ACL and had to be scratched.
That tussle would've at least featured an epic clash of period nicknames—Legionarius vs. El Conquistador sounds like an offering from Spike's "Deadliest Warrior."
Alas, we get this "fight."
Actually, the two athletes put on a bit of a show during the second round—Philippou crumpled Rivera and came "thisclose" to a stoppage. But El Conquistador rallied, reversed and scored some points of his own.
Outside of that brief orgy of violence, both the first and second stanzas formed a tepid 10 minutes.
The final round began with a bang—Philippou scored with a decent bomb, but Rivera answered with a knee to the body. It looked like Constantinos felt that blow for about a minute and El Conquistador used the window to score some more big points. At one point, Jorge even threatened with a triangle that transitioned into a futile armbar grab, but he could cinch in neither.
In sincerity, Rivera would've been doing everyone a favor by stopping the bout because it was a pretty horrifying task to judge. Both men had their moments, but neither took real control of the contest.
Ultimately, the two of the judges were more impressed with Costa's effort and gave him the split decision.
Constantinos Philippou defeats Jorge Rivera by split decision (29-28, 28-29, 29-28).
I have nothing more to say about this fight, let's just move on.
This article is
What is the duplicate article?
Why is this article offensive?
Where is this article plagiarized from?
Why is this article poorly edited?
Quick programming note—Rory "The Waterboy" MacDonald is no longer the Waterboy. The Canadian has achanged his nickname to Ares, as in Ares, God of War. That's quite the contrast to go from something as cartoonish as the Waterboy to something as menacing as the Greek god of war.
But the kid is an absolute beast at only 22 so, if you've got a problem with it, you tell him.
I'll bet Mike "Quicksand" Pyle has no objections, not after the punking he just endured at the canuck's hands, feet and elbows.
Pyle is no gimme, but the Tristar team member collapsed Quicksand with an early right hand and the swarm was on. It didn't come immediately, but MacDonald eventually took advantage of his prone opponent. The Canadian dove into Pyle's guard and landed a crushing left hand from the American's guard, which essentially brought about the end.
A few clean elbows followed the left before the referee had seen enough, but the left hook was the clincher.
Rory MacDonald defeats Mike Pyle by TKO (elbows) at 3:54 of the first round.
The welterweight division has need some fattening up ever since UFC Welterweight Champion Georges "Rush" St-Pierre started turning back all comers. Rush has been traipsing through the division with such ease, it was on the edge of becoming a dead-zone a la the height of B.J. "The Prodigy" Penn's reign over the 155-pounders.
Well, consider those concerns mooted by the absorption of Nick Diaz, the maturation of Carlos "The Natural Born Killer" Condit and the emergence of Rory "Ares" MacDonald.
And the name of suddenly legitimate contenders doesn't end there—Thiago "The Pitbull" Alves, Rick "The Horror" Story, Jake "The Juggernaut" Ellenberger, Jon Fitch, John "The Hitman" Hathaway, Dan "The Outlaw" Hardy, Anthony "Rumble" Johnson, B.J. Penn, Jake Shields and others could all argue their hats are worthy contributions to the ring.
In other words, the times are good at 170 pounds.
This article is
What is the duplicate article?
Why is this article offensive?
Where is this article plagiarized from?
Why is this article poorly edited?
Matt "The Hammer" Hamill and Alexander "The Mauler" Gustafsson get the call for the finale of the preliminary card, and the pair of competitors delivered a decent striking affair.
It wasn't the most ferocious display of hostility you'll ever see and there were definitely some slow moments, which were only exacerbated by the Philadelphia crowd—I'm not sure if that city loves its sports so much or if it just enjoys the chance to boo.
Regardless, the Mauler was able to turn back any and all takedown attempts put forth by the shorter Hammer. Hamill's inability to drag the bout to the canvas allowed Gustafsson to pick his adversary apart on the feet, landing a flurry of combinations for each single blow landed by the American.
Eventually, Alexander realized he was in no danger of getting tackled and threw caution to the wind, assaulting Matt with a series of kicks and sniping left hand that put Hamill on Queer Street. From there, an unanswered barrage of right upper cuts sent the American tumbling to the ground where the Mauler pounced on him.
A barrage of elbows and more rights hands convinced referee Dan Miragliotta to (finally) dive in to bring an end to the thrashing.
Alexander Gustafsson defeats Matt Hamill by TKO (elbows) at 3:34 of the second round.
The Swede's suddenly someone to be taken very seriously—beating the Hammer is no monumental achievement, but stopping him with such ease does make you sit up and take notice.
As for the American, it's tough to say what's next for him.
Matt Hamill is obviously one of the most feel-good stories the UFC has to offer and this marks only the fourth official loss (and many feel his defeat at the hands of Michael Bisping was highway robbery). Nevertheless, he was just destroyed by Gustafsson, he was handled with ease by Quinton Jackson, and Jon Jones ran right through him before the eventual DQ.
So what now?
He's still a draw, but it's pretty clear he's not going to be a player at 205 pounds.
This article is
What is the duplicate article?
Why is this article offensive?
Where is this article plagiarized from?
Why is this article poorly edited?
The Facebook prelims are in the books with no stupendous results so let's skip straight to the Spike TV card where a couple of intriguing matchups await.
Chad "Mighty" Mendes and Rani Yahya begin the night's free cable offering with what is supposed to be a treading water fight for Mendes. Chad is the presumptive No. 1 challenger to UFC Featherweight Champion Jose "Junior" Aldo's belt—the two were originally going to fight on this very card for the strap, but injury sidelined the champ.
Of course, you know what they say about the best laid plans...
Yahya came out and established a better-than-ever striking game and even managed to douse Might Mendes on occasion. Additionally, the Brazilian was able to recover his feet after the American had scored a takedown.
Unfortunately for Rani, he had lots of chances to struggle his way back to the standing position. Mendes took him down almost at will and did enough on his feet to carry the day. At one point, the Alpha Male team member even threw a crowd-pleasing front flip into the mix—vaulting over Yahya, then springing onto his victim's back.
It wasn't the most captivating or dominant performance for the would-be featherweight kinpin, but a win is a win and that one keeps him in line for the shot at Aldo's title.
Chad Mendes defeats Rani Yahya by unanimous decision (30-27, 30-27, 30-27).
Color me skeptical when sizing up Chad's chances against the little Brazilian with the hardware. Yahya—no notorious striker—gave Mendes a bit of stress on his feet. Furthermore, Junior hasn't shown it yet in the heat of battle, but he's supposed to have a pretty ferocious submission game.
If that assessment of his ground skills is anything less than gross exaggeration, Chad Mendes' title aspirations might remain just those.
Still, a nice tussle to start the evening and lead us into Hamill vs. Gustafsson.
This article is
What is the duplicate article?
Why is this article offensive?
Where is this article plagiarized from?
Why is this article poorly edited?