Why Ozzie Guillen Will Be Manager of the Florida Marlins in 2012
August 5, 2011
David Banks/Getty Images
Whilst the Marlins will be introducing new players and bringing out new uniforms this offseason in the wake of a new era, the ballclub still has a question lingering overhead, a question that has been lingering since last season.  
Who will manage the Marlins as they begin a new chapter of the franchise in a state of the art stadium in 2012?
Jack McKeon, who took over after Edwin Rodriguez resigned in June, has managed the Marlins to a 23-16 record (entering play on Friday), bringing them back from as much as 11 games under .500 as of last Tuesday.
Another name is the ever-popular and outspoken White Sox manager Ozzie Guillen, who has remained the odds on favorite after the Marlins approached Chicago last offseason, but were shut down when they asked for one of their top players, namely Logan Morrison, just to negotiate with him.
After preseason expectations had the White Sox as one of the elite teams not just in the American League but in baseball, Chicago has up to date underperformed and now sits behind the Detroit Tigers and Cleveland Indians in the AL Central standings with roughly seven weeks left in the season. 
Recently, Guillen told Graham Bensinger of Yahoo! Sports that he told White Sox owner Jerry Reinsdorf that "If you want me to stay, a lot of things have got to be better."   
When asked about his connections to the Marlins managerial job in 2012, Guillen said: "It'd be an honor for me to manage the Marlins, do I want to manage the Marlins?  No, because I'm managing the White Sox now."
It's a well put statement by Guillen who even though he is still committed to the White Sox was a coach for the Marlins when they won the 2003 World Series under now current manager Jack McKeon. 
There is no secret that the feeling is mutual between the Marlins front office and ownership who know Guillen and Guillen himself who was associated with the franchise nearly a decade ago. 
With the White Sox now slipping in the standings and underachieving, one has to wonder whether Chicago will let him go this offseason, rather than keep him for 2012 and risk he achieves an identical result.
The relationship between general manager Kenny Williams and Ozzie Guillen has not gone  smoothly in recent seasons, with reports that they nearly got into a physical altercation.
Other reports have current Cardinals manager Tony La Russa, who is friends with Jerry Reinsdorf, possibly going back to the south side and managing if Guillen were to head down and manage the Marlins.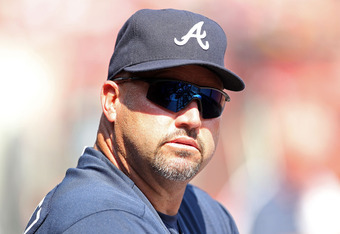 Andy Lyons/Getty Images
Whatever the case, it's almost a no-win situation for the White Sox because if they bring Guillen back for 2012, the Marlins might stick with McKeon for one more season in the hopes of landing him in 2013.  
Even though Jack McKeon has done a fine job at managing the Marlins this season, stability is something this ballclub needs after constant changes. McKeon, who would return back as a consultant in the front office if another manager is hired acknowledged recently Guillen is an "ideal fit" in Miami. 
If Ozzie Guillen does become manager of the Marlins in 2012 he would already have an endorser in Marlins outfielder Logan Morrison who said recently: "Maybe we can just talk about strategy on Twitter, just be like, 'Who's throwing tomorrow, Ozzie? What were you thinking on that hit and run call?' Something like that. I don't know if Ozzie would be down with that, but ... he'd probably yell and tell me you're an idiot."
Guillen makes his offseason home in Aventura, Florida, which will be a 30 minute drive to the new Marlins Ballpark.   
Marlins Managerial Carousel   
Ever since the Marlins changed course back in 2006 and began a youth movement after trading key components to their 2003 World Series run, the team has gone with bevy of rookie managers in what can be described as the fastest moving managerial carousel in baseball today. 
Joe Girardi got the gig in 2006 but after a run-in with owner Jeffrey Loria he got the boot after the season, this after winning Manager of the Year. 
In 2007, Fredi Gonzalez won the rights to manage the Marlins  and seemed to be doing an admirable job considering the payroll. After a injury raddled 2007 campaign, the Marlins bounced back in 2008 and 2009, both times making waves for a possible postseason run, but both times falling short.
After a slow start, Fredi Gonzalez bit the dust midway through the 2010 season and was subsequently replaced by interim manager Edwin Rodriguez who in turn wound up as the skipper entering the 2011 season, despite reports indicating the Marlins were tied to Bobby Valentine getting the job.
Owner Jeffrey Loria has vowed that whoever is at the helm in 2012 will have an established managing career and that they will longer bring rookie managers, at least not anytime soon.