The Latest on Embattled Miami Dolphins QB Chad Henne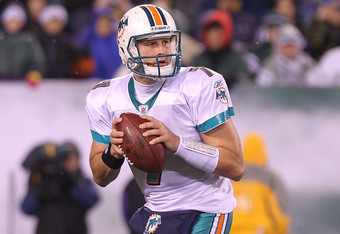 Nick Laham/Getty Images
Chad Henne did not meet the Miami Dolphins' expectations in what was a rough 2010 NFL season.
As a result, the Dolphins were seemingly on the prowl for a quarterback in free agency.
Kyle Orton from the Denver Broncos is the name that has predominantly come up in talks. But once the Orton trade fell apart, the Dolphins cut their losses and instead signed former Carolina Panthers quarterback Matt Moore.
Now, Dolphins fans want blood. Or more specifically, they want Orton.
Via ProFootballTalk:
The fans started booing every underthrown Chad Henne pass, then chanted, "We want Orton!"
With the obvious struggles of second-year quarterback Tim Tebow, Denver may be forced to keep Orton so as not to anger their fanbase.
Check it here for all the latest on the Chad Henne situation in Miami and what some possible solutions could be!
Chad Henne and the Miami Dolphins have had themselves a hell of a start to free agency. Whether it was the chanting for Orton, the chanting for Henne or the overall fan anger towards the franchise, the Miami Dolphins 2011 NFL Season is not off to a good start.
A bright spot, though, is the running back position, where rookie Daniel Thomas and recently acquired Reggie Bush are expected to shine. They complement each other perfectly, and with Miami's massive offensive line clearing the way, they should have themselves a solid 2011 campaign.
On the defense, things are more or less the same.
They brought back Jason Taylor, but he's not going to add much of anything. The cornerbacks are good, and should continue to improve. The highlight of the defense is obviously Cameron Wake. A former CFLer, Wake joined the NFL in 2009 and has promptly dropped 19.5 sacks since. He's a beast with a ridiculously high motor. In fact, he's the type of player Jason Taylor used to be.
How will all of this hoopla affect the season?
In all honesty, I think fans will barely remember this. Unless the quarterback position totally stinks up the joint, by the end of the preseason, Dolphins fans will already have their eyes towards the 2012 NFL Draft Class.
Like they have said in Miami every year since Dan Marino's departure: "so, who wants to play quarterback this year?"
This article is
What is the duplicate article?
Why is this article offensive?
Where is this article plagiarized from?
Why is this article poorly edited?
Chad Henne's and Matt Moore are very similar. Both showed reasonably potential in their first stints on the big stage, but both ended up failing miserably on their second tries. Henne with the Miami Dolphins and Moore with the Carolina Panthers.
Now, thanks to Carolina drafting a quarterback in consecutive drafts, Moore is with the Dolphins. The fins snatched him up once they realized that the trade talks with the Denver Broncos over Kyle Orton weren't going to work out.
Enter Moore. The 26-year-old accepted a deal for about $2.5 million per year, and is now expected to compete with Henne for the starting job.
Despite Henne being expected to win the starting job, even amongst all of the training camp chaos, Moore should be heavily considered for these five reasons:
5) Dolphins fans don't want to see Henne behind center. They can't stand him. And after what he did last season, I can't blame them. Giving Moore a shot would buy Miami's front office a little time with the fans to try and figure something out (working out a trade for Orton, or signing a running back/receiver)
4) Moore could add a Ryan Fitzpatrick like spark to the offense. Like Fitzpatrick, Moore is an accurate thrower who usually doesn't out-step his bounds. Plus, he has an awesome No. 1 receiver in Brandon Marshall. Unlike Fitzpatrick, Moore is not a graduate of Harvard University.
3) Henne's inaccuracy could lead to more problems with easily frustrated receiver, Brandon Marshall. Marshall got fed up with Henne's horrific throws pretty quickly last season. If it happens again, the Dolphins could have yet another mess on their plate.
2) Moore is better. He doesn't have Henne's physical tools, but he proved in 2009 that he could be a top-15 QB in this league. Eight games, eight touchdowns, two interceptions and over 1000 yards passing. Not spectacular, but definitely better than the negative TD:INT ratio that Henne has thrown up the past two seasons.
1) Why the hell not? The fanbase is rebelling, give them something to focus on. Moore can't possibly be worse than Henne (who actually went 5-18 in a game last season), and his conservative approach will allow the offense to remain evolving around the pounding running game and short passing game.
What do you think?
This article is
What is the duplicate article?
Why is this article offensive?
Where is this article plagiarized from?
Why is this article poorly edited?
Chad Henne is in a pretty awkward situation with the fans of the Miami Dolphins.
After fans chanted "We Want Orton!" in reference to Denver Broncos' quarterback Kyle Orton, Henne apparently had his feelings hurt.
More, from Pro Football Talk:
When Dolphins fans chanted "We want Orton" at training camp, coach Tony Sporano said it made him sick.

Dolphins quarterback Chad Henne said it made him sad.

Henne acknowledged today that it hurt his feelings that Dolphins fans would rather see the team trade for Broncos quarterback Kyle Orton than support the quarterback they have.

"I'm human," Henne said of the Orton chants, per Omar Kelly of the Sun-Sentinel. "Deep down inside it does hurt."
Oh boy. I know if I'm a Dolphins fan, I'm thinking, "There is no crying in Football! There is no crying in Football!"
But hey, that's just me.
Anyways, that was on Wednesday. On practice Thursday, Henne let his play do the talking. After a small group of fans chanted "We Want Henne" in support of the 26-year-old, Henne apparently went out and had his best day of practice so far.
Via Pro Football Talk:
Maybe it was the support from fans, or maybe it was the competition from fellow quarterback Matt Moore practicing with the Dolphins for the first time, but Henne reportedly had his best practice of training camp so far.
This whole thing is getting out of hand. The Miami Dolphins coaching staff needs to put an end to all of this foolishness. Make a decision already.
Is it going to be Henne or Orton?
This article is
What is the duplicate article?
Why is this article offensive?
Where is this article plagiarized from?
Why is this article poorly edited?

Miami Dolphins: Like this team?