Chelsea FC: Rotation Key to Success in 2011-12 Season
August 5, 2011
Victor Fraile/Getty Images
Last season on May 8th, 2011, Chelsea played the return match against Manchester United at Old Trafford. It was the game that would decide the league.
A defensive breakdown in the opening minute gave the Blues a nightmare start as Javier Hernandez gave Man U a 1-0 lead. Nemanja Vidic would power his way through defenders to head in a second 20 minutes later. The 2-0 lead was too much to overcome and Man U was all but mathematically crowned Premier League winners.
Had Chelsea won the game they would have been in first place in the league (on goal differential) with two games remaining and in control of the title.
Many point to that game as the point Chelsea lost the league. In fact Chelsea lost the league many months before.
Between November 14th and January 5th, Chelsea went on one of the most abysmal runs of form in the clubs recent history. Taking only seven points from nine games, including losses to Birmingham, Arsenal, and an embarrassing 3-0 home defeat to Sunderland, dropped the Blues from a very comfortable spot on the top of the table all the way down to fifth.
The gap between them and Man U was too great to recover and the fact that that May 8th game had any consequence for the title was nothing short of a near miracle.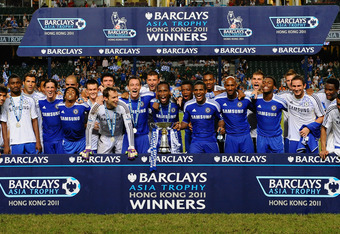 Victor Fraile/Getty Images
It is never fair to make excuses in the world of sports, but Chelsea was crippled by injuries. John Terry, Frank Lampard, Ashley Cole, Yossi Benayuon, Michael Essien, and Alex all were kept out at some point during that span due to injury. Didier Drogba was playing, but was also recovering from malaria.
No player is invincible to injuries, but as you age you become much more prone to them. Out of the list of players above Essien is the youngest at age 28. The rest are above or approaching 30 and can no longer recover as quickly as they did in there youth.
Even when all of them returned there was an obvious miss in their step as they could never get back the "Playstation" style of football they were displaying at the beginning of the season.
The biggest conundrum Andre Villa-Boas has had to face as the new manager at Chelsea is what to do with this quickly aging squad. Legends of Stamford Bridge like Terry, Lampard, and Drogba are well past 30, but show little in the way of a dip in form.
It is unthinkable to suggest that they be cast to the bench, but also to not realize that one even minor injury could end their career. You don't want to throw all your eggs in one basket, but you also may not have a better basket than the one you already have.
Like most preseasons, AVB has been using a rotational squad, often splitting halves attempting to get the entire team in match fitness shape. He has used well over 25 different players including many from the youth ranks who he feels are ready to be brought up to the senior team.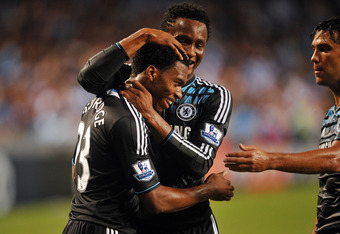 Raf Sanchez/Getty Images
The preseason has been very successful so far as they remain undefeated with six wins and have yet to concede a goal or even really look in threat of doing so. In the past two or three games, they have seemed to begin to find their offensive stride and 10 different players have scored throughout the entire preseason.
But what is perhaps the most exciting thing about being a Chelsea fan right now is the fact that nearly every player who has participated in this preseason has shown that they have the potential to play some part in the upcoming campaign.
Last season, Chelsea had only 20 players that made 10 or more appearances in all in all competitions. Compare that to Man U who had 25 different players. The extra rest that some of the starters got for Man U may not have won them the crown, but it definitely helped the tired legs of Ryan Giggs, Paul Scholes, and Patrice Evra.
With the likes of Josh McEachran, Daniel Sturridge, and Ryan Bertrand showing immense promise, AVB can begin to think about not only giving them playing time for their ability as footballers, but also to keep the veteran players, the ones you will need against Man U, Liverpool, and Man City, fresh.
Perhaps the most beneficial aspect of this rotating squad is the psychological perks. AVB has already declared a respect for the club's current players, speaking mostly of the veterans. But he has also been preparing for a future without them making only two signings this summer and both 19 years of age.
The current youngsters will benefit from the extra playing time in games of more importance than early round FA Cup draws against third division sides. They could play comfortably and with confidence knowing that veteran players are standing by on the bench ready to come in and relieve them should they struggle.
At the same time, older players like Ashley Cole, Florent Malouda, Nicolas Anelka who are all over 30 and played 47, 49, and 46 games respectively in 2010/11 can sit on the bench, rest their legs and subtle injuries without feeling that they are being replaced.
Furthermore this idea of rotation goes beyond giving rest and boosting morale, but can also serve as a tactical advantage. Let's not forget AVB made his mark as a great oppositional scout. He has become a master of breaking own team's tactics and figuring the best formation and style to win. That also includes selection of players for particular match ups.
Most managers have a starting 11 that command a majority of the playing time throughout the season and the players know it. AVB may be wise to have a starting 11 that only exists for the betting lines, but ultimately adjusts it to whatever would works best against a particular opponent.
Take for instance the right back position at Chelsea. Branislav Ivanovich really commanded the spot in 10/11 and established himself as one of the best in the game. But Paulo Ferreira's recent resurgence in this preseason has given the manager two capable fullbacks to choose from. Rather than establishing a starter for the season, each could be employed for their own unique abilities.
If you are playing a team that has speed and width, Ferreria may be the better option to match up against than the slower Ivanovich. Oppositely if the team plays more through the middle, Ivanovich's defensive technique is superior to Ferreria's and should get the start.
Same goes for up front. With Drogba and Fernando Torres both at AVB's disposal he has two of the best strikers in the world when they are at their top form. Defenses that play a high line would have difficulty with Torres' break away speed. Big sides who play back more, would not be able to deal with Drogba's height and strength.
It is assumed that AVB will not go through his entire first transfer window as the Chelsea manager without making one signing that will have an immediate impact on this year's campaign. When that signing does occur it will not be someone who will come in with a definite starting spot and knock another player to the bench. They will fall in line with the rotation, sit and wait their turn to play, and be a part of what could be a truly revolutionary idea of the way to manage game.