UFC: The 11 Craziest Fighters of All Time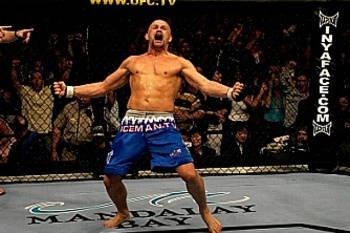 Sane? I think not.
The word "crazy" is a relative term when it comes to the UFC. After all, anyone who willingly stands in front of a man who is trained and paid to punch you repeatedly in the face is at least a little bit crazy.
In a sport based on mental instability, "crazy" must be a little bit better defined, so I've defined it as "someone I wouldn't fight if I was in a tank," the fighters who truly seem like savages when they enter the octagon, the guys who at times make me feel like I am witnessing a possible murder, a crime, instead of a fight.
I don't care what they've done outside of the octagon; these are the men who have done crazy things in it. So howl at the moon, bite off an ear and let's look at the 11 craziest UFC fighters of all-time.
No. 11: Diego "The Nightmare" Sanchez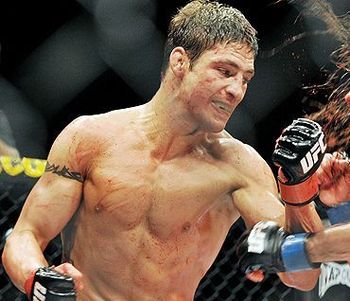 Looks like a member of Menudo, but punches like a killer.
Diego Sanchez is scary partially because his baby-faced boy band looks make him an ideal candidate for me to accidentally get into a fight with in a bar. He seems so sweet and harmless until he is in full mount, putting his fist through your head.
No. 10: Chris "The Crippler" Leben

Red hair hides the blood.
In addition to his craziness outside of the ring, Leben has been an animal in it, most recently knocking out Wanderlei Silva in 27 seconds and then screaming in the octagon like a caveman. Plus, you gotta like a guy who dyes his hair red to hide the blood.
No. 9: Jason "Mayhem" Miller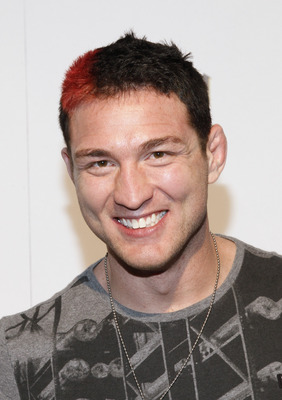 Such a nice smile for a crazy person.
Mark Von Holden/Getty Images
With so much of his notoriety coming from brawls and podcasts, people forget that Miller earned his name by causing chaos in the ring. Rumor has it he is coaching TUF 14, so like it or not there is plenty of more Mayhem to come.
No. 8: Wanderlei "The Axe Murderer" Silva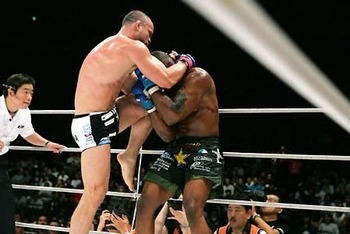 Silva's Muai Thai clinch is bad news, unless you enjoy the taste of knees.
Wanderlei's craziness is legendary and it is apparent if you just look him in the eyes. This is a guy who started in street brawls and a guy who once had a fight stopped because he continued to head butt his opponent with the cut side of his own head. His clinch is deadly and he punches and kicks with the intent to kill; just ask Keith Jardine as well as the next guy on this list.
No. 7: Quinton "Rampage" Jackson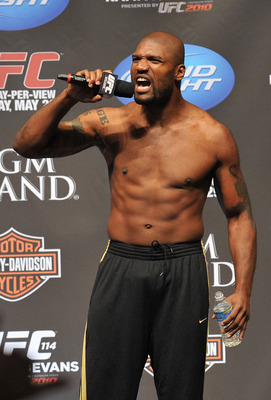 He later punched this microphone to death.
Jon Kopaloff/Getty Images
He wears a chain around his neck and howls like a mad dog, but these are just about the least crazy things about Rampage. He doesn't go for submissions; he goes for casualties and has some of the most devastating power in the game. He slams guys like it is the WWE, except it is completely real. Several of his slams had me thinking I was going to see a man's spine snap in half.
No. 6: Thiago "The Pitbull" Alves
Your leg kicks are served Mr. Koscheck.
Tasos Katopodis/Getty Images
His leg kicks make me wince (ask Josh Koscheck) and his flying knees are deadly (ask Matt Hughes). The Pitbull may not have the most original nickname, but it is fitting.
No, 5: Ken Shamrock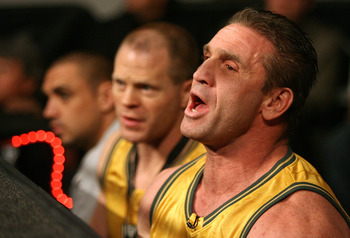 Angry and crazy and likes to beat people up.
Ross Dettman/Getty Images
He and his brother are legends of the UFC. His lion's den training camps have been known to be worse than a real lion's den. He was once voted the World's Most Dangerous Man. The guy has fought everyone and is still going. He really seems to enjoy beating people up much more than a sane person should.
No. 4: Cain Valasquez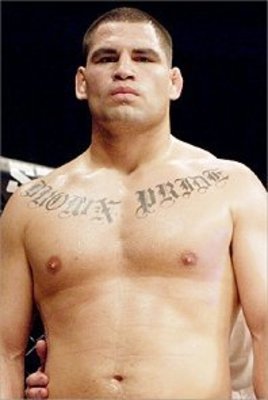 Serial killer? Nope, just the heavyweight champ.
This guy is so crazy that he doesn't even need an intimidating nickname. He is a heavyweight with the stamina of a lightweight. He just keeps punching at a pace that no heavyweight can keep up with. He turned Brock Lesnar into a big puddle of red Viking goo and did it with the demeanor of a serial killer. He's scary.
No. 3: Anderson "The Spider" Silva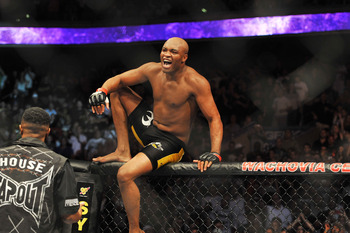 The spider is crazy with accuracy.
Jon Kopaloff/Getty Images
Silva might be the greatest MMA fighter of all-time. His knees, elbows, and legs have turned violence and chaos into art. He smashed Chris Leben without missing a strike, he crushed Rich Franklin like he was nothing to win the title and hasn't looked back since. Silva is crazy with precision which is why he has the UFC's longest winning streak.
No. 2: Chuck "The Iceman" Liddell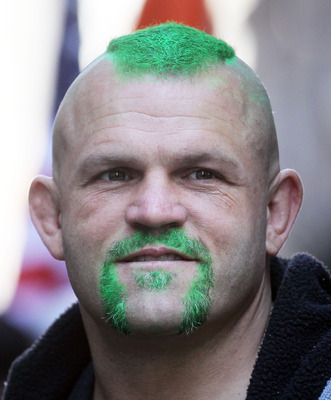 Green mohawk or not, Liddell is nuts.
Mario Tama/Getty Images
He took his nickname from a hitman. Pictures of his post-knockout screams are the very representation of what it means to be crazy. He could knock you out with a dirty look or the most vicious overhand right ever, his choice.
No. 1: Jon "Bones" Jones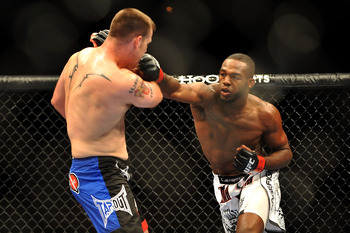 84.5 inches of crazy with an elbow attached to it.
Jon Kopaloff/Getty Images
Jones gets the No. 1 spot because he was the first person who popped into my mind while I was coming up with this list. He is so crazy in the ring that I am actually scared for his opponents. His only loss came when he nearly killed Matt Hamill with an illegal elbow that looked as if it might put a hole in Hamill's face.
He throws spinning elbows, back kicks, back elbows, and unorthodox knees that break people's bones. His opponents look scared of him. His next fight will be against Rampage Jackson, and on that night the octagon will be plum full of crazy.
Keep Reading