Kyle Orton Rumors: Orton Will Be Denver Broncos' Opening Day Starter
August 4, 2011
Doug Pensinger/Getty Images
Numerous reports are now coming off the wire that the Tebow-Orton Saga is officially at rest, with the announcement that Kyle Orton will not be traded, and will in fact be the opening day starter for the Denver Broncos.
No surprise here, but an unavoidable situation nonetheless.
This actually all started yesterday for me while listening to ESPN Radio where it was mentioned that Orton was simply outplaying Tim Tebow in every single drill other than the 40-yard dash.
But the rumor is also supported by Adam Schefter (tweet above), the Denver Post and RotoWorld.com, which is good enough for me.
The Broncos basically shot themselves in the foot last year by drafting Tebow with their first pick, because they thought they were going to easily move Orton out, and simply plug Tebow in.
But the fact of the matter is, Tebow hasn't really lived up to the hype as of yet.
To complicate matters, the Broncos set the bar too high for teams to fork over the compensation Denver was looking for in return for Orton.
Put it all together and here we are.
So what does this mean for Denver and its fans?
For one, it will probably mean a minor divide between Orton supporters and fans champing at the bit to finally see Tebow start.
But more importantly, it gives this Broncos team something familiar to put a vote of confidence into, since the Broncos are currently under renovations.
The team has a new coaching staff, a suspect backfield that must improve, a corps of receivers that needs to step up more than it did in 2010 (Brandon Lloyd the obvious exception here) and a young defense that will have its fair share of idiosyncrasies to deal with through the 2011 season.
So it's kind of nice to have the dinner table's center piece unchanged.
Orton has thrown for 7,454 yards, 41 touchdowns and 21 interceptions in just two years as a Bronco, so there was little reason from the start to have him compete for the job.
Well, aside from the fact that the team prematurely felt they had to justify forking over a near $10 million over five years to "that other guy", but you catch my drift.
The bottom line, however, is the Broncos "righted the ship" in just one week of practice which is a very good sign that the staff is more focused on winning rather than a single player or contract, or fan approval of their decisions.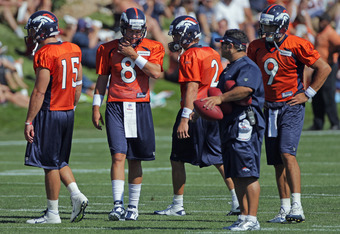 Doug Pensinger/Getty Images
This is a decision that should be embraced Denver.
Do you not want you team to win? Do you not want the Broncos to have a shot in a division that is pretty much up for grabs?
This decision was a no-brainer from the start.
Getting Tebow in there would've made for a very regrettable season, even IF Tebow found limited success simply due to the fact he is nowhere near Orton's level.
Not enough?
How about the fact that Tebow has yet to get up to speed after being around for more than a year under Orton's tutelage.
How about the fact that he has more success running for his life and improvising than being a pocket passer, or even the fact that he was over-hyped from the get-go, or even just the something as simple as he just isn't ready yet!
It was the right call!
Denver's faithful should put Tebow behind them altogether, and focus on supporting the guy who has given this team a reason to believe for two solid years now.
It makes sense.
Hey, for all you know, Tebow may be miles away from Mile High by next year.