Malcom Floyd Rumors: The Latest on Floyd to Ravens or Chargers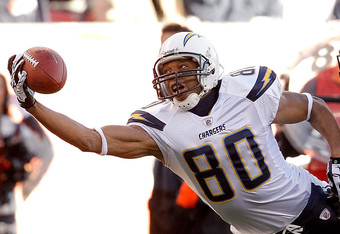 Justin Edmonds/Getty Images
Malcolm Floyd is a very specific type of receiver: deep-threat.
With Philip Rivers' downfield arm in San Diego, the Chargers' wide receiver was usually good for two to three long plays per game. He only caught 37 balls, but his mere presence on the field can change the defense's game-plan.
Averaging 19.4 Y/R, Floyd was among the most effective big-play receivers in the NFL.
With the wide receiving well drying up, teams are turning to the monstrous 6'5", 235 lbs. receiver to address their needs. The Baltimore Ravens are in tremendously heavy pursuit, even going so far as to have offered him a deal last night.
Via Rotoworld:
"There are still other teams on the line, but the Baltimore Ravens appear to be the leader to acquire Floyd. The Ravens made Floyd an offer late Monday night that tops the $3 million per year that is the Chargers' ceiling...In Baltimore, Floyd would be reunited with former Chargers offensive coordinator Cam Cameron."
Obviously, Floyd has a decision to make.
Stay with the team whose quarterback you thrive with (San Diego), or flee to a team whose quarterback, Joe Flacco, may not know how to utilize you best?
Stay here for all the latest news and buzz regarding Malcolm Floyd and his free agency decision.
Malcom Floyd to the Baltimore Ravens. As I expected, a deal could be done by tomorrow. I knew all of that quiet was going to lead to a contract.
Ravens beat writer Jamison Hensley, Via Twitter:
Source: #Ravens remain the favorites to get wide receiver Malcom Floyd. I'm told he wants to come here. Deal could get done Friday #chargers
Via Rotoworld:
The Sun's Jamison Hensley reports that Floyd wants to play in Baltimore. The fit couldn't be better, as the 30-year-old (in September) wideout already knows OC Cam Cameron's offense from their time together in San Diego. The Ravens are very interested in a veteran deep threat; they don't want to hand the job opposite Anquan Boldin to Torrey Smith just yet. Floyd figures to command $3-4 million annually -- an affordable rate for Baltimore.
After following this saga for the past 24 hours, this move seems like it is finally going to happen. Thank god, because I hate writing about the same rumors over and over again.
Like I've written before, I love this move for Baltimore.
Floyd's size is what separates him from the rest of the receivers in the free agent market. He is 6'5", 235 lbs., and he is a ridiculous vertical leaper. Going down field across from star wideout Anquan Boldin will be dynamic, and his mere presence should keep opposing safeties away from the line-of-scrimmage.
That means lots of positive yardage for running back Ray Rice, and the extra half a second that Joe Flacco might need to complete a pass.
All in all, Baltimore makes the right decision. San Francisco's signing of Braylon Edwards? That's a different story.
This article is
What is the duplicate article?
Why is this article offensive?
Where is this article plagiarized from?
Why is this article poorly edited?
Malcom Floyd got an offer from the Baltimore Ravens last night.
The offer exceeded the $3 million that the San Diego Chargers were apparently willing to pay him. So what is the hold up? How come there hasn't been a squeak all day?
I'm not totally sure, and I think that is actually a sign that a deal is coming close. All of the latest news indicates that the Ravens basically had him wrapped up last night. Considering the amount of instant analysis on any and all rumors, I am going to take the recent Malcom Floyd media-silence as an indication that Floyd has not spoken to anyone aside from Baltimore in the last 24 hours.
Yesterday, NFL.com's Jason La Canfora started a fire by suggesting that Floyd was "nearing a decision."
Since the news came in last night about Baltimore's high offer, people have been expecting the deal to be wrapped up by tonight the latest. There is still time, but again, there has been not a sound about this deal all day.
With the releases of Derrick Mason and Todd Heap, the Ravens would be a team desperate for an experienced receiver.
The soon-to-be-30-year-old Floyd is a prime target.
Baltimore quarterback Joe Flacco has a big arm, and Floyd's downfield presence will be a huge asset against heavy blitzing teams like the Pittsburgh Steelers and New York Jets. Malcom will keep safeties out of the box, and will always give Baltimore that deep-ball threat.
A great fit, I'm assuming that GM Ozzie Newsome is pitching his best offer to get the receiver into Baltimore before the weekend.
With pre-season games right around the corner, and this insanely short training camp period, the difference between grabbing Floyd tonight as opposed to next Monday, is huge.
What do you guys think?
This article is
What is the duplicate article?
Why is this article offensive?
Where is this article plagiarized from?
Why is this article poorly edited?
San Diego Chargers' GM A.J. Smith signed unheralded wide receiver Laurent Robinson to a deal last night. With news of the deal, one has to wonder: are the Chargers even considering Malcom Floyd as a possibility, or have they completely moved on and accepted his departure?
Via Rotoworld:
In some ways, the signing of Laurent Robinson has nothing to do with the status of Malcom Floyd, in that Robinson is not the equivalent of Floyd and Robinson's arrival does not eliminate Floyd as possibility in San Diego.

In other ways, it has a lot to do with Floyd, as it seems the acrobatic receiver is on his way out of town and the Chargers needed another experienced receiver.
Therein lies the predicament. The Chargers needed a receiver, and got one with Laurent Robinson.
Is he Malcom Floyd?
No. Not even close. In fact, I'm willing to say that Floyd has more game-changing ability in his pinky than Robinson has in his whole body. At the same time, the Chargers can't wait forever.
They obviously weren't overly enamored with Floyd, as they capped their offer at $3 million per year. The Baltimore Ravens apparently offered more than that last night, but no word has been given on whether Floyd has made a decision.
Regardless, it sure seems like the Chargers are ready to let him walk without much of a fight.
And why wouldn't they?
Quarterback Philip Rivers proved last season that he doesn't need household names in order to put up stellar numbers. He turned Legedu Naanee, Seyi Ajirotutu and a few other guys into stars for couple of weeks, and there is a reason for that. Rivers is that damn good. He's like Tom Brady in that way, he can make anyone look good.
The onus of the decision now lies with Floyd. Is Baltimore a good fit? What do you think?
This article is
What is the duplicate article?
Why is this article offensive?
Where is this article plagiarized from?
Why is this article poorly edited?

San Diego Chargers: Like this team?