2011 FIFA U-20 World Cup: Vuvuzelas Banned in Colombia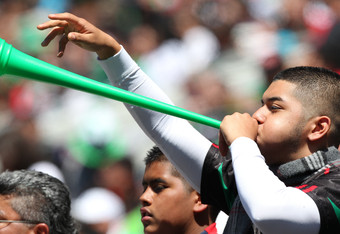 The FIFA U-20 World Cup in Pereira, Colombia has banned the use of vuvuzelas during matches.
You remember vuvuzelas, don't you? How could you forget?
Better yet, how could your ears have stopped ringing from hearing them all summer long during the 2010 World Cup in South Africa?
Well, after last summer, plenty of fans brought their souvenirs with them around the world, and not everyone is happy about vuvzelas popping up at other other tournaments and even other sporting events since.
Pereira, one of the host cities for the FIFA U-20 World Cup, has now banned patrons from bringing the noisemakers to the match because they are a nuisance and make communication between players difficult. No other host cities have banned the noisemakers as of yet.
This isn't the first time there have been complaints about the vuvuzelas.
Spain's Xabi Alonso complained about the noise during the 2009 Confederations Cup in South Africa, and some German journalists warned they could be used as a weapon (which thankfully has not happened).
And Pereira isn't the first city to place a ban on them.
All of UEFA has placed a ban on them, in addition to English Premier League clubs Liverpool, Arsenal, Manchester United and more.
Outside of football, the NFL, the SEC, Wimbledon and Yankee Stadium have all banned the instruments, and they will likely be banned at next summer's Olympic Games as well.
They were perfectly OK in South Africa because it was part of the atmosphere of having an African World Cup. The noise was annoying as hell, but it was part of the environment provided, which was fantastic otherwise.
But they need to stay in South Africa and in 2010. The constant buzzing noise gets very tiresome and drowns out almost everything else. They're particularly annoying if that's all you hear on TV.
The fans' voice is a huge part of football on all levels, but constant droning is different than singing or oléing, and it's just not enjoyable.
South Africa put on a great World Cup, and the vuvuzelas were part of that, but their legacy needs to end right when and where it started.
Keep it locked to Bleacher Report's World Football page for all you up-to-date news and analysis.
Most recent updates:
This article is
What is the duplicate article?
Why is this article offensive?
Where is this article plagiarized from?
Why is this article poorly edited?